42
5
Nyima | The Untouchables
$3,270
of $5,000 goal
Raised by
39
people in 19 months
Help Nyima and her sibblings survive winter in Nepal

Rent or Buy the Film "Nyima"

Thank you all for supporting our dream and vision to share Nyima's story of overcoming Untouchability in Nepal. We are in immediate need of financial support to move Nyima and her family of 7 out of their current home in the high regions of the Himalaya to a more suitable environment in Pokhara, Nepal. Nyima's father recently passed away and has left her family in fight struggling to survive with no financial contributors. Nyima's youngest sister Rydar passed away last winter due to pneumonia as they live in a single room stone hut at 12,500 feet above sea level. 100% of your contributions will go towards moving the family down to Pokhara where the children will be able to continue their education and the entire family will simulate into modern day living. Our annual cost for supporting this family is $5000. We have pledged to continue supporting this family for the next 5 years and hope to raise enough money through donations and sales from our film to not only support Nyima through her higher education, but create an opportunity for other Dalit children to pursue their dreams in continuing their schooling.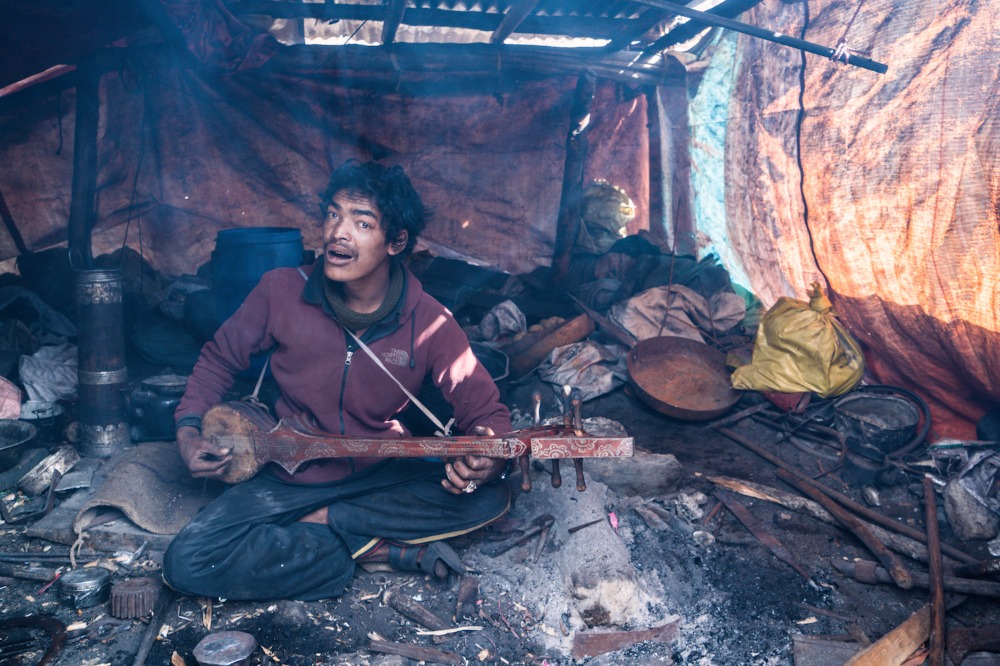 The Film: Nyima  26 minutes
Produced by: Wingate Motion
Directed by: Cody Tuttle
Nyima, is a modern day story of a low caste family struggling to survive and redefine their cultural identity in the isolated Himalayan village of Samagaun. Immersed in Tibetan culture and deeply rooted in Buddhist beliefs, they have been pushed to the outskirts of their community where they live in a captivatingly raw and unforgiving environment. Their story as poor Dalits (persons of the lowest caste) is eloquently told through the curious mind of a young protagonist, Nyima. The viewer will go on a cinematic journey through this ancient village examining the daily responsibilities and traditions of this timeless community. Nyima offers breathtaking scenery with a cultural lens for understanding the greater social problems of the caste system in Nepal, while providing hope for a better future for Dalit families everywhere.
While every Dalit person is born with limited choice or chance toward radical self improvement, there are some developing communities breaking free from the confines of their social oppression. Because of a younger generation working toward greater equality, change is growing on the cultural horizon. The implications of these progressive communities become the catalyst for a new Nepal moving toward a brighter future.

Mission Statement
As a group of adventurous filmmakers, we hope to continue our exploration of Nepal's social struggles as a result of the traditional caste system and continue to produce films on the matter. By studying the different ethnic communities affected by this systematic oppression, a highly stratified and limited social paradigm is brought to light, which fails to treat all human life as equal. From the pristine mountains of the Himalayas, to the busy street life of Kathmandu, the institutionalized discrimination is an obvious part of the country's rigid social hierarchy.
Vision Statement
Human rights; to see the change that is teetering on the edge of society come into fruition. We want to see each child, no matter their social standing have the opportunity to receive education so they can become influential and integral parts of society.
Humanitarian Effort


A percentage of the proceeds from this film will go towards creating a scholarship fund for Nyima, her siblings and others in similar social situations unable to afford to further their education. This fund will be set up to cover costs for post secondary education and living expenses. In the remote regions of Nepal, there are typically only primary schools, so if children do have the opportunity and the resources to further their education, they must move down to a city, such as Kathmandu. They then have to pay not only for their education, but all living expenses and this limits the ability for the majority of lower caste young adults to continue education.  
Approximately 70% of Untouchables in Nepal are uneducated and below the poverty line, with many forced to work as bond laborers. There are nearly 5 million Dalit's in Nepal. The cost for Nyima to go to school is $100USD per month. Their household monthly income is less than $150USD for a family of nine. If these children are able to receive education, they will have a chance to change their future, however many are not able to finish their schooling as they are needed back home to work. This not only affects them, but their family and future generations. Educational opportunity is proven to cause systemic change that reduces oppressive socio-economic structures in developing countries like Nepal.
+ Read More