Protect Water: NO TPPL! NO DAPL!
$5,311
of $5,000 goal
Raised by
110
people in 32 months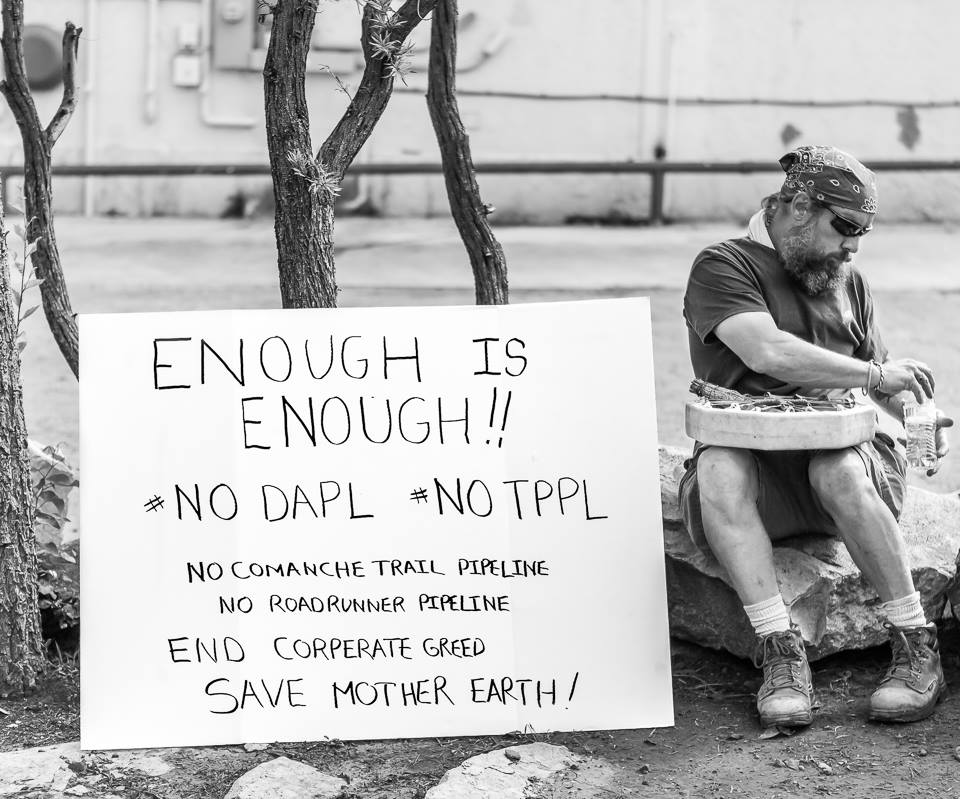 In North Dakota the Standing Rock Water Protectors have been maced, attacked by dogs, and shot at with "safe bullets" simply because they believe they have the right to protect their water, the Missouri River, from the Dakota Access Pipeline (DAPL) for future generations;  they have the right to protect their sacred burial grounds;  they have a right as citizens of the United States to the protections of Democracy. 
We of the Big Bend also have the right to define our community and say no to fossil-fuel expansion, destruction of our environment and our property rights, and the risks of 1.5 billion cubic feet per day of highly flammable, explosive, toxic gas pumping through unregulated pipelines, snaking past our homes, through our creeks and the Rio Grande. 
The Big Bend is a beautiful, wide-open, desert region of West Texas where the people of its small communities have chosen peace and natural beauty over money. This same region is part of one of the most biodiverse, pristine desert regions of the world--the Chihuahuan Desert and has remained untouched by big industry until now. At it's southern border is the famous Rio Grande River, now threatened by the looming injection of the 42" Trans Pecos Pipeline (TPPL) under its riverbed  to deliver Fracked natural gas to Mexico for foreign export profit. 
TPPL  will tunnel under the Rio Grande only 50 to 75 feet above an acquifer that supplies water to the nearby town of Presidio. The Federal Energy Regulatory Commission (FERC), despite pleas from Big Bend National Park,  deemed it unnecessary to do an Environmental Impact Study  to safely regulate this pipeline to protect endangered species and the drinking water of Presidio.  FERC has also unconscionably ignored close to a 1000 public comment requests and numerous intervenor appeals to evaluate the environmental impacts of the entire 148 miles of the TPPL. 
On Sunday November 20th in Marfa, TX,  Defend Big Bend, the Society of Native Nations, the Big Bend Defense Coalition, and local allies marched 2 miles from the Marfa Lights Viewing Center to an ETP Trans Pecos Pipeline Constructin site. Tensions rose and interactoins with the local police escalated when the Water Protectors crossed the fence line onto the ETP easement to pray and dance for healing of the sacred land. 
https://www.facebook.com/vandmproductions/
Big Bend Defense Coalition will be continuing direct actions that impact the construction and funding of the TPPL, CTPL, and DAPL. Our big goal is to construct a Winter Camp for Water Protectors from Texas, Standing Rock , and across the nation.
The black snake must be resisted at both ends, North and South, to stop the brutality of corporate greed. 
Please help us to use this crucial moment in American history to redefine, reshape, and reinforce democracy, human rights, and environmental health.  
Together we CAN make a DIFFERENCE!
+ Read More