Jin-Jing's Tail Tale
$185
of $300 goal
Raised by
6
people in 24 months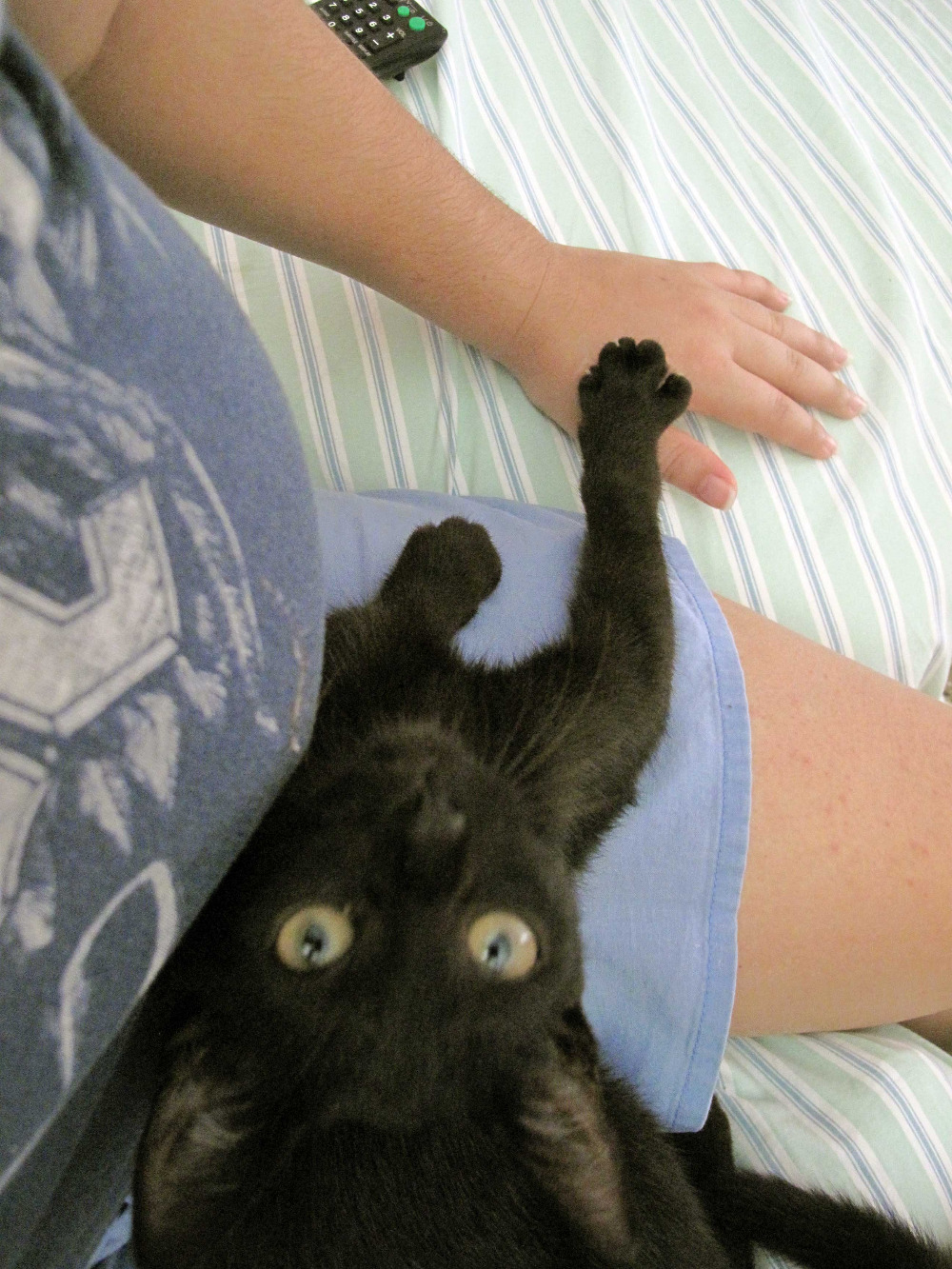 It was July 2013...
When Hubby and I were driving around the municipality of Cataño and, all of a sudden, he stops our car next to an abandoned house, points at something on the sidewalk and tells me "if you catch it, it's yours." My eyes searched for what it was he was pointing and lo and behold, a pair of yellow eyes framed with black stared back at me. It was a kitten. A small, lanky, black cat that didn't even turn away when I reached for her, didn't even protest when I scooped her from the ground. She was extremely thin and frail looking.
Hubby couldn't believe his eyes as I walked back to our car, kitten on tow. He's never been a cat lover but this particular cat had that je ne sais quoi that quickly won his heart over.
And Jin-Jing was her name-o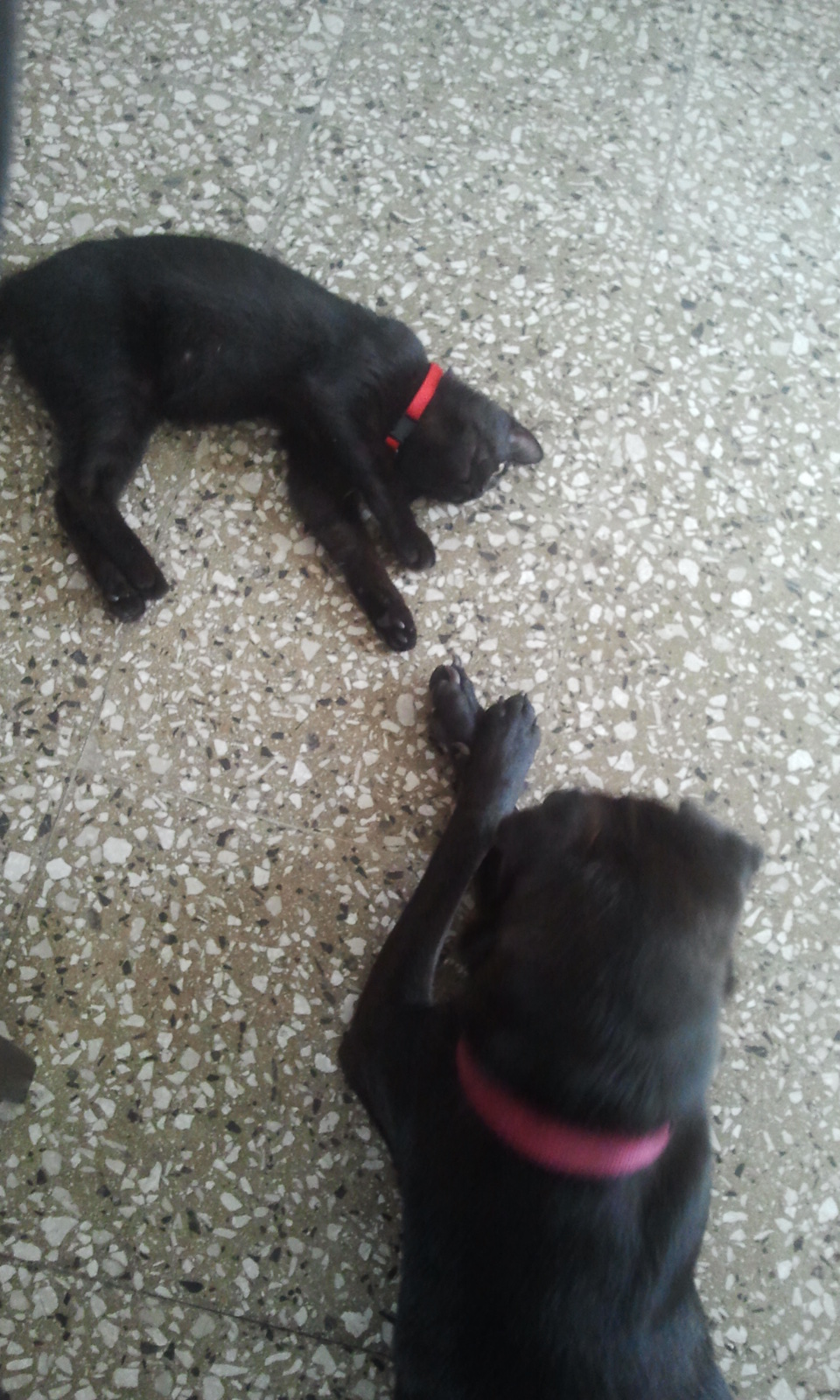 A funny, playful kitten that wasn't afraid of our dogs. A loving pet that would purr on your lap as much as she would defend herself against anything or anyone that tried to mess with her. At first the idea was to foster her until we found her a forever home but that changed as our time together went on.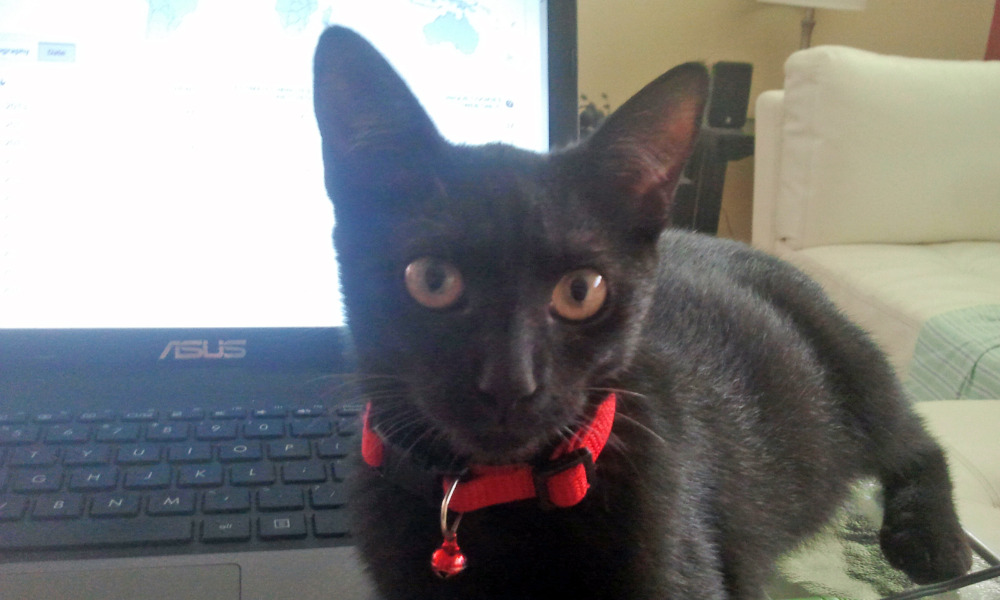 She loves dogs and people and running around and eating my characters. Yes, I'm a writer and I had filled a wall with character names (from my
Caregiver Series
) so I wouldn't get too lost when writing but she would have none of that and started taking down the pieces of paper one by one. That's when I decided her name would be Jin-Jing, a character that's given me lots of headaches during the writing process and that will eventually kill those characters the real life JJ ate. Because she must have eaten them for a reason, right?
Jin-Jing's no ordinary character. She's a badass and so has JJ proven to be. A cat with a mellow heart but street smarts that even I envy. However, this time her street smarts faltered her and after being missing for 5 days, she came home with a badly wounded tail that the vet will now have to amputate.
I cried for my little muse to come back home for 5 straight days and now she's back, alive, but not entirely well. The cost for the amputation is $314 and, frankly, it's money we don't have right now.
Did I mention I've written some books?
Since Hubby retired from his job, I've dedicated myself to writing full-time. This, of course, has taken a toll on our finances and have made our going very tough. After publishing my latest book,
The Last Superhero
, things have started to turn for the better. Emphasis on
started
. Which equals to not enough to take on JJ's amputation without serious financial consequences.
This is very hard for me to write, but I need your help to cover JJ's vet bill. I can gift eBooks to everyone who donates, just drop me a line at
artistikem@gmail.com
and I can provide PDF, ePub or mobi versions of any of The Caregiver books (The Caregiver, Torn, The Beast, Vignettes 1-5 and 6-10), my short story At the Corner of Mars and Neptune, and my sci-fi fantasy romance The Last Superhero.
I also have physical copies of The Last Superhero available over at my website if you prefer to purchase one instead of donating through here.
Even through her pain, all JJ wanted this morning was pets and even purred all the way to the vet, headbutting my hand. I know she's in good hands at
http://veterinariopr.com/
and, thanks to you, she'll keep on lighting up my days and fueling my writing for many years to come.
Thank you!!
*I have pictures of her wounds but find them too harsh. I will update this with newer pics once we pick her up from the vet.*
+ Read More
Help spread the word!
 34 total shares
Be the first to leave a comment on this campaign.