7
4
KO Cancer/ My Scars Tell A Story
$900
of $7,500 goal
Raised by
6
people in 3 months
I was given a death sentence.


At sixteen years old, I was told cancer would take my life within six months. The form of cancer was so rare that if the disease didn't kill me, the treatment would.


Chemotherapy, radiation, bone marrow transplant, eleven bladder surgeries during transplant, collapsed lung, infections raging throughout my body…


but none of those things were able to kill me.


By the grace of God, the hard work and dedication of the surgeons, doctors, and nurses, along with the support of my family – especially my mother – I survived.


Twenty-eight years later, and I'm still fighting a daily battle for survival. Cancer didn't kill me, but it has permanently affected my life. Battling Lymphadema and Chron's Disease takes every ounce of energy I have.


No matter what happens in your life, the only person who can stop you from achieving anything is you. Excuses and finger pointing are a waste of time.


What do you do when you're faced with obstacles? Do you continue to make excuses, or do you stand up and fight for your life and your dreams? Do you give up or do you choose to rise above your current situation?


I choose to fight.


What choice will you make?

Help fund my journey as I continue to tell my story on stage, as I publish my upcoming book "My Scars Tell a Story," and continue to battle the long-lasting effects of cancer.

- Mark Kelly
+ Read More
Update 2
9 days ago
Share
Thank you to all who have donated.

I am almost done with sending my book to the publisher.

I'm excited to share my story of survival and overcoming incredible odds in my battle against cancer.

Because of the side effects of chemotherapy, radiation and bone marrow transplant, I have been on disability since 2009 after having to retire from ESPN, a job I loved and was perfect for me.

I desire to spend the rest of my days speaking to others and using my book and story to inspire people to make the most of what they have.

I am an accomplished public speaker and love to speak to colleges, high schools, churches, organizations, business, corporations, rotary clubs, sports teams, libraries, etc about taking advantage of now.

You never are guaranteed tomorrow. If I knew that at 16 on December 12, 1990 I would have taken away the life I had planned for myself and built myself on, You damn well bet I would have treasured the the incredible physical gifts and talents I was blessed with that made me an excellent baseball and basketball player. I practiced and worked really hard at perfecting my abilities, but in a flash it was gone.

Where do you find your identity? What would happen if everything you built your life on and years of medical school, getting your masters, doctorate, etc was taken away?

NEVER take your talents and blessings for granted! Don't waste today! Fight for what you believe and help make a difference in your company, on your team, in your church, family, marriage, etc.

If you can, please help me achieve my dream of being off disability and being a drain on society. I didn't ask for this, but want to do all I can to use MY GIFTS to give back. Despite having all my athletic abilities taken away, I can still make a difference in changing lives and inspiring others to not waste today.

Please donate if you can. I promise every cent you give will make a difference in my life and help me to encourage and lift up others who need inspiration and hope. NEVER GIVE UP! FIGHT BACK! Don't let today be wasted.

Anyone who donates I will sign a book for (yeah, great incentive, LOL) and depending on the donation will get a free signed book and/or Knockout Cancer T-Shirt (See photo).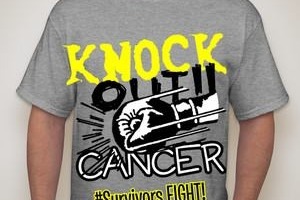 + Read More
Update 1
1 month ago
Share
Had my first four donations this weekend. Thanks to all who donated (Steve, Dale-Ann. Linda and Kevin). Love you guys.

Appreciate all your help. Trusting God to help continue provide and to use me where I failed before. All I want to do is glorify my heavenly Father with my life and testimony,

Thanks for all the support guys. My heart is so happy to have you guys in my life. What a tremendous blessing.
+ Read More
Read a Previous Update