Birthday Wish
$10,628
of $50,000 goal
Raised by
68
people in 2 months
In 2015 we started our journey to build our family after battling and living with stage 4 breast cancer for 2 years.  We chose to film that journey as a resource for others and as a tool to raise awareness and funding for metastatic breast cancer. 
Today, we not only have our son, Grayson who is now 16 months, but we are thrilled to announce that we'll be premiering our "second child," the feature documentary LOVE ALWAYS, MOM directed by Trish Russo and Craig Shapiro at The Bentonville Film Festival on May 2, 2018!  It is a cool festival with a mission of "inclusion" long before inclusion became a buzz word.
This documentary has been entirely funded by donations to The Cyan Gray Hope Foundation, a 501(c)3 non-profit  focused on creating content to raise awareness and much-needed funding for research for metastatic breast cancer and infertility.  LOVE ALWAYS, MOM is our first project and we have several goals with this project:
1) Screen at film festivals and in conjunction with cancer centers, fertility clinics, and with likeminded non-profits.
2) Secure distribution for the film and donate proceeds from the sale to research for metastatic breast cancer through an organization like Metavivor.
3) Create content capturing other survivor stories, tapping into the emerging premium documentary market and continuing the model of LOVE ALWAYS, MOM to create content that generates money for more research. 
We need funding to put our best foot forward at Bentonville to attract potential buyers and spread the word about the film so it gets to those who most need it.  Yes, it will be particularly helpful for cancer survivors and those struggling with infertility but more generally, the film is a message to anyone facing an insurmountable challenge, that there is always hope.  We need funding to cover deferred fees, promotions at screenings, delivery of the film, and finally, to film survivor stories in each of the locations that we screen the film.    
I have been living with breast cancer for 6 years and metastatic breast cancer for 5 of those years.  There was only a 22% chance that I would be alive today.  I continue to get scanned every 3 months and, like most metastatic survivors, will be on treatment for the rest of my life.  I'm enjoying motherhood and want to be here for as long as I possibly can to see my son grow.  Over the past 5 years I have met and watched countless survivors lose their lives to metastatic breast cancer.  The following statistics are staggering: approximately 150,000 are currently living with metastatic breast cancer in America, approximately 30% of early stage survivors will have their cancer spread, approximately 40,000 lose their lives in America annually to breast cancer, 90% of these deaths are from metastatic breast cancer, only 7% of breast cancer funding goes to research for metastatic breast cancer.  Finally, metastatic breast cancer is currently incurable.   The only way to change these statistics is with more funding for research for metastatic breast cancer. 
I'll steal a line that my surrogate spoke in our film, "I won't be famous.  I won't be a doctor or a lawyer, but I want to make a difference."  Our surrogate felt the way that should could make a difference in the world was by helping us have our son.  The way we could contribute to the world was making this movie and donating the proceeds.  My mother's day wish is to raise at least $50,000 to help achieve our goals.  
If you've donated over the past 3 years, we can't thank you enough for your early support and we hope you'll consider another contribution in 2018.  If this is the first time you are hearing our story, I hope we are able to bring LOVE ALWAYS, MOM to your hometown so thank you in advance for making a contribution and give us a shout and let us know where home is so we can thank you in person when we get there! 
Thank you for helping us share LOVE ALWAYS, MOM with the world and being a part of making my mother's day wish come true! 
Love always, 
Trish (aka Mom)
+ Read More
Update 2
1 month ago
Share
Thanks to everyone who has supported our LOVE ALWAYS, MOM World Premiere launch fundraiser. Between Facebook, GoFundMe, and check donations we've raised approximately 20k of our 50k goal. We head to Bentonville on Tuesday for our World Premiere on Wednesday. Incredible news that our premiere screening has already sold out and our Thursday morning screening only has a few tickets left! It is incredibly validating to see people respond and purchase tickets. This is 4+ years of work, of our lives, and to know that it will be shared with the World very soon is exciting and terrifying!!!! I had a yoga teacher once who said that fear is just excitement without breath so I'm trying my darndest to just BREATHE. We would not be here without you and we are so thankful for your continued support in 2018 to bring LOVE ALWAYS, MOM to the World, as we continue our film festival circuit, screen at cancer centers, fertility clinics, and in conjunction with like-minded non-profits. Please keep sharing and if you aren't already- follow us on Facebook and Instagram @lovealwaysmomthemovie to stay posted on future screenings and to follow our upcoming trip to Bentonville!
+ Read More
Update 1
1 month ago
Share
This past weekend I attended the Living Beyond Breast Cancer Metastatic Conference in Philly with my Mother (and biggest cheerleader), Arlene and my sweet 17 month old, Grayson. This annual conference is an incredible resource but also has led me to some incredible friendships with metastatic survivors nationwide. It is bittersweet to say "see you later" to my friends at this conference. Every year some don't return- whether it's because metastatic breast cancer took their lives or the medical bills have made it impossible to afford the ability to take off work or pay for travel (LBBC does offer travel grants). Anise Smith was one of my Friends that I missed this year. MBC took her from us too soon. She was a mother to two children and last year we spent a lot of time sharing stories about our kiddos.

MBC (metastatic breast cancer) also robs many of these women from becoming Mothers. Some are rendered infertile by chemo treatments, others were unable to preserve eggs prior to treatment, many can't afford the fertility treatments or the astronomical costs of third party reproduction. Then, of course, there is the personal decision based on the likelihood of survival as there is a 5 year survival rate of 22% and metastatic breast cancer is currently incurable and treatment is ongoing. It may not be a technical infertility but I consider it infertility nonetheless when the choice has been taken from you due to a medical issue. Today is also the first day of National Infertility Week. We hope that Love Always, Mom can be a part of the #flipthescript campaign this week. As we raise our Voice for metastatic breast cancer, we also raise our Voice for infertility, an often silent struggle. You'll never know how badly you want something until you are told that it may not be possible.

We just hired an awesome publicist to support us surrounding our upcoming World Premiere at the Bentonville Film Festival. I couldn't be happier with who we brought on board! As it so happens, she too has her own ivf story and a child Grayson's age! Her passion for what we are trying to accomplish by making and sharing this film is incredible. Excited to see the exposure she can get for us! Will keep you all up-to-date on all fronts! We would not have been able to take this important step without you so we can put our best foot forward and attract a sale of the film so more $ can go towards metastatic breast cancer and infertility research.

Btw- the picture is of my friend, Amanda, a fellow metastatic survivor who I met at LBBC last year and was happy to see again this year. This is her meeting Grayson for the first time and he has given her so much hope that, she too, one day could have her own family. If you're in the NY/NJ area we hope to see you this Sunday to send us off to Bentonville for our World Premiere. If you haven't already, follow us @lovealwaysmomthemovie on Facebook & Instagram. This trip to Philly feels like the beginning of our "walk." It is a "walk" that will take about a year and cover a lot of the country as we work to share Love Always, Mom and raise funding for cancer and infertility issues! Thank you for all your support!!!!

#flipthescript #nationalinfertilityawarenessweek #stage4needsmore #dontignorestage4 #dreambig #BFF2018 #surrogacy #eggdonation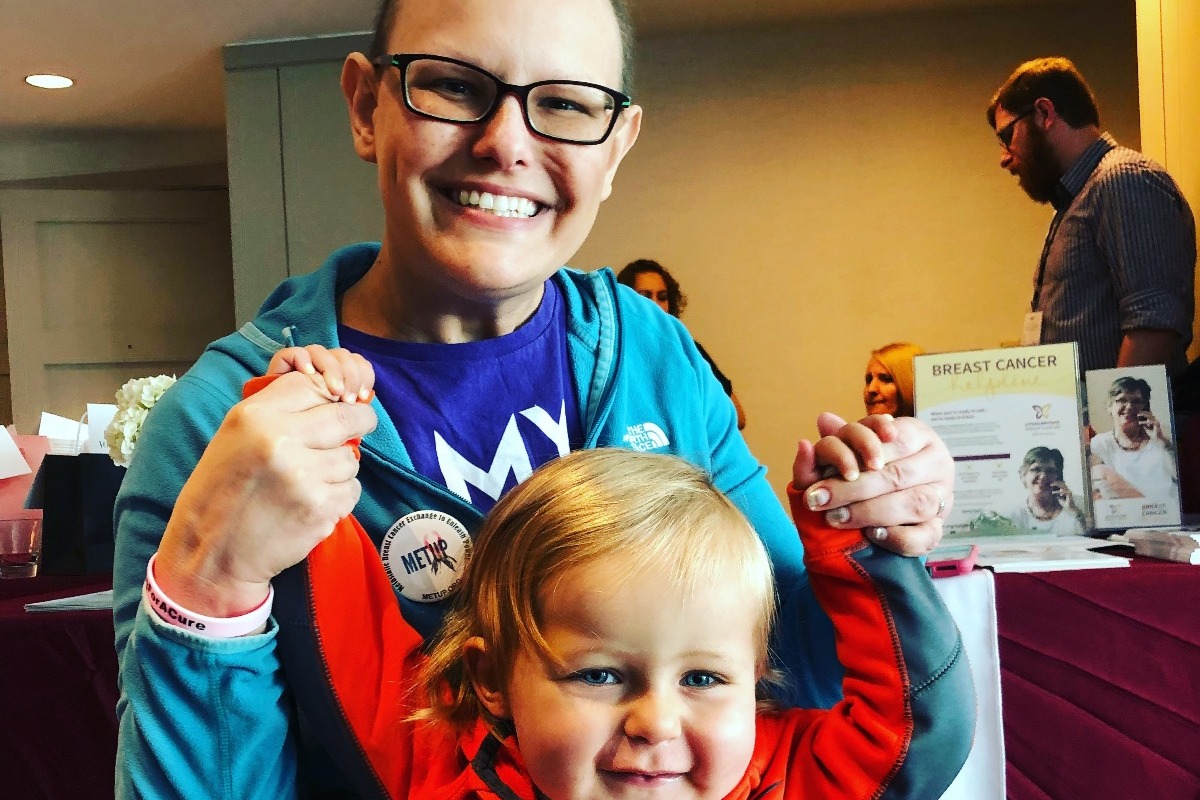 + Read More
Read a Previous Update
Be the first to leave a comment on this campaign.