390
18
Donations for Remi - the pup dragged behind car
$10,175
of $3,000 goal
Raised by
374
people in 4 months
Last week Happy Tails Animal Rescue received a unbelievable phone call. A man had witnessed a dog tied to a towbar being dragged behind the car down a road and with some quick thinking and incredible bravery, he had forced the car to stop, untied the dog and rushed her to a vet to try to save her.
This hero desperately needed our help to save the puppy. Even though we had no vets in the area, and have a waiting list of animals needing vetwork already, we knew we had to help. We couldn't let this little pup die a painful death because of an act of huma
n cruelty. We named her Remi after her saviour and we promised her we'd give her the best chance we could to survive.
Suffering extreme pain, horrific external injuries and unknown internal injuries, the vet didn't give Remi much chance of living through the first night. She was sedated into an induced coma to give her the best chance of survival, and given round the clock care by amazing vets. 
Her injuries include severe burns, bruises, lacerations and bone damage. The photos show the horrific physical injuries she's suffered.
Remi's vetwork is estimated to cost up to $3000 ** and it's here that we need your help. 
Please DONATE to help Remi. Every  donation, no matter how small will help us provide treatment for her.
We realise this is a huge ask, and we would not be asking if it were not for the severity of this situation. Remi has suffered at the hands of humans, and we'll do everything we can to give her a chance at a happy ever after. Once you've donated, please SHARE her campaign to help us spread the word and save Remi!
**Any donations left over from Remi's care will go towards the care of other animals in need.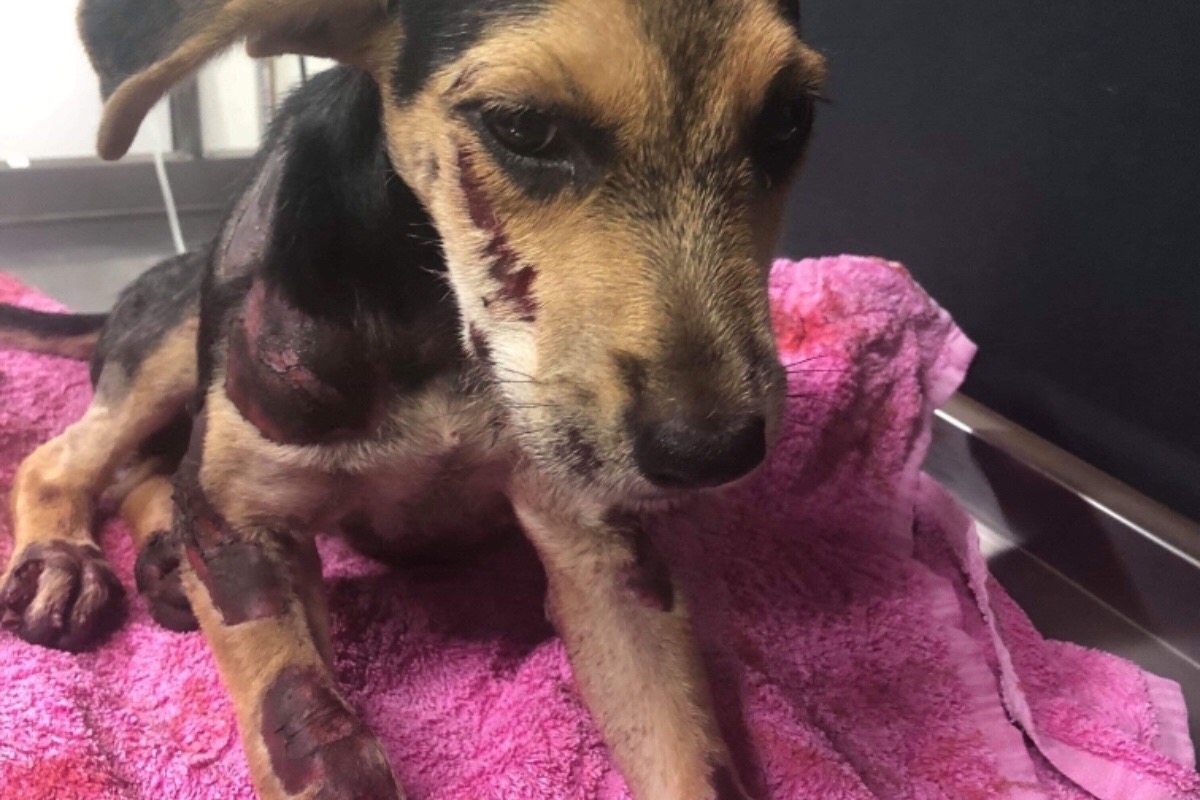 + Read More
Update 2
4 months ago
Share
Hi everyone! I have so much to tell you about. Firstly that I'm in Brisbane! My super awesome hero Jeremy took me on a plane to Cairns for a sleepover and then I got another plane to Brisbane where I was picked up by my new foster family! The flights were a bit scary but I was super brave. Are you proud of me?

My new Mum and Dad picked me up with heaps of presents including a hugeeee super soft new bed and a dinosaur for me to play with. We drove a long time from the airport straight to a kind vet for a bandage change. They said I was healing well but needed more medicine. Yuck!

But then you guys, my foster family took me to my new house. It has so much land for me to explore when my legs get better and easier to walk on. And they had a welcoming party with all these friends for me to play with. There is some other rescue dogs like me, and some rescue cats that are fun to chase, and they have chickens and ducks and alpacas! I've never met those things before so they scared me a little at first. But then one kissed me on the nose and it tickled! The humans also have a mini human who is my size and we play together. She is really gentle with her pats and giggles when I give her kisses.

Each day is getting easier to walk without it hurting so much and I even managed to jump on the couch for cuddles with my mumma! I can't get up on the big bed though so my new dad made me some stairs to climb. I like it here.

The vet man says I am a magician with my healing and he doesn't think I'll need skin grafts anymore! All my tendons and bones are covered with new skin already which you can see my magicness in the photo below! I still have splints under the bandages to help my legs get strong and heal properly but I maybe don't have them after the next vet visit! Most of my body injuries have healed up too; I don't know if my hair will grow back yet but it's ok, scars are cool and show my story of strength.

My Mumma showed me all the messages from you guys and all the donations and I was like whoa, for little ol me? So I wanted to come on here and tell you how I am doing and to say thank you thank you thank you. I hear the team at Happy Tails have lots of ideas of how to help other animals like me with the donations. So watch this space.

I am safe; loved and in my happy tale.
Talk again soon
Love Remi
+ Read More
Update 1
4 months ago
Share
Thank you to everyone who has donated! We reached the initial goal of $3000 and more in under 24 hours! WOW! We can now pay off the bills for Remi's initial critical care and get her to Brisbane for treatment, specialists and rehabilitation.

There are still a lot of unknowns with Remi's recovery and rehabilitation requirements. What we do know is she will spend months in recovery in foster care and there are many more costs to come for Happy Tails to save this girl. Please continue donating as we know the costs will be well over the original goal set.

Remi's injuries are horrific. She has severe bruising and possibly a broken jaw. The open wounds you see in the photos went right through her skin and grazed her bones. One of her paw pads was ripped off completely. Her wounds will be bandaged and remain bandaged for several months to allow healing and prevent infection control. The bandages will need to be changed by her carer every few days. The specialists in Brisbane will determine if she needs skin grafts also.

Remi has damaged tendons in her limbs requiring physiotherapy and potential surgery. She will remain on pain relief and antibiotics and wound infection is a very high risk for her right now.

We will continue to update you all along the way with her treatment as well as her emotional healing as she joins a very special foster carer in Brisbane. The authorities have been notified and are conducting an investigation and we will provide an update on that when we can. Right now, we don't want to impede their investigation.

If you have already donated, thank you from the bottom of our hearts! Please continue to help Remi and Happy Tails Animal Rescue by sharing her story.

Happy Tails Animal Rescue is a non-profit no-kill animal rescue run entirely by volunteers. We receive no government funding or sponsorship and rely on donations and fundraising to help dogs and cats in need. We thank you for your support.
+ Read More
Read a Previous Update