Metal Mom Parade Float
$4,259
of $7,000 goal
Raised by
116
people in 5 months
Hi, this is my mom. Don't worry, she's fine. She doesn't need help with medical bills or repairing her home. She needs her own parade float.
She's semi-retired, she lives with my dad in my hometown of Stoughton, Wisconsin, she feeds the family dog, Millie, by hand, and she rotates dish towels based on what season it is. Her favorite musicians are James Taylor, Josh Groban and Mannheim Steamroller.
She's a sweet Midwestern mom and that's why I found it so funny to ask her to wear the most hardcore heavy metal t-shirts I could find at thrift stores. Here are some examples.
I call her Metal Mom and she's got a 
website
and her own Instagram account,
@MyMetalMom
, where you can see her doing "mom" things while wearing Cannibal Corpse shirts.
She is a great sport and I intend to push that about as far as I can on May 20th, 2018, in my hometown parade. Some of my earliest memories are at the annual Syttende Mai parade. Stoughton is a heavily Norwegian town and its Syttende Mai festival celebrates Norway's Constitution Day with a big parade, including high school marching bands, floats sponsored by the Sons of Norway and the Future Farmers of America, and the winner of Stoughton's Ugliest Troll Contest. Fun fact: I was a finalist in the 1986 contest and got to ride in the back of a convertible! (That's me in the green costume below)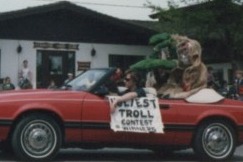 Stoughton holds the second largest Syttende Mai celebration in the world, but one thing that has gone unrecognized thus far is Norway's proud tradition of black metal. Bands like Mayhem, Darkthrone, Satyricon and Immortal have been churning out some of the most extreme metal since the 80s and deserve just as much recognition in the parade as, say, Norwegian folk dancing. And who better to celebrate Norway's heavy metal heritage than my Metal Mom, who's Nowegian by descent and has lived in Stoughton most of her life.
And here's the good news: The Syttende Mai committee has already accepted my application for a Metal Mom float in this year's parade! I've got a trailer rented, a friend with a truck who will tow it, and artists who are helping me design and build the float. There'll be an evil throne, upon which my mom will sit wearing a Norwegian metal shirt and knitting. All the while we'll be playing a choice selection of metal music to paradegoers to break up the marching bands and bagpipers. My aunts will also be clad in metal shirts, walking alongside and handing out Metal Mom temporary tattoos.
And here's what I'm most excited about: I've been working with a company to craft a 25-foot, Macy's-style balloon of my Metal Mom for the parade, which to my knowledge has not had anything like this in its 65-year history. Here's the preliminary mockup they sent me.
It's going to be great but it's going to be expensive. My mom knows about the parade and is totally onboard but she has no idea about the balloon or what I have planned for the float. I can't wait to see her reaction when we unveil it!
This is a big dumb idea and I'd love you all to be a part of it. If you want to support this project, I'd appreciate any donation to make it a reality. I've enlisted some friends to help document the whole thing with a video on the making of the float, the actual parade, people's reactions to it, and most importantly, what my mom thinks about the whole thing.
Because I want to share this project with you all, I'll provide photos and updates on the progress to all donors throughout the process. And I'll provide everyone who's donated $20 or more exclusive early access to the short documentary about it on Vimeo. If you donate $50 or more, I'll also send you a Metal Mom temporary tattoo and you get to suggest a metal song to blare to paradegoers during the actual parade. And for $100, you'll get all of the above plus a limited edition Metal Mom emroidered patch. And by all means, you are cordially invited to attend the parade and see the whole thing go down in person. It's Sunday, May 20th in Stoughton, Wisconsin (15 minutes south of Madison) at 1:30pm. Arrive early to get a good spot along the route on Main Street. We'll be celebrating afterward with a private party at the Stoughton Village Players Theater. Details to come.
All the proceeds from this GoFundMe campaign will go toward paying for float building materials and decorations, the Metal Mom banner, and the balloon and the helium, which will cost over $7,000.
There are far more important causes to donate to, and please donate to those as well, but I can't think of a more wonderfully dumb cause than this. I'd really appreciate your support in making this ridiculous dream come true.  My mom deserves it. Thank you.
-Nick P.
 Son of Metal Mom
+ Read More