99
8
Melissa's Transplant Fight!
$9,160
of $9,000 goal
Raised by
100
people in 7 months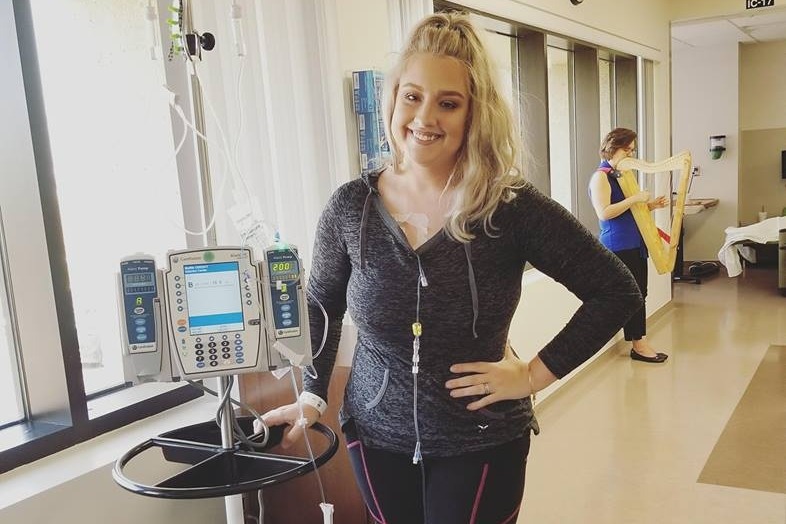 After 11 years of fighting my bone marrow failure disease, Aplastic Anemia, and over 2 years of fighting Common Variable Immune Deficiency, it is now time to receive my cure. 
My disease has now progressed to severe and in order to save my life, I will need to undergo a life saving, bone marrow transplant.
I have been a patient at  Moffitt Cancer Center for over 7 years.
I was receiving weekly blood transfusions but now I am able to receive a little break before the big transplant. I am now receiving a bone marrow stimulating shot every 21 days and that helps keep my blood counts at bay. On top of the shot, I also receive a painful 5 hour treatment every 21 days, that gives me a temporary immune system since I no longer have one. Without this transplant, I would need to do this every 21 days, for life. And ain't nobody got time for that. ;)
We have been SO extremely blessed to find out that my beautiful, older sister Becca is a 100% complete HLA match for me!!! This is HUGE as most patients aren't as lucky to find a sibling/related match. 
During the month of August, I will be going back in to Moffitt to do vital organ testing, receive my 9th bone marrow biopsy and will then sign my life away.
On August 30th, I will be going into Moffitt to have my triple lumen, hickman line placed in my chest.
This day I will also be shaving my head and spending the last night with my sweet babies for awhile.
On August 31st, I will be admitted into Moffitt Cancer Center to start the fight of my life. They will start giving me high doses of chemotherapy and radiation to start wiping out my entire bone marrow. They will bring it to empty, life risking levels.
Then after 6 days of chemo and radiation, my sister will be wheeled into the operating room on September 6th to donate her life saving bone marrow.
They will go into her bones and literally suck the marrow out of her. They will then immediately bring her beautiful gift straight to me and I will receive it like a blood transfusion. Her marrow will know to go directly to my empty bones and will start to make itself at home. 
If all goes well, I will be in strict isolation at the hospital for about a month.
After we receive signs of bone marrow graphing, I will be released out of the hospital and into local housing isolation for about 2 months. Because the first 100 days are so crucial, I will need to be no more than 15 minutes away from Moffitt in case of an emergency. I will be going back to Moffitt about 4-5 days a week for blood checks. 
Because our family lives an hour away, I will need to be away from my home for about 3 months. My babies will not be allowed to visit because they can carry life threatening germs. This will be the hardest part for me, being away from them. I will be missing both of their birthdays, as well as Halloween and school activities. But, the sacrifice will be worth the lifetime with them. 
After I am home, I will not be allowed to be their main caregiver for about half a year. I will be isolated from many many things for about a year to 2 years. Including being in the sun, water, places with lots of people and the list goes on and on. ;) 
Our biggest expense is the housing. It is close to $7,000. The housing has to follow strict, safe, guidelines for me (including 2 bathrooms, private kitchen to prepare food safely etc). I will have an immune system of a premature baby, so the rules will be extreme and could mean life or death for me.
The housing we are looking at is The Lodge at Lakecrest. They are partnered with Moffitt and have certain rooms for transplant patients.
The rest of the expenses will be gas money for my husband as he drives back and forth to me and the kids, we will pay to have the house sterilized before I come home and other miscellaneous things that could come up. 
Obviously I will be out of work for about 2 years. So everything will solely be on my husband's shoulders.
We appreciate each and every single donation, share and of course, prayer.  Please pray that this transplant is a success, please pray for the finances and please pray for my beautiful sister. We hope to pay it all forward someday. I am excited to see what God does with my story and through this scary and uncertain time.
I'm ready to fight and to win.
Thank you from the bottom of our hearts and God bless you. <3
+ Read More
Update 1
7 months ago
Share
WOW!!
Our hearts are so blown away that we have raised over $3,000 for my transplant.
We just cannot even begin to thank everyone for their kindness and generosity!!
As most of you know, my husband suffered a massive heart attack this past Saturday. This has now set us back just a little bit. But, we know that God will continue to provide for us. We feel blessed and extremely loved. Thank you from the bottom of our hearts!!! <3
+ Read More