Max & Danni Resettlement Fund
$4,639
of $5,000 goal
Raised by
34
people in 1 month
After 9 grueling months of legal battles, news stories, and advocacy -  things have finally started to come to a conclusion for Danni and Max.
We have launched this fundraiser to help us pay for our relocation and resettlement from Seattle to Sweden. 
With the help of so many of you and a bi-national legal team, Congress Members and US Senators, as well as the United Nations High Commissioner for Human Rights Defenders, Danni was able to finally obtain her 10-year passport in March. This was a huge breakthrough as it will allow Danni to work full time in Sweden, it also means that she will be able to travel or accept work/school outside of Sweden after she has received a final answer on her asylum claim.  If her claim is denied, with her 10-year passport, she can apply to transition to a work-permit to remain in Sweden securing her future here.  This has been a huge win, given the 9 months of stonewalling from the Department of State. 
Danni is still waiting to hear back about her asylum claim here in Sweden but has completed her initial interview process.  Depeneding on how the Migration Authority decides her case at the administrative level, we may have some legal appeals ahead of us. Danni and her legal team feel that she has a legitimate and well-founded fear for her freedom, life, and safety should she be forced to return to the United States - and meets the requirements under both the Swedish Aliens Act as well as the EU Directives to gain political and legal asylum here in Sweden. However, Sweden like most countries has a mixed history on adjudicating asylum claims for LGBT people. 
In extremely positive news for our family, Max  recently secured a full time job as an Engineer here in Stockholm with a large multi-national company and is actively working to wrap things up in Seattle by selling off the remainder of Danni & Max's stuff (such as Danni's car, furniture, housewares, etc..) and sorting out shipping clothes, sports gear, and valuables to Sweden.  Max is hoping to be in Sweden by April 15th which is what has made this fundraiser necessary! 
To say that the last 9 months have been an extraordinarily expensive endeavor for our family is an understatement. We have been forced to maintaining two households in two of the most expensive cities in the world.  A recently passed 2015 Swedish immigration law prevented Max from moving to Sweden while Danni was awaiting an asylum decision. We also were unsure how quickly her claim would be processed - and up until December we still believed there was a threat of immediate deportation.   On top of the immense legal fees to fight for her passport and establish her asylum claim ($36,500 to date, with another $5000 in outstanding legal debt). We have also had to manage plane tickets, basic utilities, and living expenses, and for Danni's mental health - attending school to sharpen her Swedish and learn fashion design. All of this has left us very cash strapped.  Even with the generous support of our last fundraiser - we have exhausted a great deal of our savings. 
Relief is on the way,  we are reducing our expenses by half at the end of April when Max arrives in Sweden and both Max and Danni will both have full-time jobs soon.
We are asking folks to help us cover our relocation and resettlement costs from Seattle to Sweden. 

It has been an excruciating decision for our family to decide to completely leave Seattle and the USA  but it is very clear to us that it is the safest option at this time for Danni to remain in Sweden. What had started out as an issue of immediate safety - quickly rolled into a protracted series of legal disputes with the Trump Administration not only about Danni's passport, citizenship, and legal identity;  but also an ongoing refusal by the current US Administration to participate in or respond to a UN Human Rights investigation into the illegal death threats, targetting, and attacks against Danni and her family.  The Administration's refusal to respond has caused us a great deal of fear and uncertainty about what would happen if Danni attempted to return to the USA.  Far from answering any questions that were on the table "Can Danni safely reenter the USA without being detained?"  - US Dept. of State has refused to answer any questions and simply issued a 10-year passport with no explanation or reason given after months of refusing to do so.  We are grateful for the advocacy of Congress Woman Pramila Jayapal and her relentless staff! 
While this is a huge relief to some degree, it hasn't answered the bigger issues about her safety if she returns. Despite widespread international news coverage, no federal agency that we have reached out to has offered assistance in helping Danni return, securing her safety, or ensuring that she can return to the USA to do her human rights work without harassment or death threats.   
In January, the situation became further complicated when Danni revealed to a Swedish language newspaper, that a Seattle Police Officer had sexually assaulted her a year before in the commission of her work as a human rights defender.  This was something that was known to a very small group of people and something Danni kept very close to her chest fearing the consequences if this became public knowledge - it also hugely contributed to our fears about safety as SPD responded to death threats against her by telling her to "buy a gun and learn to use it" or "hire a private bodyguard" rather than investigate hate crimes.   She has provided ample evidence to both the United Nations and the largest Daily paper in Sweden - Expressen of the assault and refusal to protect her from harm following that assault. 
The Seattle Police Department immediately responded, not through official channels - but by launching an investigation of Danni and began a campaign of harassment and intimidation against her friends, family, and former colleagues to "investigate" her claims.  Though no police reports were ever filed - SPD took it upon themselves to "investigate these claims".  This has caused us to question - how did SPD become immediately aware of a story published in a Swedish language newspaper on the other side of the world? Rather than go through the legitimate legal channels at the US Department of State - SPD and King County Sheriff's Office detectives arrived at Danni and Max's house in the USA and told Max that he was "Not interested in helping Danni" for refusing to allow them entry into the house without a warrant or to answer questions without a lawyer present.  They have sent officers to "question" Danni's family members,  as well as made several attempts to contact Danni through Reporters she has worked with, her Rabbi, known political associates, and her family members. At no point have these detectives explained if it is Danni they are investigating or the perpetrator of this violence.  
All of this, including the refusal of the Department of State to investigate Danni's experiences of discrimination and threats related to her trans identity by DOS staff and refusal to issue a certificate waiving reentry requirements (which  would be guaranteed safe reentry)has  solidified our families decision to remain in Sweden until there is a more supportive Federal Administration in the United States that does not engage in state persecution of transgender women. 
To say that this has been an extremely unusual, taxing, and exhausting 9-months of hell would be an understatement. Few people have any experience dealing with the Department of State, International Affairs at this level, or in Sweden - ever even considering the idea that someone could be a refugee from the United States of America. It is "unheard of" - which feels isolating, alienating, and at times gas-lighting. 
Danni arrived in Sweden with a single suitcase and an intention to stay for 3 weeks while GJL built up security & her family was able to relocate . 9 months later we have made remarkable progress on gaining certainty, healing, and closure that will allow our family to move forward - and that has come from deciding to remain in Stockholm and start a new life here free from threats, intimidation, fear of the police, fear of the federal government, and ongoing harassment.    
Because of this new found day to day freedom, Danni is also preparing to launch an amazing, new, and sassy YouTube Channel focused on makeup, fashion, politics, trans feminism, and activism (her five favorite subjects!) She is also in Fashion School and hopping ot launch an ambitious fashion brand in the fall and winter of 2019 for non-binary and trans people! 
You can contribute here to help Danni with her start-up costs for her new adventures and You Tube Channel, or you can support her with a monthly donation on her Patreon! 
The goal of her Youtube Channel  "Gender Dissonance" is to capture and share her 20+ years of Trans Activism on YouTube and share "How To's" for up and coming and seasoned activists - - as well as create scathing political commentary on policial, social, and culture events happening in the USA and Sweden!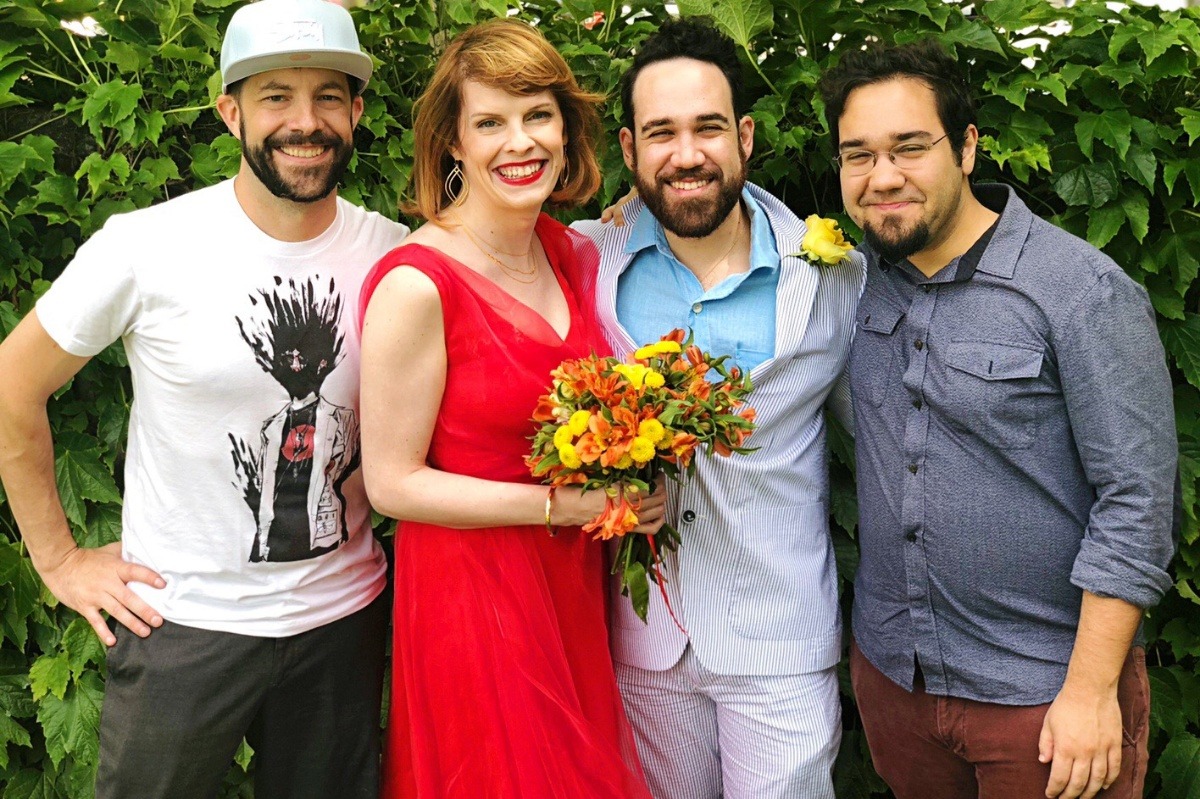 FIRST GOAL
MOVING COSTS: $6,000.00
Shipping of Household Goods (Seattle > Stockholm): $2,000.00 
Travel & Accommodation for Max to relocate his Van to NY: $500
A Countertop Dishwasher, Refridgerator, and Furniture: $1,000.00
1-Year Storage Unit in Seattle for Items that cannot be shipped to Sweden because of Trump's Trade War: $1,000.00
Security Deposit (STO), Cleaning Fee (SEA), Movers (STO), Truck Rental (STO) & 1-Months Rent (STO) :  $1,500
Stretch Goal 1 : Get Danni's YouTube Channel & Fashion Brand
Going!  - $4,000.00
An HD DSLR  & Lenses for Danni's YouTube Channel: $1,500
Class Fees for two Introduction to Video Editing Classes: $500
Janome 2019 Industrial Sewing Machine - $1,200
Janome 2019 Industrial Overlock Sewing Machine - $900
Final Stretch: Our Stretch Goal Pay Off Legal Fees  - $6,500
 Pay Off Danni's Remaining Legal Debt: $6,500
+ Read More