Streetlight Schools
£6,682
of £18,000 goal
Raised by
78
people in 38 months
Climbing mountains for education
High quality early years learning is the best investment in education any country can make. Such learning engages children and makes them take responsibility for their intellectual progression. Unfortunately, it rarely pervades school systems, particularly in disadvantaged areas.

Streetlight Schools
 is a model that can deliver high quality, scalable early years learning. However, Streetlight needs funding help to overcome the hurdles of getting the school to financial sustainability. We're taking up a climbing challenge for charity to provide that help.
The Challenge
From 30th June to 6th July, we will attempt to climb two of the most iconic mountains in the Alps: Mont Blanc and the Matterhorn. Both climbs are technical and require navigating over rock, ice and snow. This type of mixed climbing requires immense comfort on each surface, and the ability to transition seamlessly between them. Although trained mountaineers, we have never climbed in the Alps before.
This challenge is a reflection of what Streetlight faces as it seeks to turn around an education system. By raising money to support Streetlight we hope to be part of the solution.

Streetlight Schools
Streetlight's founder explains its innovative model and plans for growing its impact
Streetlight combines traditional teaching with student empowerment to drive self-directed learning. Jeppe Park Primary, the first school in the Streetlight network, is the first complete example of the core components of Streetlight's overall model:
1. Academic Approach:
 Taking a radical shift from rote and instructional learning towards play-based, differentiated, learner-driven approaches.
2. Facility:
Building with a thoughtful, deeply local design to convert abandoned industrial spaces into beautiful child-friendly environments
3.Teacher training:
Committing to developing teaching talent with continuous in-service support, training and development of a new generation of South African educators to run our innovative academic approach.  
Such well-designed learning which helps young people reach their potential is a contrast to status quo pedagogy which underperforms targets. Particularly for disadvantaged populations. 
Jeppe Park Primary serves 70 Grade R (Kindergarten) and 1 learners. All of the students live in Jeppestown, or surrounding areas, which makes the school closely connected, culturally and socially; it's truly a community school.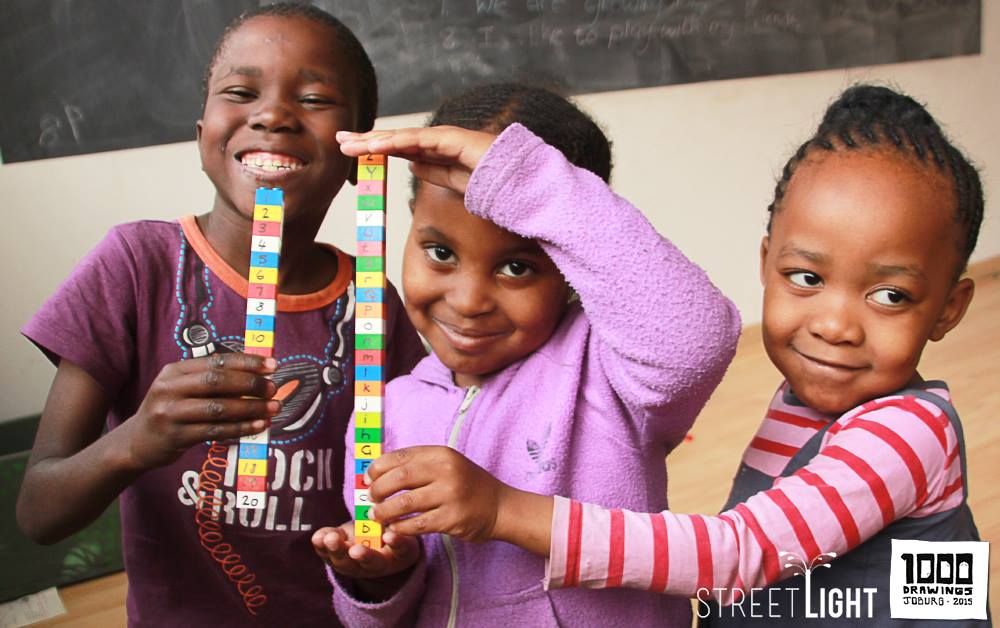 Jeppe Park Primary students showing off their work
Streetlight also offers a free after-school program to all learners at Jeppe Park Primary and primary school students (Grades R-7) who live in Jeppestown running Monday - Friday from 2:30 - 5:00pm.
With the opening of Jeppe Park Primary, and the school's hugely successful first term, Streetlight Schools is opening a conversation on what the standard can and should be in low-income urban areas, and ultimately across the country.
However, in the first year of operation, schools face tremendous financial pressures.
The Funding Target
We aim to raise £18,000 ($26,500) to support Streetlight's operations at Jeppe Park Primary in its first year. Streetlight will be able to reach self-sustainability two years after becoming a registered school.
Your donation is critical because it will bring stability to operations and help sustain the model to give it room to solidify and expand. With fundraising for the year will create capacity for the school team to focus on high quality teacher training and student learning. Your donation will enable expansion of Streetlight schools and contribute to systemic change. 
-----------------------------------------------------------------------
Adam Storck & Tarun Varma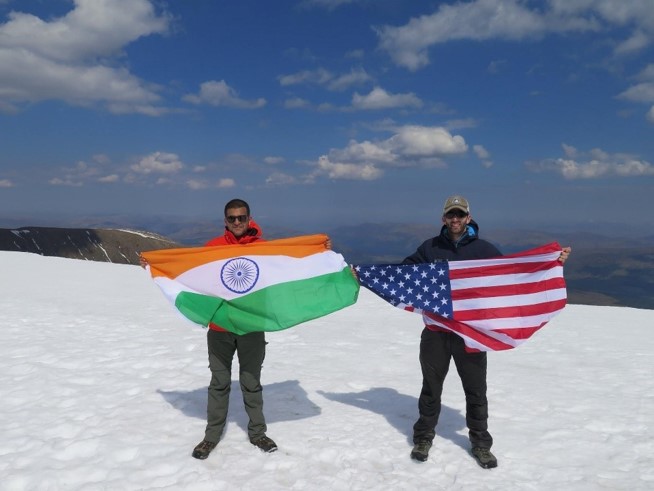 Adam and Tarun at the summit of Ben Nevis earlier this year

Tarun grew up in the mountains in India. He completed his Basic Mountaineering Course in 2008 and the Advanced in 2014. He climbed Mt. Machoi (5,900m) in 2009. He has trekked in Ladakh (Zanskar River, 3400m), Nepal (Everest Base Camp, 5875m and Annapurna Circuit, 5650m) and Bhutan. Tarun transitioned to a career in education after his five years in business made him realise that a desire for learning began young. From 2011 - 2013 he was a Teach for India Fellow in New Delhi, India where he led a 42-student class of 5 - 11 year olds . Tarun graduated with an MSc in Child Development from Oxford in 2015 where his research focused on developing curiosity and self-regulation in children.
Adam's experience spans multiple education contexts. He designed the curriculum and ran an education program for the Afghan Army Engineers in 2013, a role where he saw firsthand the detrimental impact of under-education. In 2014, Adam was hired as faculty at National Outdoor Leadership School (NOLS) and led two 30-day expeditions on which he taught leadership, risk management, conflict management, and team building to teenagers. The dramatic change in self-confidence and comfort in their own skin that he observed in his students cemented for him the truly transformative power that quality education can have.
We're joined on our climb by
Whitney Tilson and Mark James
. Whitney runs Kase Capital and sits on the board for KIPP charter schools. Mark is a SCUBA instructor at the Navy SEAL Training Academy and a former SEAL.
+ Read More
Be the first to leave a comment on this campaign.