17
3
Malcolm's Medical Mend!
$1,625
of $15,000 goal
Raised by
18
people in 6 months
Hi, friends! Gard here! Hey, I'd like to draw your attention to one of the best people I know, my friend, Malcolm Salls...

Malcolm has been a stalwart kindred spirit for many years, and he recently experienced a terrible, TERRIBLE accident/ injury that has left him in a very bad state. He's just undergone expensive emergency surgery on a deeply injured left quad tendon, and will have to endure four months completely out of work, doing physical therapy with some of the best out there to restore his ability to stand and walk without pain, to maintain his career, and hold onto his status as a respected musician in New England. Right now, he can use all the help and support he can get to stay positive and keep focused on the good things that await at the end of the rough, painful, expensive multi-month period.

His daughter is a sweety, and I want to help Malcolm return to his life by helping remove some of the astronomical costs he faces during this time when he will be utterly unable to work his regular job and will rarely be able to see people to play for them. If you can, please consider helping Malcolm. Those who know him know what a truly good guy he is. You, like I, know how he has worked hard to raise funds for animal shelters and cancer charities, and I want to thank you for being part of this group of good folks who show someone they can do wonders with their hearts and souls, just like he has.

He's a great guy. If you can contribute, please do, and pass this on to a friend to ask him or her to help, as well! Spread the smiles! It's a wonderful thing to do!

All the best!

-- Gardner Goldsmith
+ Read More
Update 2
5 months ago
Share
Hi, all who have donated, and all who are visiting! I'd like to update you on how things stand for Malcolm thus far. He's hitting his PT hard, liking the PT team. He had a moment of trouble when the docs mentioned that some of his surgery work wasn't healing properly, but it looks okay!! YEAH! He's trying to make it to the shows he promised to play, but it takes him a lot longer to get around and get into position to do it! Amazing that he can put that effort in! Thank you of helping so much! And thank you for caring! We hope you can keep spreading the word! Post on Twitter, FB, Insta, and in e-mail! Thank you, all! :)
+ Read More
Update 1
6 months ago
Share
Hi, everyone! Thank you for helping out! If you see this for the first time, and you're curious, here's more information... This one might be rough to see, so please be forewarned. As you can tell, Malcolm's leg injury is a bad one. This will require months of rehab to get him close to being able to walk properly... I hope you can help!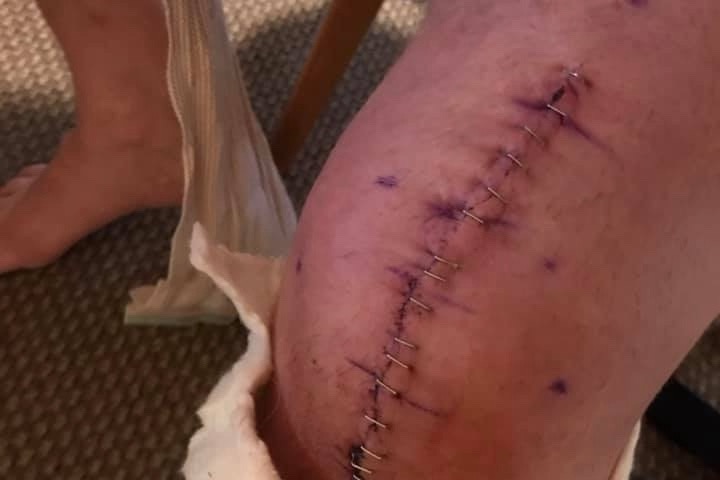 + Read More
Read a Previous Update