Waiting for Magic: Rininger's IVF
$2,375
of $10,000 goal
Raised by
24
people in 27 months
"Happiness can be found, even in the darkest of times, if one only remembers to turn on the light."
— Albus Dumbledore, Harry Potter and the Prisoner of Azkaban
Our infertility story started over three years ago, while we were still living in Los Angeles. Through years of setbacks and heartbreak, I am proud to say that we have stayed strong as a couple. My husband, Mark is my best friend, my brightest light, and my rock. I am so thankful that he is the man I must go through this hell with.
Since almost the beginning of our infertility struggle, my husband and I felt that being open and honest with our friends and family about our hardship was the only forward. We chose to do this not only for our own emotional well-being, but also so that we might be able to help other people who share our painful journey. If you are interested in reading all the details of our three year struggle, you may do so by clicking
here
. Starting an infertility blog helped me through some of the darkest days of my life, and reminded us that we are not alone in our pain.
A History of Magic: The Story of Us
I think Mark and I have always believed in Magic. Both self-proclaimed nerds from a young age, it was our love of science fiction and fantasy that really helped us to nurture our relationship from the very beginning.
We started dating way back in 2008 after a chance run in at the historic West Hollywood bar and eatery, "Barney's Beanery." Though our relationship started as a friendship, it quickly progressed to more. Not even two months after we met, he took a chance and kissed me at a birthday party. I hadn't even realized he liked me.
Our shared love of movies and books (especially anything that could be considered "nerdy") bonded us, and sharing those things that we loved with each other became paramount in our relationship.  
It should therefore come as no surprise to hear that four years into dating, Mark proposed to me by offering me a ring from space (moissanite) using a Star Wars Lightsaber Candlestick holder. It was the easiest question I ever answered.
We were married in a small Las Vegas Ceremony in front of our closest friends five months later (we got married in the nearest castle we could find). Due to our love of the fandom, and, ya know, magic, we had a beautiful Harry Potter Wedding with our family and friends the following May.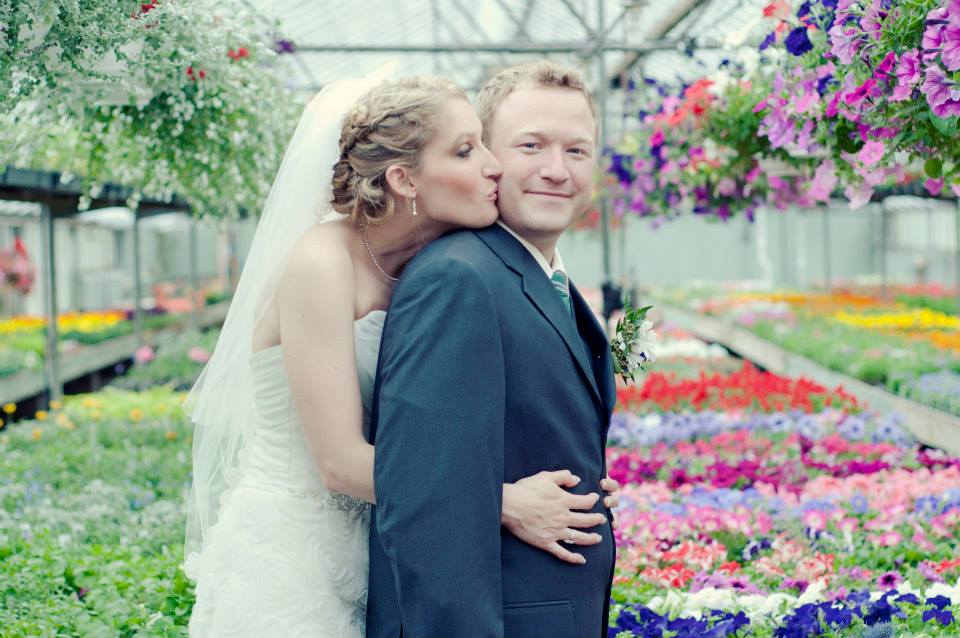 Our Infertility Story:
A little less than two years after getting married, after successfully keeping a baby puppy alive, we decided it was time to start a family. We had no idea the heartache we would be in for. Month after month, pregnancy tests came back negative. We remained hopeful for a long time, and a cross country move signaled more financial security and a fresh hope for new life. But another year passed, and a baby never came. We finally sought help after two years, and our fertility doctor gave us the preliminary diagnosis of endometriosis. We started treatment, but quickly had two failed IUI (Intrauterine insemination) procedures. We proceed
with surgery, which confirmed the doctor's original diagnosis of endometriosis. 
We were told that IVF was overwhelmingly the most successful way for a couple battling endometriosis to conceive, but since our insurance doesn't cover any aspect of the procedure, we took that off the table.
We would try IUI three more times, each leading to more heartbreak than the last. After over nine years together, and three years of trying to conceive, our journey seemed to hit a wall. After everything we have been through together, we cannot imagine giving up on our dream to become parents. Yet, I don't think either of us have ever felt so low.
After a sit down with our doctor, following our fifth failed IUI, we knew that IVF was our only option.
Through our three year battle with infertility, we have been so blessed to be surrounded by friends, family, co-workers, and even complete strangers who have helped to make our fight seem just a little bit easier. It is because of the overwhelming love and support of those around us, that we have decided to reach out now. After everything we have been through, after all the pain and heartbreak, we still believe in magic. We know that with just a little help, we may be able to finally hold our baby in our arms.
Full Disclosure:
It isn't easy for us to ask for help now. We know that it really does take a village to raise a child, but we also know that however increased our odds are with IVF, it is by no means a guarantee. Even after undergoing IVF, we may never be able to conceive a baby, and we want to be honest about that from the beginning. That being said, our doctor does give us almost 70% odds, and that truly is the best news we have gotten in years.
What We Need ($18,740):
We have set our fundraising goal at $10,00, though the actual cost of a single IVF procedure is much higher. To help you understand what we are facing, we have included a breakdown of the cost (as indicated by our clinic's pricing).
·         Laboratory and Physician Fees – $6,450
·         Facility Fees – $2400
·         ICSI, if needed – $1500
·         Assisted Hatching, if needed – $680
·         Anesthesia Fee – $40
·         Medications – Varies; paid directly to pharmacy: Approximately $6000
·         Embryo Cryopreservation (includes 1 year of storage) – $950
·         Cryopreserved Embryo Storage Fee (yearly) – $360
If first cycle does not result in a pregnancy, but viable embryos remain–
·         2nd Cycle Laboratory and Physician Fees – $5,450
·         3rd Cycle Laboratory and Physician Fees – $4,450
How Else You Can Help:
We know that not everybody will be able to help us with the financial aspect of the struggle, but please know that your love and support are also crucial to us. Your kindness and understanding means more to us than you will ever know, so please don't be afraid to reach out and check on us. If you could help us by sharing this site with your family and friends, we would be incredibly grateful .
We promise to keep you all updated on our progress.
Thank you so much for everything you have all done and continue to do for Mark and I. Words will never be enough thanks for helping us create life, but we will never stop speaking our gratitude. We also promise you that should we be lucky enough to have a child, he or she will know this story, and each of your names. They will know how truly loved they were, even before they were created. Thank you so much.
All our love.
Always,
Sam and Mark
+ Read More
Update 2
27 months ago
Share
Mark and I have been so overwhelmed with the amount of love and support we have been given since launching this campaign, we decided to add an additional "reward" to the $5 donation tier.

This morning I woke up, came into my office, and crafted a custom, Lord of the Rings inspired thank you, to send out virtually via Facebook. Every person who donates $5 or more will receive a personalized digital copy of this thank you card, with the quote, "Even the smallest person can change the course of the future."

Of course, I will also still be designing a custom thank you card to mail out to all the donors who give $25 or more. The art and text will be totally different on that one.

This thank you was just something different that I wanted to do for all of our donors right now, since the thank you cards will take a little while to print out and mail. I'm really happy with how they turned out, and they make me so excited to hopefully meet our own little hobbit in the near future.

And while we are on the topic of Lord of the Rings, it seems like a good time to tell you that we will create a whimsical gender neutral Lord of the Rings themed nursery, should our little miracle arrive. It is currently the theme of my office (which would become the nursery) so we already know it will be the perfect magical space for a baby that will surely be surrounded with so much love.

Thank you all for your continued support. Your help give us the strength we need to continue.

All of our love,

Mark and Sam

+ Read More
Update 1
27 months ago
Share
Regarding Mother's Day,

I was blessed to be raised by an amazing mother, and a pretty spectacular group of women who acted as surrogate mothers in many ways. My godmother, Pam, has been an important maternal energy in my life since the day I was born, and my best friend's mother, Karen allowed me to stay over at her house just about every day until they moved away. When I married my best friend in 2012, I was lucky enough to gain another wonderful mother, who gives us both (and her beloved Grand Puppy) so much love.

I am also extremely grateful to be the Godmother and Aunt to a wonderful little boy who just spent the morning giving me high fives on Skype. I do not ever take my amazing upbringing or this amazing little boy for granted.

Even with all the reasons and all the women I have to celebrate on Mother's Day, this isn't a easy day for me. I have now celebrated three Mother's Days since we have started trying to get pregnant, and each one got a little bit harder to take.

I assumed that today would be difficult as well, and I won't lie and pretend it's been easy, but the outpouring of love and support that we have received in regards to our IVF treatment has made such a positive impact on our outlook this year. I desperately hope to be pregnant next Mother's Day, but if I'm not, it really is such a comfort to have the knowledge of how much love surrounds us. Thank you for all of you who have donated, shared our story, or even just offered your kind words and encouragement. You all made a dark day feel so much brighter, and we will never know how to repay you all for that.

Thank you so much, and Happy Mother's Day!

Love Always,
Sam and Mark
+ Read More
Read a Previous Update
Be the first to leave a comment on this campaign.