Make Riverhead
$335
of $1,500 goal
Raised by
8
people in 24 months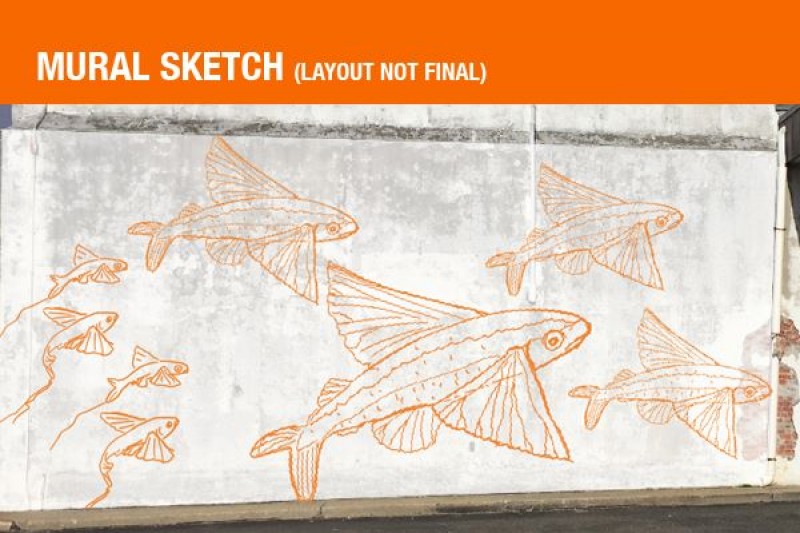 My name is Anthony Catania, an artist and graphic designer living on the North Fork of Long Island and I'm part of JumpstART 2016, a public art and artist education program produced by East End Arts in Riverhead, NY. Through Creative Placemaking, participants create public art that will benefit the town and people of Riverhead.
My project is called Make Riverhead, and it's my way of celebrating Riverhead and creatively adding to what makes it a destination. It consists of two elements:
1. A mural of flying fish on the East-facing drive through wall of the Chase bank/Science Center in Downtown Riverhead (on the corner of Roanoke). The mural will begin at the back of the building with the fish flying towards Main Street. The fish will be depicted in line drawings in various stages of flight. They will be painted in orange to bring warmth and good feelings to the viewers. I chose that color in part from the experience of viewing Christo's "The Gates" installation in Manhattan years ago. Though I viewed the work on a frigid February day, walking below the bright orange fabric made me feel both warm and happy to be outside. Symbolically, flying fish inspire a sense of possibility wonder and speak to how we all might achieve things that in some way appear impossible.
 2. There will be postcards in the 3 main languages used in Riverhead–English, Spanish and Polish– that say "Make Riverhead ________." for the public to fill in their own idea of what they would like to see Riverhead become. These will be filled out and displayed opening night on site.
Between these two parts, I hope to start a dialogue about how the public actually feels about Riverhead presently and give them a voice in the town's future. JumpstART is meant to stretch our skills, and painting a mural this size is pushing me outside my area of expertise.
All collected funds will be used for supplies (paint, brushes, printing, stencils, equipment rental, etc.).
Be a part of Make Riverhead and please CONTRIBUTE today. THANK YOU FOR YOUR SUPPORT!
___________________________________________________________
ANTHONY CATANIA is a fine artist and graphic designer who works in a variety of mediums all based on a foundation in drawing.
Anthony received an Associate's Degree in Graphic Design from Suffolk County Community College and a Bachelor's in Fine Arts from Dowling College. Both degrees were given with high honors. He was chosen to
represent Dowling College in the 2012 Art League of Long Island's Director's Cut exhibit and won Awards of Excellence at the Babylon Art Festival two years in a row (2011 and 2012) for his sculpture Self Portrait as a Chair and Maguro, a large-scale pencil drawing, respectively.
His photographs have been published in Photographer's Forum Magazine's Best of College Photography Annual and printed on a label for Jones Soda. They have also been featured online on musician Butch Walker's website and on the fashion blog ThinkInCouture.blogspot.com.
Anthony worked as a graphic designer and illustrator at Ross School for five years, designing everything from newspaper ads to the school yearbook. Since then he's worked on various freelance projects including a brochure for Bedell Vineyards and a day planner for Berkley & Bond. He founded Local Where in 2007 where he creates limited edition stickers, prints and postcards using environmentally responsible materials. His creations are for sale in small businesses around the North Fork of Long Island.
+ Read More
Be the first to leave a comment on this campaign.