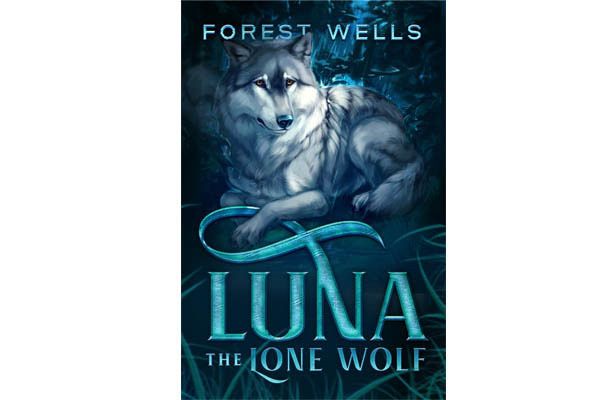 9
2
Selfpublishing "Luna the Lone Wolf"
$240
of $3,100 goal
Raised by
6
people in 13 days
Luna was destined to be alpha once he became an adult, but before he got the chance, his own brother, Rajor, framed him for a crime no one committed, leading to Luna being banished from the pack. Declared a lone wolf, never to know the company of another wolf, Luna turns bitter as he learns to accept his new fate. Yet even as he does, other wolves, strange two-legged creatures, and one mockingbird, force themselves into his life, driving him through a gauntlet of trials where he must reconnect with the alpha he was born to be, or turn away from it forever – assuming he even survives.
Sample chapter can be found
here
. It's not fully edited yet, but it's enough to give you a taste of what's to come.
Greetings all. I'm Forest Wells, and I need your help to get my first novel, "Luna, The Lone Wolf," published. It's a Young Adult, coming of age story, that will touch the lone wolf in all of us regardless of your age. You'll take the journey with Luna, and see the world from his eyes in a way that hasn't been done before. I kept it in his perspective entirely, which was quite a challenge at times. After all, when a wolf looks at a pickup truck, what does he think it is? Things like this give it a fantasy feel, even though there's no magic involved. Just Luna, his journey, and those that are part of it.
But as I said, I need your help. The costs of self-publishing a novel add up fast. Too fast for my budget to handle. That said, you won't be leaving with nothing. Depending on how much you donate, you'll get neat things like copies of the book, signed copies of the book, even posters of the characters. Speaking of those posters, in addition to a special gift for contributing so much, I am offering a limited edition run, signed by the artist (and me if you want me to). Can't offer much? That's okay. I have some low end tiers that will still help out, and you can get nifty things like a bookmark with attached tassel.
Here's one of the designs, front and back, featuring one of the secondary characters;
The bad news is, I really do need the FULL amount before I can get this thing to market. So until I do, it'll be some time before I'm ready. The good news is, once I do, those of you who contribute will be getting your copies first! Probably at least a month ahead of the launch date, if not more. For all I know, you could get yours several months ahead of the launch date, in which case, you could become part of the marketing team in your own way. By talking up my novel with your friends and followers, telling them how amazing the book is, you'll create a buzz that will lead to a good launch when it happens.
Now where is all this money going? Well let's see;
Editor----------------------------------------$200
Marketing-----------------------------------$300
Advance reader copies--------------------$500
PR materials--------------------------------$500
ISBN Numbers-----------------------------$300
Contingency--------------------------------$300
Rewards-------------------------------------$1,000
Wow, you guys are expensive. Mind you, that number includes things like; printing the items, having them shipped to me, packaging materials, and the cost of me shipping them to you. Remember how I said that costs add up fast? Right there is a prime example of what I'm talking about.
Now if I get lucky, and I end up with just a little funding beyond my goal, then I get to add a couple of things. For example;
$4,100 I'll be able to get a fuller round of proofreading, book reviews, and maybe premium marketing, which will help the book do and be the best it can.
$4,400 Now I can commission an artist to make a sculpture of Luna that I could then take with me to events. Would be a nice photo op too. Get a picture with the book, the author, AND the main character. As contributors, I might even give you special opportunities should you ever come to a signing.
Anything more will be split between marketing, and my contingency fund to covers costs I didn't know about. Plus if there's a grand surplus, who knows? I might be able to add something else to my grand plans.
Now I will admit, even once I get full funding, it may still be up to 6 months before novels arrive. I am aiming for a February release, so it could be much less, but the key here is "aiming for". There are a TON of things that need to be done before it's ready for release, which could push back the release date. As for other things like the bookmarks and posters, I would think I could get those out within a month or two, but I can't be 100% sure of that either. Some of that will depend on my dealings with the printing companies in question, though I must say, the communication has been outstanding so far.
I know I'm asking you to wait, but there are a lot of steps in the process, and there's no way to be certain how long they'll take. The best I can offer is that once it's finished, the wait will be worth it. Just ask my beta readers. And remember, one way or another, you WILL be getting your copies first. In the meantime, please contribute whatever you can. Every bit helps, and you'll be helping me reach my dream. If I can pull this off, make it a success, this will only be the start. This is my FIRST novel. I have more on the way. So help me get this one off the ground, and you'll be helping me write all my future stories.
I'd say that's worth it, wouldn't you?
+ Read More
Update 1
5 days ago
Share
I may not have the funds I need yet, but I've hardly been idle.
Behold; the bookmarks you can choose from. You can find them at the end of this message. Much like the one I shared before, they all have something on the back as well. But that I'm afraid I'll have to keep under wraps for now. After all, I can't give everything away. Gotta save something for later.
From here, it's file prep, and then we will have to wait. Until I have some idea how many I'll need, to say nothing of the funds required, I can't do much with them. But at least you can start thinking about which ones you'll want. Or... maybe... you can start deciding if you can go for more to get more of them? Maybe spring for enough to get all of them?
Okay, I'll stop selling now. :-)
Most of the posters will feature the same art, but you'll be getting a full image instead of the cropped ones here. Though if you like my cover, you'll love Luna's poster.
All artwork was done by the wonderful "Chickenbusiness." You really should follow her if you haven't already. She does good work.
You can find her here;
https://www.deviantart.com/chickenbusiness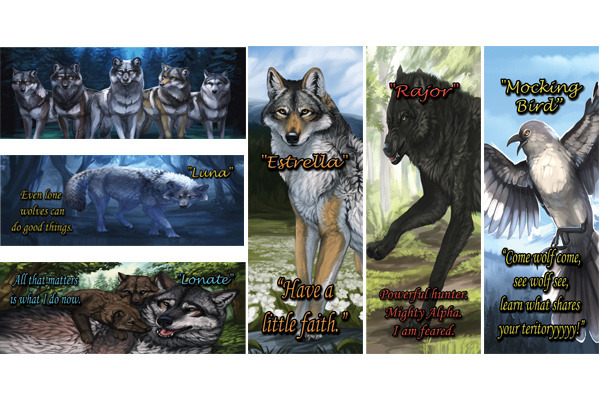 + Read More