Beyond Love: Soothing the Soul
$3,778
of $15,000 goal
Raised by
59
people in 32 months
I'm Johanna Beekman (
johannasings.com
) and I believe we're all here to help each other. I'm here to humbly ask for your help realizing my dream. In return, I'm offering a gift that I hope will provide you with powerful healing, deep relaxation, and sweet inspiration during tumultuous times. This gift combines two of my greatest loves: music and yoga. I call it Lullaby Yoga.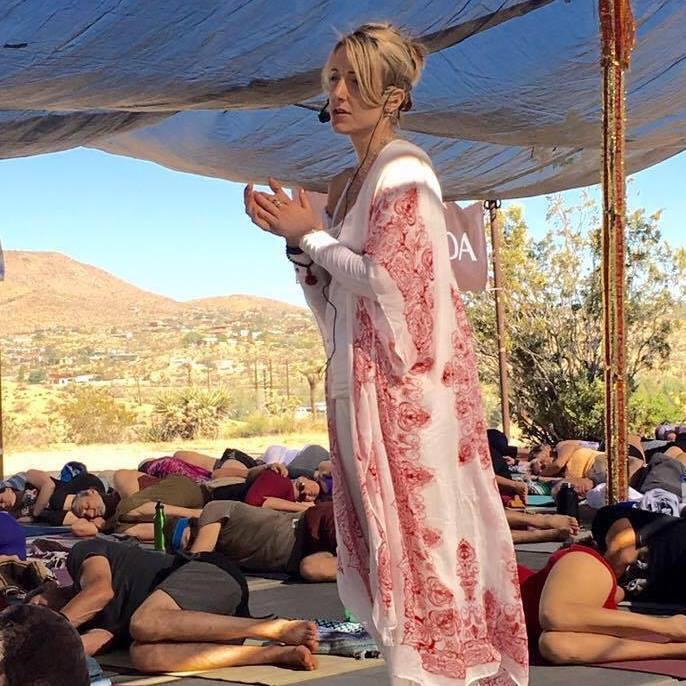 Lullaby Yoga was born literally by accident.  I was hit by a drunk driver shortly after completing a power yoga teacher training. My injuries forced me to rethink my yoga practice—I could only do the most gentle, therapeutic poses to relax and restore my nervous system during the long healing process.
At the same time, I refocused my music on the bhakti yoga practice of chanting, or kirtan. I was first exposed to this heart-opening practice as a teen when I had the opportunity to attend two week-long retreats with Krishna Das and Ram Dass. More than a decade, and three singer-songwriter albums, later, after the accident, I returned to this sacred music, and deeper layers of its healing power began to unfold.
But the real power of these practices emerged when I put them together to create Lullaby Yoga. While my body was healing I had started teaching deeply relaxing restorative yoga and leading chanting sessions in yoga studios, spiritual centers, and living rooms. It was only natural to start chanting while leading the yoga classes.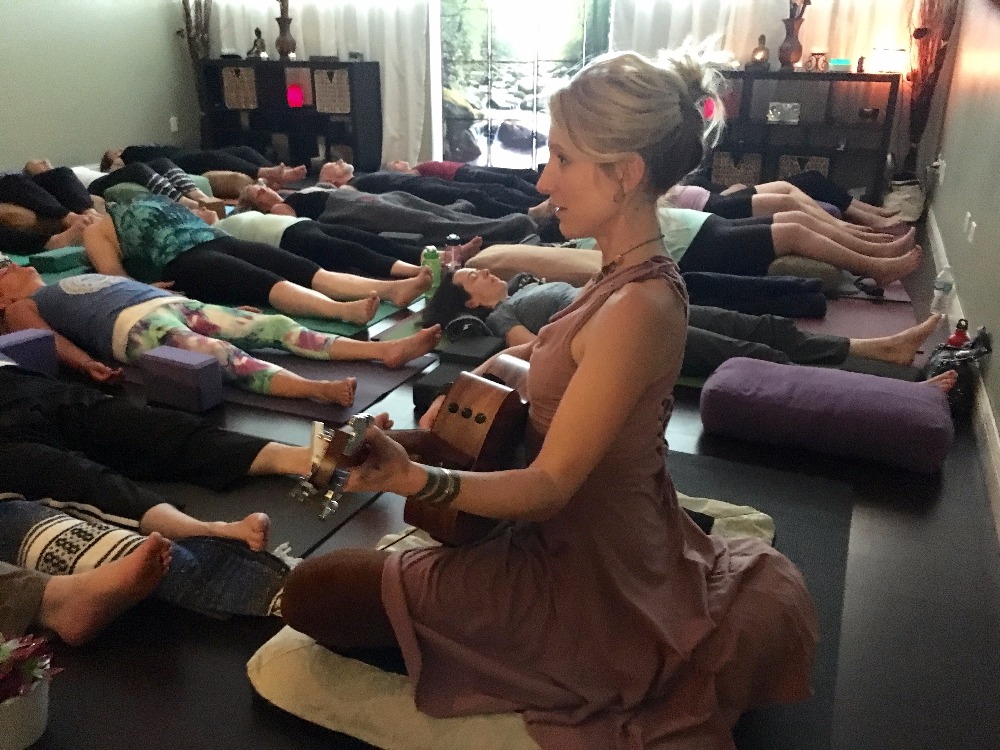 My Lullaby Yoga classes focus on deep relaxation and healing, using principles from restorative yoga, Nada Yoga (the Yoga of Sound), yin yoga, yoga nidra, and subtle body and breath work.
I gently guide participants through a series of relaxing poses while singing and playing soothing songs and chants. The music facilitates the healing process by providing a luxurious, peaceful space for the mind to rest while the body relaxes, rebalances, and restores itself.
I've taught LY classes in tiny yoga studios and giant festivals. People describe their experiences as deeply relaxing, healing, comforting, and transformational.  In our highly stimulating culture, there is a hunger for rest and stillness. We sing lullabies to children, but adults need soothing music too.
Many people have asked about a CD or video so they can take the practice home with them. My CD Heart Beats One has some of the songs I sing in class, but this album will be designed from the ground up with Lullaby Yoga in mind.
I'm delighted to be creating this project with award-winning producer Ben Leinbach, who did the final mix on my first kirtan CD.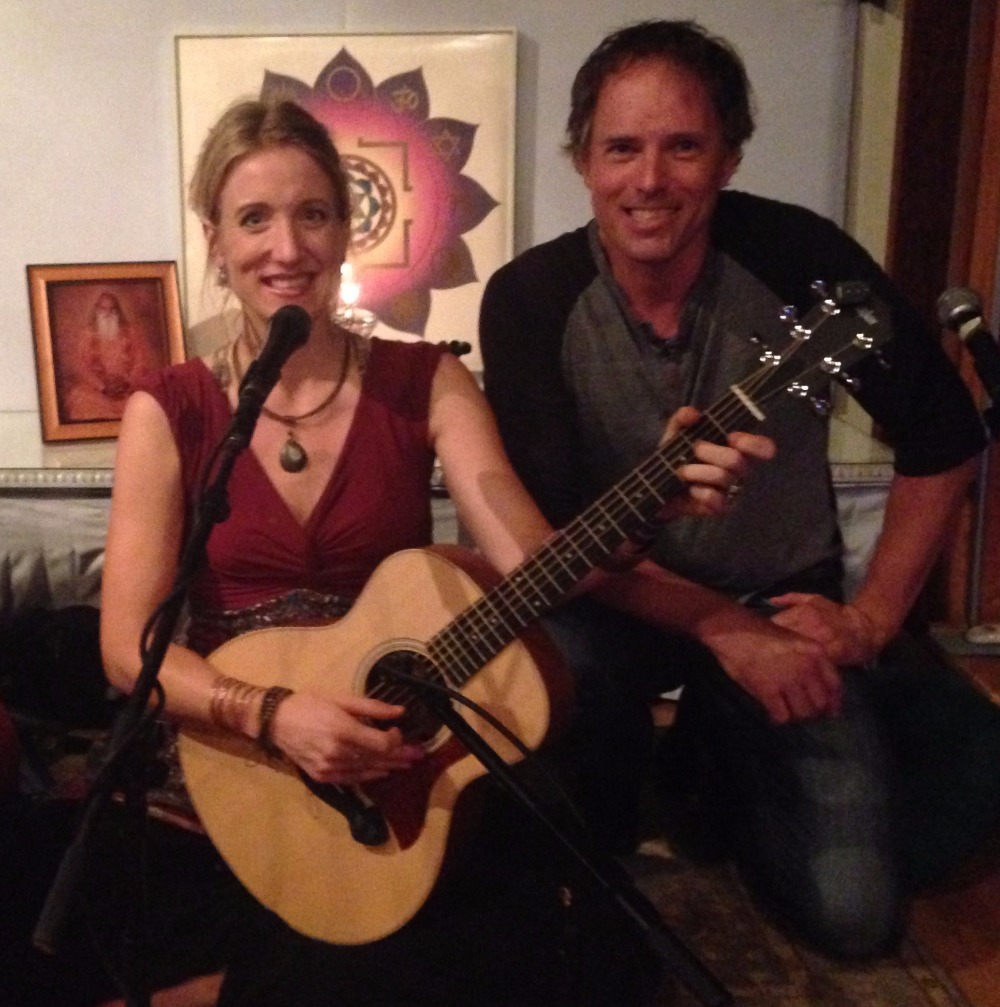 Our goal is to create an album that's at the same time relaxing, restorative, healing, and heart-opening—something that can hold space for gentle yoga, quiet chanting, meditation, deep rest, massage, therapeutic movement, acupuncture, and many other healing modalities.
This kind of music is very different than typical performance-oriented music. There's less separation between artist and audience. Whether I'm leading a kirtan or a Lullaby Yoga class, I feel like everyone in the room is part of my healing circle.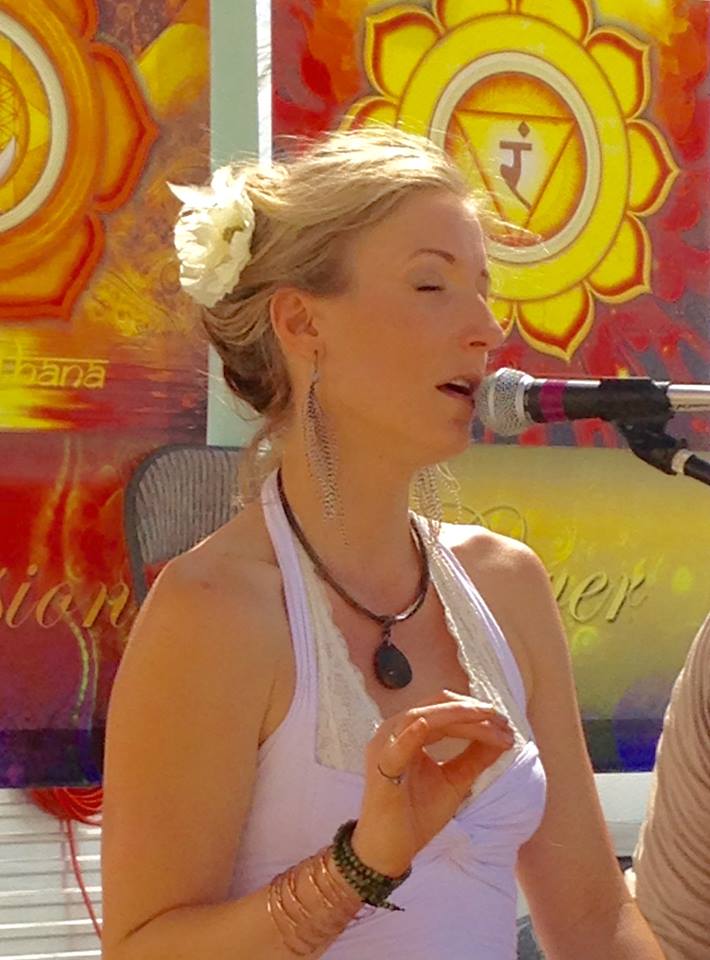 Many of the people who attend my kirtan and yoga sessions ask how they can help support the work I do so I can continue to grow the practice. That's why I've created this campaign. 
With financial support from my community I'll be able to complete the Lullaby Yoga CD that can be used by students, teachers, and others to, in this small way, heal the world.
I'm humbled and grateful for the great hospitality of the yoga and bhakti communities.  I'm excited to be able to take it further.
Learn more about Johanna Beekman Music
+ Read More
Be the first to leave a comment on this campaign.