177
19
LOMBOK EARTHQUAKE
$7,716
of $250,000 goal
Raised by
172
people in 3 months
Over the past month devastation has hit a place that has become our second home. Lombok Island (just off Bali) is home to a majority of the people in Indonesia who we call family. Since day 1 these people have taken us in and given all their love, are constantly making sure our bellies are full, and have taught us the real meaning of happiness.
A year ago we did a fundraiser when Gunung Agung (the volcano) became active and we saw firsthand how all of us coming together could provide food, water, and various supplies for people in extreme need.
We'd like to do that again for our family on Lombok and Gili Trawangan.
Our goal is to raise $250,000.
Our Indonesian dad Ewan owns the @theexilegili in Gili Trawangan, a small island that's a 10 minute boat ride from Lombok. He employs over 30 people all of which who have grown equally in our hearts as a family member; many of the employees lost their homes to the earthquake.
We asked "dad" if  they have insurance on the villas and how we can help... his first response was this "Yes Exile doesn't have insurance. i try to get all the staff back to exile to do clean up. open the bar again and get some cash rebuild all the houses of the exile staffs family in lombok. i cant help them if we are still closed."
This is the thing about Ewan. Since day 1 of meeting him everyone on the island and in Bali talked about how wonderful  he is, how honest, sincere, witty, and supportive. One of the first things we remember is asking why he doesn't sell coconuts at The Exile... he responded by saying "if we sell coconuts its takes from the people down the street selling coconuts. The people selling coconuts are some of the poorest people on the island. If we take business from them how will they survive? We must all work together and help each other out."
Needless to say we weren't the least bit surprised when he mentioned getting the bar fixed so he could help the staffs families rebuild their homes.
So this is the breakdown...
If 2500 people donated $50 that would make $120,000
If 2500 people donated $100 that would make $250,000
but small money matters also...
600 people donated $5 that's $3000 • if 1000 people donated $5 that's $5000 • 8000 people donated $5 that's $40,000 • if 200,000 people donated $5 that's $1 million ••• little money = big money
Every person that donates your name will be added to an art piece that will be disabled on the property showing all the people who helped rebuild The Exile and their staffs homes in Lombok. 
We're extremely excited for this journey and thankful you're here with us. 
We hope to see you on the island!
To our Indonesian family juah di mata dikat di hati (far from eyes close to heart)
We're in this together. We love you, miss you, and are praying for your protection.
One love.
Desie + Dhani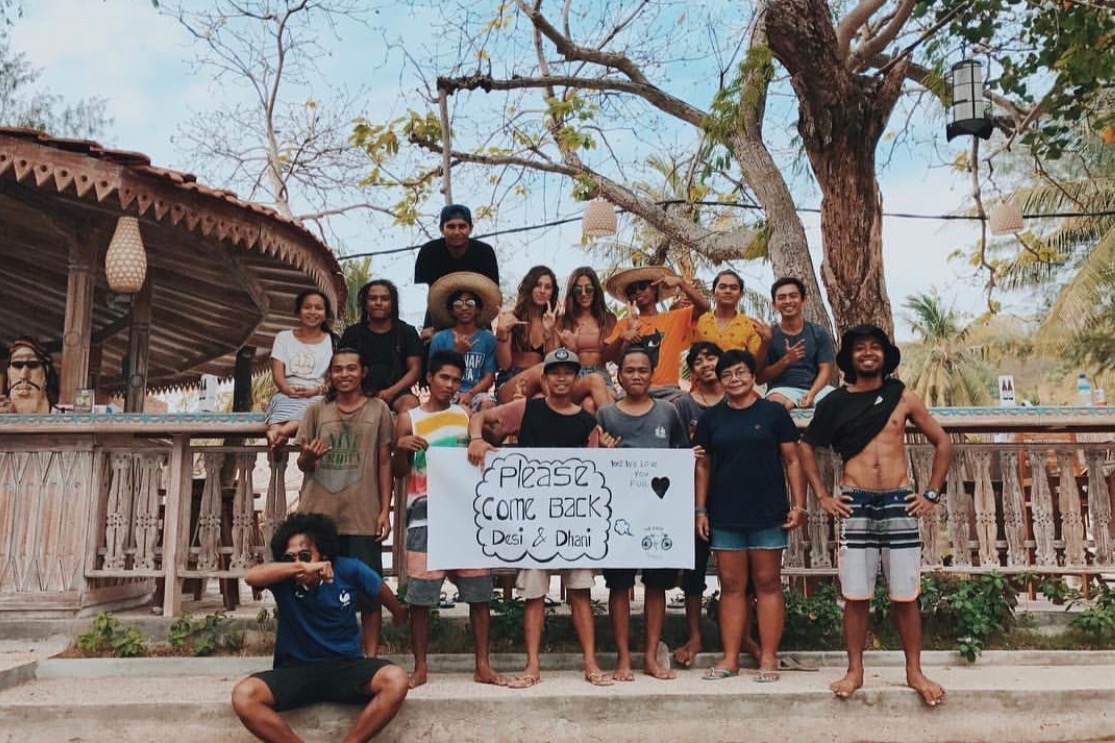 + Read More