Life for Brittany
$7,743
of $20,000 goal
Raised by
195
people in 32 months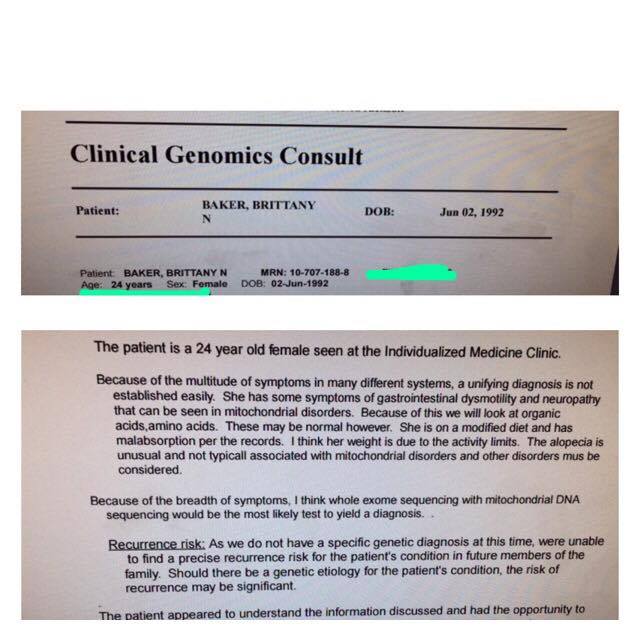 My name is Moriah. Over a year ago i sent a message to a girl on instagram who's story really touched me.. she shared some details of her health as a way to help her cope with her situation and to find a community of spoonies to encourage her as well as one another.
Something told me i needed to be her friend so i sent her a message and i started by telling her that i didn't know her but if she ever needed a friend that she could talk to me.. Little did i know that we would create one of the most amazing frienships i've ever had.

Brittany is the most kind hearted, strong individual i have ever met and probably will ever meet in my lifetime. Never have i encountered a person so positive amidst a living hell.
Brittany is 24. She is lives in St. Petersburg, Florida with her two dogs, one being a service dog.
At 13 years of age she lost her mother and just a few years ago she lost her step father as well..
Although her biological father is still alive and does help he doesn't have a job and can only do so much, Brittany is treading through life alone with a full-time job (disability is not an option. It is what motivates her everyday and helps her get through all of this, it keeps her motivated and distracts her at times), and paying for her own apartment, medications and treatment as well as the every day bills we all have and loads of medical bills.
Brittany has to take 22 oral medications 2-3 times a day as well as a nebulizer treatment 2 times a day. She also has to carry Epi Pens with her and two seperate inhalers. And lastly she has to get infusion treatments at the cancer center periodically.
I'm going to give you an idea of what her health looks like. Brittany's illnesses include:
Severe Gastroparesis
MCAD
Type 2 Diabetes
PCOS
Asthma
Anemia due to low iron.
Malabsorption Disorder
IBS
Severe Gerd & Acid Reflux
Osteoarthritis
Hypothyroidism
Chronic Migraines
Vitamin Defficient in all vitamins and minerals due to her Gastroparesis.
CFS
Paresthesia due to nerve damage.
Alopecia Areata
Chronic Pain 
Degenerative Disk Disease
Hyperparathyroidism 
POTS (Postural orthostatic tachycardia syndrome)

Last year in 2016 it was discovered Brittany also has genomic problems, she has a malformation in her gene's that right now at this time doctors are studying and trying to understand more about. Brittany joined a medical trial so that the doctors at Mayo can test her blood for the next five years to hopefully better understand her genomic issues.



She has random seizures as well that doctors don't understand what's causing them yet but her Neurolgist has inquired about possible Lyme disease.



Due to Brittany's Gastroparesis, she is unable to digest food like normal people and therefore has a diet limited to nutrition smoothies and liquid mostly. Even then her body rejects it and makes her vomit..sometimes lasting all day.
She has had her Gallbladder removed and a gastric pacemaker put in to help her not vomit as much.
Brittany has already been to Mayo Clinic and they started genetic testing. But it is 6 hours away...

She was denied a GJ feeding tube due to the fact that her body will reject it.. the doctor said he has no way of knowing if Brittany could tolerate the forumla with everything going on and the surgery would be too risky.
One of the doctors said something needs to be done soon or she will end up not living a long life and dying.
A Gastroectomy has been mentioned but Brittany is hoping it won't be needed.

At this point the bills are racking up and her insurance is going up in price; all this is more than she can afford.. With Mayo Clinic being so far, the commute alone is a huge cost. She needs help.
She has been sick her entire life so her medical debt is beyond her..

because of Brittany's medical debt her team of doctors do the best they can to help her but they can't just let her get everything done for free as much as they wish they could.
Brittany would never ask for help and so I am doing it for her. I wish i had the money to give her all of it myself but i don't.
This goal is very much a guess of what she could possibly need and it may be more. At this point we don't know. But we are taking ANYTHING we can get. And although there isn't any specific time frame, time is definitely of the essence.
Brittany doesn't have enough money for all her tests and surgeries that need to be done. And they NEED to be done.
I don't wanna live in a world without Brittany, knowing all she needed was the money for the treatments to save her life.
I don't know if anyone will read this or care. But Brittany means more than the world to me and i need her to stay on this earth. I need her to get the treatments she needs.
It's so hard for me to hear the crap that her body dishes out daily.. The never ending struggles she faces would have made me give up a long long time ago if i was her. But she still fights on and she still smiles through everything.
I would call myself a successful person if i could be half the person she is. If there is anyone deserving of help, it is Brittany. She has heart of solid gold and deserves to live a long, full, happy life. Please help me give that to her.. I would be forever in your debt.
+ Read More