Library for Mogadishu
£124
of £10,000 goal
Raised by
2
people in 12 months
Visit Us


Who are we?
We are a group of young adults from across the UK, and internationally, we are working together to create a new library service in the Horn of Africa. We want to give as many people in the Horn of Af access to library services and information. Access to libraries is an incredibly limited opportunity as there are only a few libraries in the ENTIRE country! We want to change this fact, we want to support local communities manage library services by giving the support they need to create libraries.
AQOON-SIDE (Caravan of Knowledge) is our Somali trading name. 
Our relationship with the parties we're raising funds for.
Queen of Sheba International is collaborating with IFIYE center this year to increase access to libraries in Mogadishu. IFIYE is an educational center based in Mogadishu Somalia, which promotes the culture of reading and creative writing in Somali speaking society, with a particular focus on youth. See how your support will support literacy in Somalia this year.
Imagine...
You are a young child, aged 7, you have a really good day at school because your favourite class jus just explained how day and night are possible. In fact, you have just discovered that when its day for you it's night for another part of the world! You really loved hearing the teacher explain about the sun, moon, planets and the solar system- you want to know MORE! But once you leave the classroom there is nowhere for you to that will provide the books, activities you need to grow your knowledge, foster your curiosity and feed your imagination. So you have no choice but to play out with your friends for the rest of the evening until the next lesson, you'll ask the teacher some question. But you know that they don't have the time for you to explain and answer ALL of your questions- no. Because you are in a class of 30-60 children, the teacher tries their best to answer your crazy questions when they can but they just don't have the time.
Now imagine a different child. She had a lesson on how the human body digests food! She wants to know everything about how the human body works now- she's set her mind up, she will become a biologist! After the school bell rings she heads to her favourite place in the whole town- her local library! She skips along to the librarian who is sorting out some books about astrology. The librarians smile as she skips closer happily, knowing she probably has changed her mind about what she wants to become- for the 100th time! She tells the librarian excitedly all about how we digest our food and that its a bit gross but she has set her mind to become someone who knows all the organs in the body. So the librarian walks her over to the biology section at the local library and shows her all the books on the human body. Her eyes light up and she has already forgotten the librarian is there at all!
A library isn't just four walls with shelves filled with rows of books. We believe that a library is a key community hub where imaginations are feed, inspiration is ignited and dreams are foster. There is a huge difference between children whose imagination and curiosities are given the room to expand and explore compared with children who are only given a taste of unlimited potential yet not allowed to grow up in. Support us- spread the need for more libraries in the Horn of Africa., SHARE our story.
Read below for all the juicy details!
How will the funds be spent?
Queen of Sheba International will withdraw the money to be spent as detailed below:
Why a Mobile Library (ML)?
The overall objective of the ML facilities and service is to promote equity of service provision by enhancing the opportunity for access to library services. It will provide the most flexible of library service, not being restricted to any particular population centre and able to respond to the needs of populations across the Capital City, Mogadishu.
The ML will provide books, DVD's, CD's, computers, pictures, maps, toys, and leaflets. It will have facilities to download material. The ML services and facilities will be a viable and cost-effective means to serve residents disadvantaged in terms of access to a static library, and in this special case where the presence of library facilities and services are extremely lacking at the one library in existence at the time of publishing this information.
Children's material, educational materials, homework, and training centres, IT facilities, containing PC's with internet access, scanner, photocopier and listening stations. Provide support staff and teaching facilities for children living in Internally Displaced People camps.
Finance
Estimated Total Annual Costs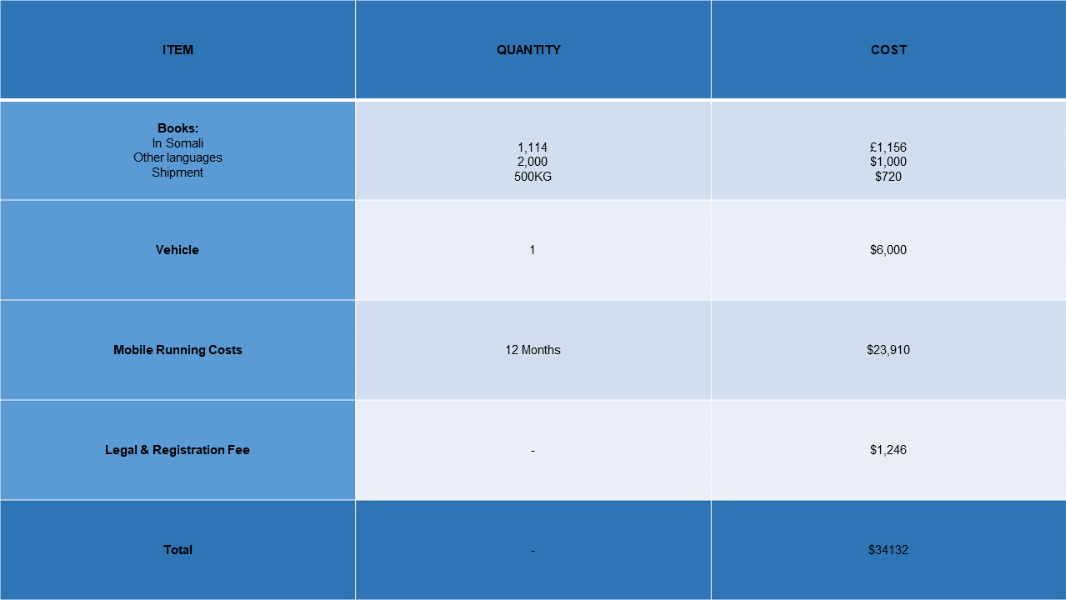 Funding will be raised through direct government grants, a combination of subsidies, fundraising events, donations, partnerships, and original merchandise. Financial planning to provide funds for its future replacement fund will be featured as part of the organisation programme's budget;  
General Costs
Telecommunication costs
Satellite dish maintenance and licensing fees for online access
Fuel costs
Vehicle insurance
Road tax
Colour scheme and interior design
External power costs
A Full MOT to ensure that the MT vehicle meets health and safety standards to safeguard staff, volunteers, and the general public
Administration Costs
Fund market research into government, geography, demography, and economic factors that can influence and impact the success, development and sustainable management of the project. All research must inevitably reflect local conditions and needs.
Hire a licensed driver with a minimum of 12-month contract to drive the ML.
We want to provide library management training to ensure they are competent in managing the facilities and services.
Sustainable financing
Sponsorship of various types
Advertising on vehicle
Sponsoring of certain books
Bequests from grateful users
Grants from different sources
Government
Private companies with charitable intentions
Charities
Friends' groups
Vehicles
Disability friendly, Special Educational Needs facilities and services e.g. wheelchair accessible, dyslexia friendly, blind and deaf support facilities.
Van type can serve up to 1500 people per month with a book capacity of 2500-4000 volumes, depending on weight.
Bus/coach type of over 10 metres (33 feet) long with a book capacity of 3-4500 volumes can serve up to about 5,000 people.  
Maintenance
Vehicle Garage Base
Recurring Licence/tax
Fuel Base costs as per branch
Charges for services
A maximum of 20 stops per day. A 7-day itinerary covering 50km (30 miles) per day with an output of 50 issues per hours.  A daily distance of 200 km (125 miles).  
You made it! Thank you for reading all the way. Now, what are you waiting for? Make a small difference- tell a friend.
Facebook
Instagram


Up for grabs when you sponsor £10 or more are Nurnazida Nazri's inspiring and easy to digest e-books 'Candle in the Wind' and 'Submitting to Allah'.
+ Read More