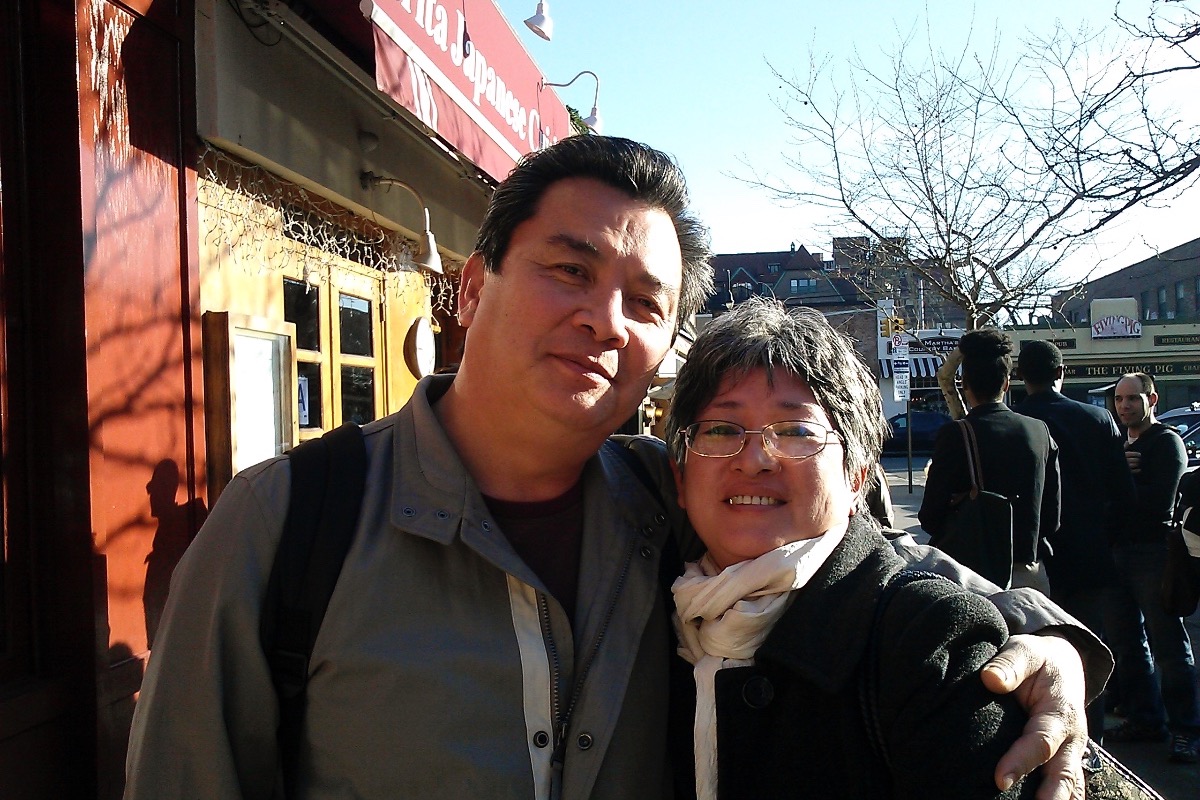 99
4
Tsoys Family Recovery Fund
$9,006
of $18,000 goal
Raised by
105
people in 12 months
This is my dad, my friend and biggest supporter and breadwinner for mom and himself. My mom is a homemaker, brain aneurysm survivor and lifetime teacher.
Two weeks ago, my dad started to feel abdominal pain on his left side. He was admitted to ER at Long Island Jewish Forest Hills Hospital and initially diagnosed with diverticulitis. What was supposed to be a simple surgery to treat diverticulitis, revealed that he has a tumor in his colon. After many hours of tests, biopsies and talking to doctors, it was confirmed that my father has stage IV colon cancer. As a result of surgery, he has a colostomy bag that will remain for 3-4 months and should also be prepared to start chemotherapy in a few weeks, which possibly will last several months. Our oncologist informed us that chemo may take up to 6 months. He won't able to work since colostomy bag and chemo will take place at the same time.
About Lev – my dad.
The reason, I am in the United States are my parents who decided to seek and provide better future for me. Immigrating to the US after being 50 was not an easy choice and he had to start from scratch and leave his job behind as a music teacher of 20+ years at which he taught kids to play Bayan (Russian accordion). He is the big believer that teachers can be friends and role models for their students, and he is one of them. The last couple of years, he was happy as he started to work with children again by becoming a school bus driver for children with special needs and serving four boroughs in New York. He knows every child that he picks up, sings with them, smiles with them, cares about their grades and talks if he sees that she or he is upset after school. He really came to appreciate his new country and everything it has given him.
"I am a proud father of my daughter."

My dad is an amazing man! I always say that I am a daughter of my father and he says that "I am a proud father of my daughter." My parents, especially my dad always believes in the power of education and endless potential in children. His biggest dream was to see how I achieve my goals and grow as a person and professional. Recently, I was accepted into the Ph.D. program and he was so happy and proud because it was our joint dream and lifetime goal. When I learned about my father's condition, I decided to postpone my studies but he said that "WE cannot give up our dream. You have to finish and I will be next to you to share it." He begged me not to quit and continue studying for him, and share news every single day. It was not an easy decision but I promised that I will do my best in a graduate school to be a "daughter of my father". He said that my graduation will be his strongest motivation to overcome chemo, cancer treatment, and future surgeries.
The Impact of your support
While we are working out all details of his treatment and negotiating with his insurance to understand all upcoming costs and options, there are several things my parents need support with, such primary things as covering rent, food, transportation to and from facilities. Having those issues covered at least for foreseeable future will allow us to focus on my dad's treatment, healing, and recovery process. He is a fighter and we all believe we can fight this off. If you know my father, he would not ask for help if it wasn't truly needed, and he spent a lifetime helping others. To be honest, it took a lot of work to convince him to allow me to start this campaign.
Every dollar you donate will go towards essential payments to prevent my parents from ending up in financial/debt catastrophe. As my mom, a Brain Anyreusm Survivor (2011) says, "We cannot do it alone and we believe in our community and giving back rule. We never ask for help but now, we really need it".
THANK YOU
Luda, Lyova, Natalya, Anastasiya, Davron, Vladimir, and Julia.
If you would like to send a note of support, please send it to a.tsoy@aol.comPlease note: Any extra money raised will be donated to the Queens Branch of American Cancer Society.
*If you would like to donate outside of US, please send us an email since we have few people who are willing to collect donation in Uzbekistan, Germany, and Russia.
+ Read More
Update 2
11 months ago
Share
Дорогие Друзья, знакомые и близкие!
От имени нашей семьи, хотим выразить вам слова благодарности за ваши отзывы и ваши пожертвования! Начиная этот фонд, мы даже представить не могли, сколько откликнутся людей на наш призыв о помощи. Ваши слова поддержки, смс, сообщения и письма дали нашей семье силы пережить самые первые и самые трудные для нас дни. Сейчас с вашей поддержкой финансовой и моральной, мой папа может сконцентрироваться на своем лечении и не думать о счетах, которые будут приходить каждый месяц. Сейчас он находиться дома под чутким наблюдением врачей, онкологов, хирургов, медсестер и социальных работников, которые навещают его. Некоторые дни проходят легко, некоторые приходится преодолевать с мужествой и силой! На следующей недели, у папы будет первый прием химиотерапии, поэтому мы все очень взволнованы и в тот же момент, настроены очень позитивно! С каждым новым шагом, мы будем стараться держать вас в курсе! Спасибо большое за вашу поддержку!
ПС. Всем огромное спасибо от папы за ваши пожелания, поддержку и позитивных мыслей! Все они были прочитаны и переданы прямо в руки :)
Линк на фонд
https://www.gofundme.com/lev-tsoy-recovery-fund
+ Read More
Update 1
11 months ago
Share
Dear Friends and Family! On behalf of my family and myself, I want to say THANK YOU for all your generous support to my dad's fundraiser. Frankly saying, when I started this fundraiser I had no idea what to expect, and many of you reached out to me and my parents with words of support and encouragement -- this love really helped my parents to go through difficult initial days. Every dollar, small or big make a big difference and now my dad has some peace of mind and can fully focus on his treatment and recovery. As
a way of update, his post-surgery recovery is going well and he is getting a good care in hands of doctors, nurses and social workers who are visiting my parents at home every other week. Some days are better than others, but dad is ready to fight this off and he is scheduled to start his chemo and cancer treatment next week at Northwell Hospital (former Forest Hills Hospital). Once again on behalf of my parents and myself - THANK YOU, RAHMAT, SPASIBO, RAHMET, TODA, 고맙습니다. Your support means a lot to us! I will do my best to update you all on his treatment!
+ Read More
Read a Previous Update