Letters to Frankie
$3,305
of $3,000 goal
Raised by
118
people in 19 months
The fifth installment from WGAE member / writer, director, producer Danielle Earle of the critically acclaimed, 2 Time LA Award Winning Series "Brooklyn Is In Love. Her credits include the critically acclaimed award wining SAG feature film, "Lover's Game," "Mad About The Boy," "Where The Road May Lead Us," "The Haunted Mind Of An Insomniac," LGBT Thriller "Lea," directed by Award Winning Director Jay Palmeri and the feature film, "LGBT Love Stories."'Check out some of her past productions here -> Brooklyn is In Love (
www.brooklynisinlove.com
), Lover's Game (
www.loversgamefilm.com
), The Haunted Mind Of An Insomniac (
www.hauntedmindofaninsomniac
.com) and Mad About The Boy (
www.madabouttheboyfilm.com
).
Danielle Earle has been featured many publications such as Curve Magazine, Time Out, Village Voice, Tagg Magazine, Out Impact, Women International Artists Salon Radio, Women of Upstate New York Magazine, News 12 New Jersey, AfterEllen, SheWired,  Go Magazine, and many more.
The Story
Letters to Frankie is a film based on true events of the Francis and Daniel Thomson case in New Jersey. Two young men, ages 16 and 20 were charged with first degree murder. It was the second case in the Bergen County town where a minor was charged as an adult. It remained one of the most unsolved cases that shook a quiet suburban town forever.
The film tells the story of Caroline Murphy, 29 year old, paralegal working for a prestigious Bergen County Law Firm. One night Caroline finds a letter from a mother, Mary Melanie of a crime that occurred 12 years ago. Two of her sons ages 16 and 20 were charged with first degree murder.
Without the help of her mentors, Caroline decides to take extreme efforts to investigate the unsolved circumstances surrounding the case of Francis and Daniel Melanie.
Another addition to the PL Entertainment LLC Team is Executive Producer Maria Nieto, and WGAE Member. Maria  is a bilingual, Colombian American Writer/Producer who is creating original Latino and female inclusive content for television and film. She has completed Ma Barker, a 1930's Gangster/Horror hybrid, and Maybe They Don't Like You, a female buddy dark comedy, as well as a made for television movie based on the Toronto gay pride movement. Both the feature screenplays and the made for television movie are co-written with Canadian scream queen Lesleh Donaldson.
"Letters to Frankie," is a story about family, hope, and forgiveness through consistant trivials of social injustice that affect America today. It's a story that focuses on the  continious social divide through predetermined judgement through law enforcement. Men of Color are being targeting and reaching the highest rate of being 
inprisioned, without facing a fair trial and better representation.
Will you help us tell our story to help build  a better America?

The Cast:

Daniel Pacheco (Frankie)





Irma Cadiz (Marie)



Crawford M. Collins (Ingrid)




The Crew:Danielle Earle 
Executive Producer, Writer and Director
In 2013, Danielle signed to the WGAE (Writers Guild of America East). She directed the crticially acclaimed, LGBT feature film "Lover's Game," "Lover's Game," and the upcoming film "Mad About The Boy," which is currently in production.
Nominated for 3 categories at the Hudson Valley International Film Festival for Best Narrative, Best Director and Winner for Best Actress Crawford M. Collins for "Lover's Game." Winner for Best Actress Crawford M. Collins at the Hudson Valley Film Festival and Mount Vernon Film Festival. "Lover's Game," was also screened at the Nyack Film Festival, Golden Door Film Festival, and NJ LGBT Film Festival. 
Who We Are?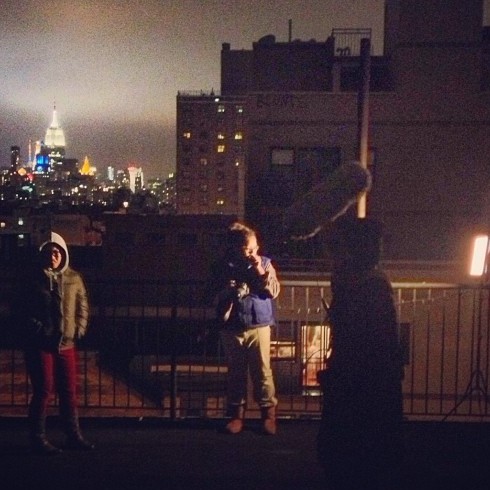 PL Entertainment's purpose is changing the world through, music and films. Danielle continues to do that in ever film she produces.
What's Next?
Danielle Earle just wrapped a feature film for LGBT Love Stories, as the Director, and Writer of the L Segment produced by Shelbe Chang and upcoming LGBT Thriller, "Lea."
Danielle is currently in production for her next film, "The Haunted Mind Of An Insomniac,"starring Ebeneezer Nii Sowah, leigh Poulos,  Jamal Crowelle, Kim Akia, Irma Cadiz and Emily Bennett.

Heather McAllister 
Writer

A 20 year veteran of the theatre, HEATHER MCALLISTER has served in many capacities. As artistic director of hope theatre, formed in 2000, she produced several FringeNYC Festival favorites. As associate artistic director of Expanded Arts, she worked both in their storefront space and in their acclaimed "Shakespeare in the Park(ing Lot)" series. As director, Heather helmed the off-Broadway American premiere of Edward III ("compelling...delicately nuanced" - The New Yorker); Seen on Screen, with Christine Schoenwald at Bang! Los Angeles; her own adaptations of A Christmas Carol, Bald Soprano and The Seagull. As an actress, Heather has been seen off-Broadway: The Head, Our Own Marguerite, Belle Fourche; off-off-Broadway: Pinata!, Die, Die, Diana!, Muse of Fire, Henry IV, Julius Caesar, Comedy of Errors, Three Sisters, Cherry Orchard, Frankenstein, My Ellis Island Story. Least glamorous yet most memorable job was a long run as Meryl Streep in Dressing Room Divas at the Duplex Cabaret. It's a long way from playing "Mrs. Friend" in Mrs. Magician's Mistake back in the fourth grade! Heather lives in Manhattan with her two adorable little boys and is currently editing a Young Adult novel and working on a screenplay. 
Maria Nieto
Executive Producer

She was the screenwriter and executive producer of the short film Lousy in Love, which was an official selection of the HBO New York International Latino Film Festival, and was broadcast nationally on the Nuvo TV's Not So Foreign Filmmaker's Showcase.

Currently she is one of the selected readers at ScriptLens, the world's first industry-led script consulting service providing substantive feedback from working professionals.
She has appeared as a Latin entertainment industry pundit on Huffington Post Live and Latino Rebels Radio and has both written, and been interviewed regarding issues relevant to Latinos in the entertainment industry.

Maria studied journalism at New York University and is a member of MENSA & Intertel as well as of the Writer's Guild of America.

We're looking to raise 2,500 to help as a startup for the production. This will give us an opportunity to really build the brand of the film, and generate sponsors and production placement for the film as whole. 
Alan Greenstein
Associate Producer
Mr. Greenstein is a Producer who becomes a stakeholder in companies and/or projects, such as web content and films. He contributes funding and is involved with reviewing/editing/proofing scripts and other documentation; reviewing websites; providing artistic input; populating social media sites; and managing IMDb pages.
Specifically:
• Co-Producing partner with Tiara Williams on The Reel Network and Your Black World Films. Focus audience is African Americans.
http://thereelnetwork.net/
#attn: ALAN
• Social Media Administrator on Move the World Productions with Johanna Mateo and Toni Tantlinger. Producing content for external clients as well as in-house content.
http://movetheworldpro.com/
• Associate Producer on the films of independent filmmaker, producer/writer/director Danielle Earle, founder of PL Entertainment.
http://www.plentertainment.com/
• Funding Producer on worthwhile projects – films and webseries.
Check out his credits at
http://www.imdb.me/alangreenstein
Ekmund Yong
Cinematographer 

No donation is too small! This will be going directly to the production of the project. 
$10.00 Donation/Perk
- Shout out on Twitter, Facebook, and Instagram
$25.00 Donation/Perk
- For 25.00 dollars you will receive a thank you note and "Letter's Frankie" sticker. 
$50.00 Donation/Perk
- For $50.00 you will receive a "Letters to Frankie." post card. 
$100.00 Donation/Perk
- For $100.00 you will receive the first 10 pages of the script, with a "Letters to Frankie," sticker, and postcard. 
$500.00 - For $500.00
you will receive the first 10 pages of the "Letters to Frankie," script along with a "Letter's to Frankie" mug, post card, and sticker. 
$1000 Donation/Perk
- For $1,000 you will receive an Associate Producer Credit for the film. Your name will be included in the credits and you will be apart of the growing stages of the production. 
Thanks again for all your support.
+ Read More
Be the first to leave a comment on this campaign.