Let's help Sandy (Medical cares)
€23,953
of €100,000 goal
Raised by
249
people in 38 months
(Message in English, Français, Português)( English )
On May 22nd 2015, our dearest friend Sandy Leveque had an accident. She was hit by a motorcycle while she was doing her routine walk in Sao Jao do Estoril, Portugal.
She's an Amazing-Activist, former-Parliament-Participant, Zealous Zumba Teacher, Real-Record-Setter (for the Largest 1,000+ Zumba class in Southern France), Global-Girl, Travelling-Visionary, Recognized Writer (for the Huffington Post + her Own Blogs), Free Spirit, Internet Entrepreneur, and a
"Be-the-Change" Champion.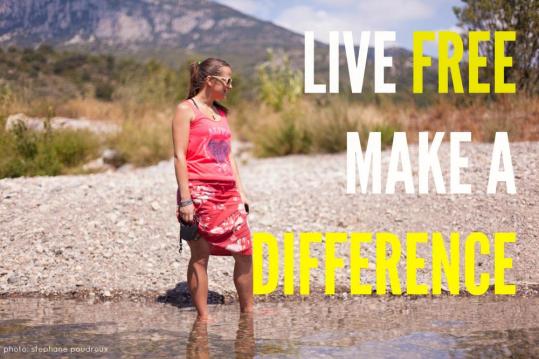 (Picture Above: Just one of Sandy's Slogans)
Miss Leveque has left an Indelible mark in all of these Communities- helping and empowering others with every smile, sweet laugh, teaching, writing, or kindness-infused video. We feel her work is not yet finished, but only to begin!
Perhaps Sandy has impacted you in some way?
Today Sandy and her family need our help.
What Contribution Can We Be ?
 With this fundraising we would love to help Sandy and her family with all of the Medical care fees and Recovery. We want to help them to move Sandy to France so that she can receive the best care from one of the best neurological recovery units. We also want to plan ahead for her Recovery. 
How The fund collected will be used ?
√ Secure the best recovery Possible
√ Move her to France in the best conditions
√ Help her family with the medical fees (We do not know the estimate yet, as we are working with government and agencies- red tape can take some time.)
√ Create Financial Support until she can work again. (Our vision is to give her a Year Long cushion: to Be Able to Focus on Recovery without Financial worry or Burden)
*****Our Initial Goal is to Raise $100K!***** 
Thank you for your contribution, your love and support
If you never meet sandy yet, you can watch her brillant videos here
Videos With Sandy
 and you can join the online community to be updated of her progress: 
Let's Help Sandy
( Français )

Le 22 Mai 2015, notre très chère Sandy à été victime d'un accident, percutée par un motard alors qu'elle faisait sa promenade quotidienne à Sao Jao Do Estoril (Portugal).
Sandy est une personne incroyable, une bout de femme avec un sourire communicatif, une joie de vivre sans égal, elle aime la vie et sait apprécier toutes ces petites choses que la vie a à nous offrir, une personne avec une positivité exemplaire quelque soit la situation. Un coeur énorme qui contribue à aider tous ceux et celles qui un jour ont croisé sa route.
Aujourd'hui, c'est Sandy et sa famille qui ont besoin de tout notre soutien. Quelle contribution pouvons nous être ?
Ce fundraising est une des nombreuses façons dont nous pouvons aider Sandy sur ce long chemin vers la guérison. Nous souhaitons que ce projet favorise le prochain rapatriement de Sandy en France dans les meilleures conditions afin qu'elle puisse recevoir les meilleurs soins possibles dans une unité spécialisée en soins neurologiques.
Comment vont etre utilisé les fonds recoltés ?
- Assurer les meilleurs soins
- Assurer un transport médicalisé dans d'excellentes conditions
- Aider financièrement avec les frais médicaux
- Assurer une transition financière jusqu'a pouvoir reprendre son activité professionnelle.
Merci infiniment pour votre contribution, votre amour et votre incroyable soutien. Si vous n'avez pas encore eu l'honneur de rencontrer Sandy en personne, vous pouvez regarder ses nombreuses videos qui vous donneront un aperçu de la personne fantastique qu'elle est : 
Les vidéos de Sandy
. Nous vous invitons également à rejoindre le groupe de soutien pour suivre l'avancée de ce projet et les progrès de sandy: 
Let's Help Sandy
Vous pouvez partager librement cette page avec vos contacts, chaque contribution aussi petite soit elle, est un pas de plus vers ce que nous souhaitons tous : revoir ce splendide sourire parmi nous. :)
( Português )
No dia 22 de maio 2015, a nossa querida amiga Sandy sofreu um acidente. Ela foi atropelada por uma mota enquanto fazia o seu passeio matinal em São João do Estoril.
A Sandy é um ser humano extraordinário, uma rapariga especial com um grande sorriso comunicativo. Ela adora viver, e disfruta de cada pequeno detalhe que a vida tem para oferecer, com uma atitude positiva em qualquer circunstância. Ela mudou a vida de muitos amigos que ela ajudou pelo mundo.
Hoje, a Sandy e a família dela precisam da nossa ajuda.
 Com esta angariação de fundos nós adorávamos poder ajudar a Sandy e os seus familiares com todas as despesas médicas. Queremos ajudá-los a levar a Sandy para França para que ela possa ter os melhores cuidados numa das melhores unidades de reabilitação neurológicas.
A vossa contribuição vai ajudar a:
- Assegurar a melhor recuperação
- Transportá-la para França nas melhores condições
- Ajudar a família com as despesas médicas
Muito obrigado pelo vosso contributo, o vosso amor e o vosso apoio. Podem ajudar e apoiar a Sandy no grupo '
Let's help Sandy
' // 
Sandy's Videos
         You don't know Sandy yet ?  Watch the video :) 
+ Read More