33
8
Help Me End This Bullying
$1,701
of $10,000 goal
Raised by
32
people in 9 months
There's a saying: Let the truth be your delight. I'm hoping in my heart of hearts that there are people out there who delight in the truth, because I'm dealing with a group of people who delight in causing others distress.
I am dealing with a man who is abusing people's trust in him to spread lies about me, abusing his power to mislead people, and trying to destroy my business that offers similar services to his own.
I don't know the motivations for his actions, but I do know the truth, and if more of his followers would look at the actual evidence I present, they would see this highly regarded and trusted individual is knowingly misleading them.
This is my story. I hope those who side with the truth will take a moment to read it so they can judge this situation fairly.
No one should be harassed online for a year straight, have their colleages messaged threats, or be mocked for having a miscarriage
,
and yet, I've experienced all that and more. And now this trusted man is using his power to help those people spread their vitriol farther using a paid Facebook Ad to spread the lies.
Over the last year and a half, I have been attacked on both a business and personal level to the point of not only considering giving up my dreams, but also giving up my life. My children are what have kept me going, and I am getting counseling now to deal with the ongoing distress. I do not blame anyone for my reaction to their bullying, but I do know the struggles I am facing are struggles no one should have to face alone.
I have spent the last several years lifting other people up. I have helped with hundreds, if not thousands, of people's careers. Many people have seen that. What many people have not seen is all the times I also donated behind the scenes to help strangers. To help stop someone from becoming homeless. To help someone who lost their house in a fire. To help someone who is fighting medical struggles.
I have always been a giving person, and to be painted as such a complete opposite construct of who I am has been hurtful. I feel as though something has been stolen from me that can never be replaced. That someone else is trying to make a construct of who I am to hide the real me. They are trying to scare people off before people get a chance to know me and can make a decision about me for themselves.
All I want is the same thing everyone else gets: a chance to be judged for who I AM, not who people who want to destroy me are painting me to be.
The levels my abusers have gone to were at times crushing. At one point, one of them who had once been a friend publicly
shared a screenshot about a miscarriage I had shared with her in private as an attempt to mock me as unfit to be a service provider.
It was a personal moment I was not ready to share with the public, and to have my miscarriage used in that way caused a lot of distress for me, especially as I was pregnant at the time, with a history of preterm birth and dealing with fears regarding that.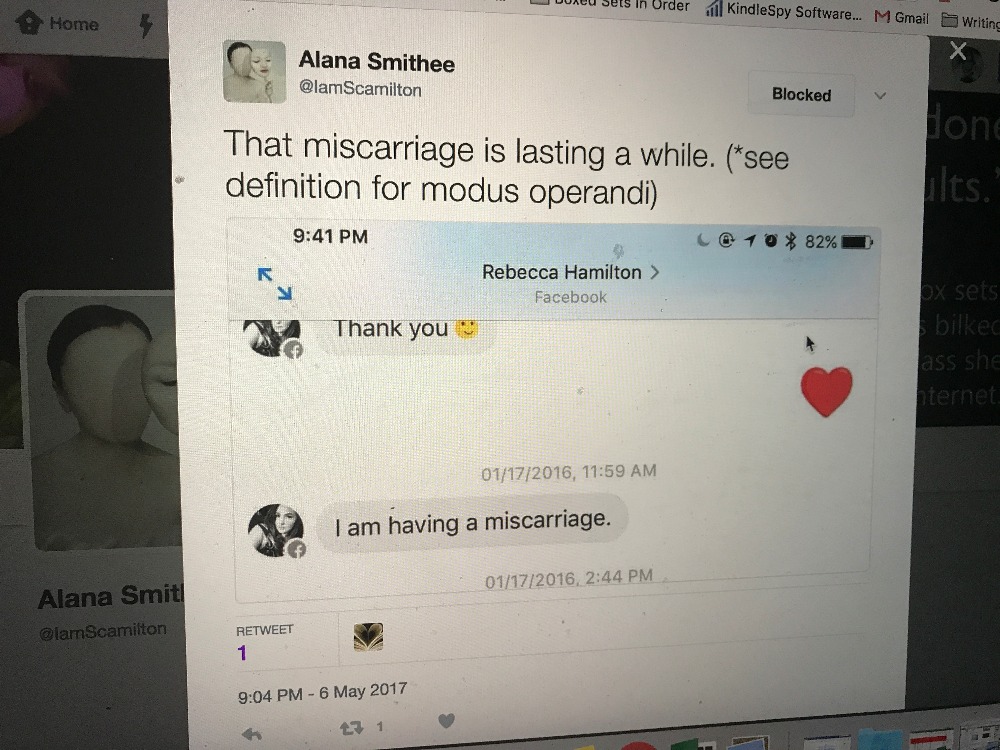 People were literally pleading with them to stop harassing me while I was pregnant, and they refused, even seemed to delight in it. Any time I postd on social media that I was spending time with family, that was when they would come up with the biggest public attacks. It got to the point that I had to hide when I was taking time for myself because I knew they would time that to try to cause me distress.
When my child was born, I was told he was "fake" - it wasn't until there were videos of him shared that my attackers stopped saying my child wasn't real. Following a miscarriage, it was hurtful to have someone call my rainbow baby "fake."
But it did not stop there.
People made comments that I needed to be "slapped." People made comments about being willing to help "hide my body." People made comments that they had "private investigators" watching me, something I found especially distressing as I'm always with my kids.
And it only got worse from there. 
People started PMing my friends and colleagues and telling them that if they continued to work with me, they would be next to have their career destroyed.
Some of my friends stood by me. Some messaged me telling me they were afraid of being targeted, and that they knew the things being said about me were lies, but they couldn't afford to be targeted the way they saw me being targeted. 
Many people encouraged me to seek legal repercussions. I did, but the first effort was dismissed based on jurisdictional issues. My attackers then started going around saying that it was dismissed because it had no basis, which is not what being dismissed for lack of jurisiction means. 
It has now been nearly a year and half since this happened, and my attackers still attack me on a near daily basis. I have been silent for a year, hoping it would go away on it's own, but it didn't. I tried to ignore it, but ignoring them only allowed them to spread the rumors further, continually unchecked by the truth.
The Twitter "attack" account created by one of my abusers was finally shut down,
but now another person is running a Facebook Ad to spread these lies about me. The Facebook ad has also been reported, but I can't fight back against this alone. He even admits he does not have evidence, and that you have to take his word for it, despite me having evidence that the things he says are untrue.
If you're wondering who is telling the truth, you can check out the comments on THIS POST, which show about a dozen screenshots that prove what really happened, and that his comment is a lie.
I feel it's an abuse of his "standing" in the community to use people's trust of him to support him in spreading lies that there is evidence against expressly disproving what he's saying. Maybe he hasn't lied every time he's told a story, or maybe he has, I don't know. But he is lying this time, and I've already proven it. But because of his powerful position that he is currently abusing, it's been an uphill climb to get the people who trust him to even consider there's another side of the story and even LOOK at the evidence. They don't want to see the evidence. They trust him so completely. And he's abusing that trust.
You'll also learn in
this post
that my books beind pirated resulted in a career-destroying action with one of the venders I work with, Amazon, who has refused to investigate what really happened. (For more information on how I am not the only one Amazon has errenously taken action against, see
this other post
.)
Here he is delighting in the hurt is causing me:
To him and his friends, I am simply someone they have fun abusing online.
David G. himself has had friends affected by amazon erroneously taking action against innocent authors accounts, as he details in
this post
 that HE wrote himself. When it's a friend, he gives the benefit of the doubt, but when it's someone who offers competiting services to him, he assumes them guilty without proof.
I am already working 60-80 hours a week trying to pay to defend myself against false claims, and having to charge less than ever for my services as people are more wary to work with me due to rumors. Thankfully some have still given me a chance, and are now a voice to say that they know first hand I am not the person these people are painting me to be.
I have, in EVERY SINGLE INSTANCE been able to prove with irrefutable screenshot evidence that the things being said about me are lies.
Some of the things being spread around about me are downloaded documents with my name written on them, but when you download them and open the properties, you can see that the person attacking me is actually the one who made the document. Unfortunately, most people don't know to do this, and they assume everything they are seeing is true. The level of manipulation being caused by fabricated documents and creatively snipped screenshots is deeply concerning.
I understand why people are being fooled by this, and their mind is made up so quickly they never take the time to look and see if things are really as they've been carefully constructed to appear.
The public is being manipulated and lied to about me, and people who some consider reputable sources are even using their power to help support these wrongful actions. Perhaps it is telling that these people offer similar services as I do, that they would financially benefit if they can successfully convince people not to work with me.
All I know is, I have about 1000 screenshots and several videos that irrefutably prove everything being told about me is a lie. I tried sharing them publicly, but people would never get to the point of looking at them. They would be dissuaded against me before ever seeing the other side of the story.
Now I am saving all the evidence for court. I'm asking for your help to get there - to get to the point where I can share the evidence with a jury and judge, and they can see the lengths people have gone to to try to destroy me. Everyone deserves for their side to be heard, and a true and fair judgment cannot be made until that happens.
Those who really know me know that I have always lifted others up, and that I am a fair person. All I want is for the truth to become public and for the courts to rule that trying to take away the income someone uses to support their family by lying about them and intentionally misleading the public is not acceptable.
I have to believe that people will delight in the truth as much as other people revel in the lies, manipulation, and unjustified witch hunt.
Please help me send a message that we will not allow people to be bullied and defamed this way. I can promise you I will pay it forward; anyone who knows me knows I always have.
Thank you.
+ Read More