467
12
Let Luna shine
€41,438
of €50,000 goal
Raised by
488
people in 10 months
Born on the 1st of January 2017,
Luna Sia
was always gonna be exceptional, we just didn't know how exceptional her life story will become.
Luna's story can also be read in
French
 ,
Portuguese
 ,
German
  and 
Slovene
 .
A few days old Luna Sia and her older sister Aya Indigo
During a regular visit at the pediatrician at the age of
6 months
, we were told that her urine contains high amount of proteins. Two days later she was admitted at the nephrology department of the pediatric clinic in Ljubljana, Slovenia. The first diagnosis was asymptomatic 
nephrotic syndrome
. As a precaution, doctors decided to treat her condition with corticostereoid therapy (
Medrol
). We were informed about the potential side effects but were hoping for quick results. 
Already in the hospital (at the age of six months)
Her condition was identified as genetic and
extremely rare
 (<30 registered cases worldwide). It didn't clearly fall in either congenital or infantile category, meaning there is 
no literature or suggested treatments
. 
Unfortunately there were no results, just side effects, starting from
hormonal changes
(affecting growth),
excessive swelling
and
ophthalmic problems
(glaucoma) to name a few. At the time we were not only fighting the disease but also the therapy's
side effects
. 
Excessive swelling
as one of the side effects of the Medrol therapy
Glaucoma
, also caused by the Medrol therapy
After three months the
Medrol therapy was discontinued
due to lack of results and
increased number of complications
caused by the drug's side effects. At this point Luna already had several medical interventions behind her,
lumbar puncture
,
general anesthesia
and
MRI scanning
among others, fighting off the undesired side effects.
In a desperate
attempt to stop her kidneys from failing
, the doctors opted for another
aggressive immunosuppressive therapy
with the
tachrolimus
  drug. Due to her immune system being suppressed we lived an
isolated life
in order not to expose Luna to infections. Even catching a
common cold
could potentially be a
life threatening
situation. She was now spending
more time at the hospital than at home
.
After
nine months
of unsuccessful
aggressive immunosuppressive therapy
, the doctors gave up. She was now receiving medications only to help managing her secondary health problems (
anemia
,
acidosis
...). According to the doctors the
end stage renal disease
, commonly known as
kidney failure
, was inevitable and not far.
Then came a week when she
rapidly started gaining weight
- two kilos over a matter of a few days. We knew something was off and took Luna to the hospital. Her clinical picture was off the chart as a result of the
progressive kidney failure
. She was immediately admitted and for a week the doctors tried containing the situation but it was all in vain.  Her refusing to take the medications orally was now putting her
life in danger
and the doctors had to insert a
NG (nasogastric) tube
.
The following week Luna had to be admitted to the
intensive care unit
for an urgent
hemodialysis
, her kidneys have now failed completely and her body was
retaining all fluids
.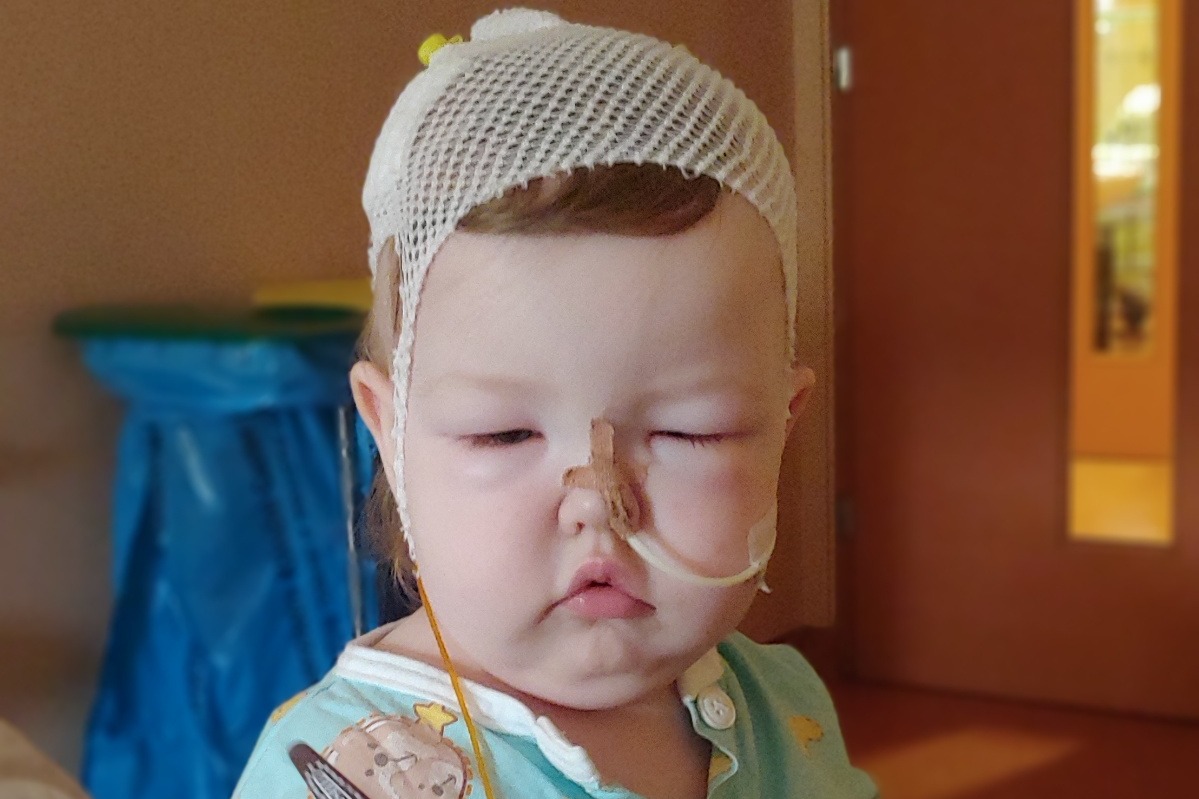 Excessive swelling
due to fluid retention
In spite of living in the situation for a year, the admittance to the intensive care unit came as a shock. At a certain point she was
plugged
to approximately 
20 tubes
. The
urgency
and
severeness
of her condition, the paralyzing
helplessness
we felt as the parents and her
pain
and
fear
over the next two weeks were
exhaustive
. During the continuous
10-day hemodialysis
an excess of
3 liters
of fluid was
removed
from her body - she was admitted with 14 kilos, by the time she was dismissed from the ICU, she had 10.8 kilos. 
Two nerve wrecking weeks in the ICU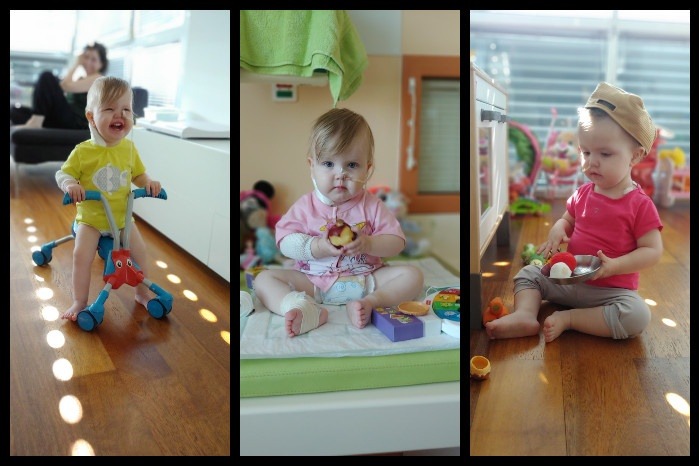 In spite of the severity, Luna doesn't let her condition bring her down
At the moment the
kidneys are not functional
. After having spent two weeks in the ICU she started
rejecting food
and she is now feed through NG tube exclusively. The
fluid intake
has to be
controlled
and the
dialysis
is needed daily to
remove the excess fluids
. The
venous catheter
in her neck was removed after three weeks once the inserted
peritoneal catheter
was ready for use.  In order to assure
access to her veins
(after a year of continuous use her veins are almost gone), a
Peripherally Inserted Central Catheter
  (PICC line) was inserted as well. There was a necessity for all of these
punctures
but each and single one of them exposed her body to potential
infectious complications
.
Luna is now
21-months old
, has a
peritoneal catheter
and needs to perform a
12-hour dialysis daily
. She is
fed through the NG tube exclusively
. We are looking at a
six months
period in which she will receive all the necessary
vaccinations
and undergo 
thorough examinations
for her to be put on the
transplant list
. Once she is listed, the
estimated waiting time
for a suitable donor graft (kidney organ) is
between 6 and 12 months
.
Her
mom
Carina
has
suspended the writing of her PhD thesis
the day Luna was diagnosed. She is her
24/7 nurse
ever since.
Aya Indigo
, Luna's older sister's also affected and is
growing up faster
 due to our family situation. Luna's
father Gorazd
is the
sole breadwinner
and the past
fifteen months
 have
exhausted
the family's
financial reserves
. 
Before the transplant
occurs we want to have her
feeding on her own
. We have found a
tube weaning institution
with
>95% success rate
. We also want to continue with the
alternative healing
along with the conventional medicine - the
results of the sessions
she had were
notable
. We want to
offer
Luna a
good life
and for that
we need your help
.
+ Read More