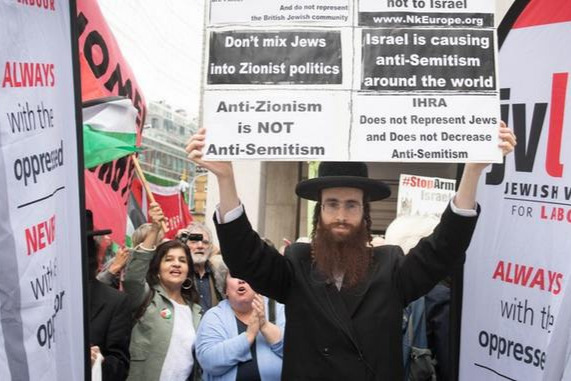 15
3
We Must Defeat IHRA A.S. definition
£450
of £12,000 goal
Raised by
17
people in 3 months
Support the fighting fund to prevent the Labour Party, trade unions and local authorities from using the IHRA definition of anti-Semitism as an excuse to expel, suspend or sack members who decry Israel as a racist endeavour and criticise its cynical use of the Holocaust to get what it wants.

I am a member of the Labour Party and a GMB shop steward and seek funding to help prevent the Party  or the unions from using the IHRA under any circumstances to sanction members. My test case will challenge allegations of anti-Semitism and of bringing the Labour Party and GMB into disrepute that arise from the petition at
www.tinyurl.com/israelihra
and associated updates. The logic goes that if they are unable to expel me, they will be unable to expel anybody because justice must be administered equally, if it is to have any value. Whilst the GMB actually are expelling me, I aim on using the courts to force a Judicial Review which will make the union give me back my membership and my shop steward role. If I win, this will set a precedent that will show the IHRA definition is unfit and illegal; that it is, as
Palestininan trade unions
say, a "politicised and fraudulent definition of anti-Semitism". To help me win, I have persuaded the best lawyers in the UK to act on my side; Legal Spark and Michael Mansfield QC.
The above petition is headed "Labour members declaring Israel a racist endeavour ask NEC to abandon full IHRA" . It is an open challenge to Labour's National Executive Committee, who in September adopted the full
IHRA definition of anti-Semitism
, which if followed means that the  statement "we declare Israel to be a racist endeavour"  now determines we are anti-Semites.
We aim to prevent Labour or any trade union using the IHRA  as a basis to discipline members. In its wholesale application to Labour's 550,000 strong membership, many would go so far as to say the IHRA is leading the Labour Party to assist Binyamin Netanyahu in his mission to destroy Jeremy Corbyn. It has also led to the silencing of free speech for many of the UK's 6.5 million trade unionists. At least two Council workers have suffered too, one by suspension, the other by dismissal.
In a political party founded on equality and social justice, it is not just myself and the hundreds of others who've signed the petition that stand to benefit if we win the right to stay in Labour and in our trade unions. It will become apparent that the IHRA is an unworkable policy in barring statements pointing out that to be an Arab in Israel is - and always has been - to be a second-class citizen.
Winning this battle will help benefit all in the Middle East, caught up in conflict.
Why? Because freedom of speech on Israel allows Party and union members - and public employees - to declare that defeating apartheid requires the next Labour Government to impose sanctions.
If other countries then follow suit in sanctioning  Israel, we might yet see it forced to abandon its
60+ race laws
  to give Palestinians (including those in Gaza and West Bank) the right to vote in Knesset elections in a single-state solution. An Israel that gives the 'right to return' to those made homeless in the 1948 Nakba and which makes reparations in accordance with
UN resolution 194
, reaffirmed every year since 1949. An Israel that gives true equality to all who live there.
We may then bring peace for Palestine and Israel, in our lifetime.
Your contribution will help pay for
Legal Spark solicitors
  in Glasgow to work with myself and
Michael Mansfield QC
,  who wants to defend me, to quash charges of anti-Semitism for breaching the IHRA definition. In the course of this action we shall prove decisively that to be anti-Zionist is not to be anti-Semitic. The case may take days, it may take months, but it has begun; Labour demanded a written response to
their allegations
  by 15th October. This was
my response
. The GMB
sent a letter
explaining I was to be expelled on 22nd Dec 2018 after I submitted
this response
 to their allegations.
I shall likely need £12,000 to pay legal costs; this figure is a solicitor's early estimate- if it goes to a judicial review, costs may rise further. If it does not, surpus funds will be donated to
Medical Aid for Palestinians
. In any event, your money will go to help Palestine.
Your contribution will help in securing free speech on Israel, both in the Labour Party and in those many institutions that have adopted the full IHRA in the UK- the unions, the councils, the schools and colleges, the police, the government itself. We must be free to decry racism wherever it shows its face - including in Israel, where the apartheid system discriminates against any who are not Jews.
Please blow the winds of change and give whatever you can afford – thank you. Notes on donating are below, after this video - "The Lobby" -  which shows how Israel fuels the pernicious IHRA policy in the UK.
PS I registered
a complaint against the Jewish Labour Movement and Labour Friends of Israel
  for getting Labour into this mess - they  feature in the above video - a complaint which was
immediately dismissed
 . Whether you're in the Party or not, you can help make Labour's Head of Complaints listen: just
please click here
PPS  If you want to know who I am,
click here
PPSS
Donating?
When asked for a tip, click 'other' and you can decide the amount.
Also, if you choose to remain anonymous, you won't be able to leave a comment
If you want to use
PayPal
, please note GoFundMe cannot process payments to them. You can pay into the Paypal fund I've set up- click on
https://paypal.me/pools/c/89NAi60vnq
to do so.  If you email me at
postmaster@roseburn32.plus.com
I will add your amount to the total on this website; if you want to be identified please give me your name - and if you want, a comment; I can add that too. Thanks!
PPPSS Do you want to receive regular updates but cannot sign the petition yourself? Please email me (see address above) and I will add you to the mailing list.
+ Read More
Update 1
Posted by Peter Gregson
20 days ago
Share
Financial position so far: £900 on legal fees. That's
£200 - first GMB letter
£200 - second GMB letter
£500 - getting a view on how to proceed and reviewing my case; also reviewing my case against Merseyside Police for undermining my freedom of speech at Labour Conference; possible compensation might help pay GMB court costs
+ Read More