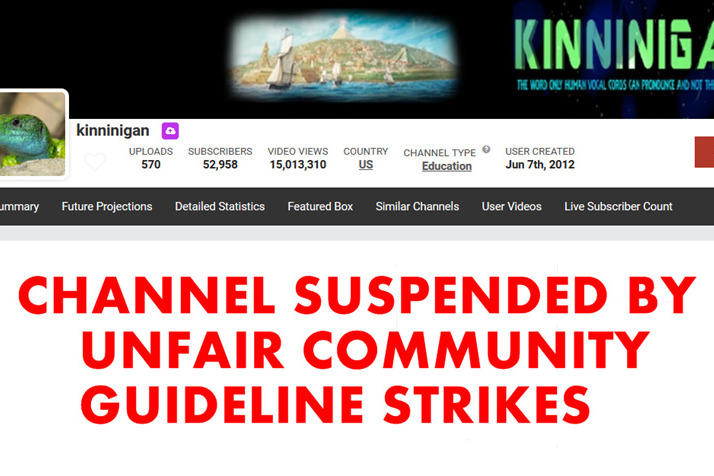 21
3
Kinninigan: Legal Fees For Youtube
$828
of $2,500 goal
Raised by
25
people in 14 months
On February 28th, 2018 my Youtube Channel known as 'Kinninigan' was suspended by community guideline strikes. This was also my companies, Raging Reptilian Inc, main source of revenue.
They had claimed by videos contained 'graphic content' and were crowd striked by other Youtubers. I filed multiple appeals to Youtube/Google and all appeals were rejected.
These three community guideline strikes had come within a span of within one month of each other. I feel my Youtube Channel was targeted by censorship and harassment.
I then reached out to the following law firm who specializes in internet free speech for help with my Youtube strike appeals:
Randazza Legal Group, PLLC
2764 Lake Sahara Drive, Suite 109, Las Vegas, NV 89117
https://randazza.com/
Randazza Legal Group has decided to look into my case and help with restoring my suspended Youtube channel. They are stating this fall under the issue of 'Youtube Censorship'. The fee for initial consultation is $1,000 to discuss the appeals, then the costs of administrative fees to re-appeal the Youtube Guideline Strikes legally.
By doing this we are also fighting for Youtubers and internet free speech in general, as well as crowd stalking and cyber harassment on Youtube.
Any questions regarding this can be forwarded to me directly:
kinninigan@gmail.com
+ Read More