L-bird Flying Museum Hangar Door
$450
of $6,000 goal
Raised by
4
people in 3 months
Who we are
Cannon Field is an amazing place to visit. We have the only collection of actively flying L-birds, or Liaison Aircraft, anywhere. That these aircraft are conserved and operated frequently is a testament both to their designers and their caretakers.
What we need
In the 2004, Alamo Liaison Squadron began planning the construction of a new building. It was to serve multiple purposes, but would be primarily used as a gathering space for members and visitors, and museum for a growing collection of L-bird memorabilia. The building's centerpiece would be a hangar, adding much needed space to house aircraft.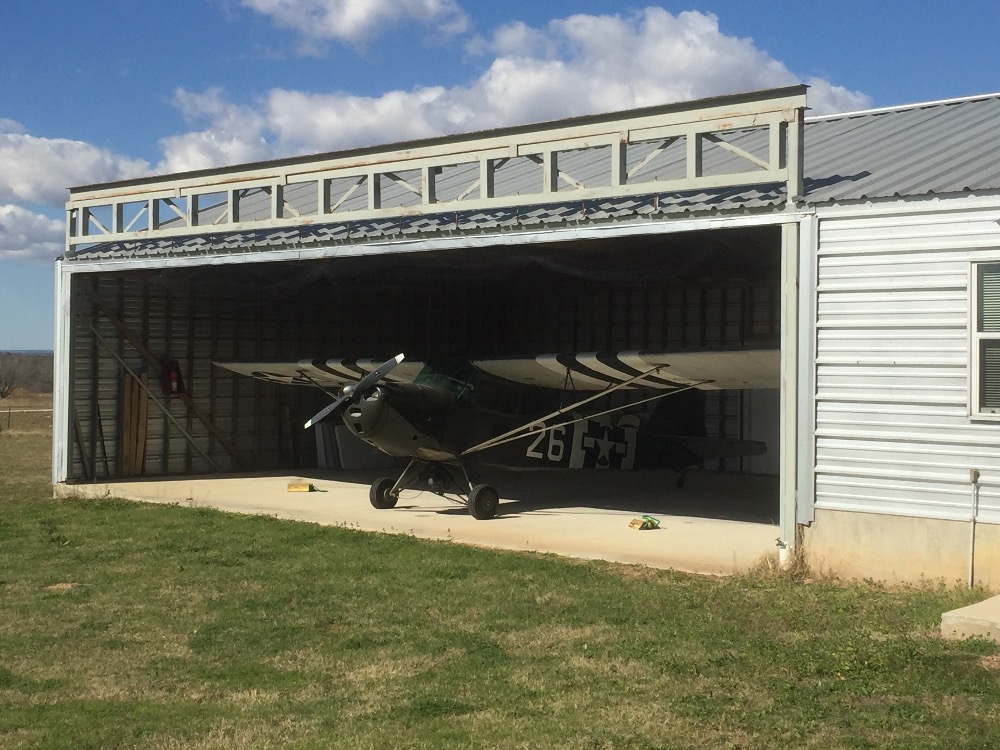 In 2017, we are pleased to say that this endeavor has progressed exceedingly well and presently the building serves many of its desired purposes. One final aspect of the project remains to be done—the hangar door.
How you can help
The hangar door for the museum building at Cannon Field will be the last major purchase to complete our building project. We have progressed through many levels of our fundraising campaign with, now, one last step to the finish. Your part, in any small or grand way, can help us to complete our work.
     Our goal is $6,000 for an estimated $10,000+ purchase of a new hangar door.
PLEASE DONATE NOW. If you wish to know more about our organization and this project, we've elaborated in greater detail below:
What your donation will do
This single building functions as the Alamo Liaison Squadron headquarters and visitor center. It is prominently located along the street-side entrance to the airport and museum property.
As a flying museum, Cannon Field serves many stimulating purposes. We tell the history of these ingenious aircraft and we give our visitors a chance to experience first-hand what it was like to operate them. Our mission will continue with the generosity of supporters like you.
This highly functional building is the culmination of efforts by members and volunteers of the organization over its 36+ years in existence. Relying on the talents of many, we started with a comprehensive plan for completing the building.
The building began as a 120' x 60' concrete foundation that was poured in 2008. Its structure, exterior walls and roof were constructed using modern materials that blend nicely with existing vintage hangar structures. These older hangars and buildings were fabricated decades ago. Squadron members throughout the years have spent a great deal of time actually building the airport. This historic airport has always served the common goal of maintaining an active collection of flying L-birds.
Recently, members and volunteers finished the new building's interior including electrical and mechanical systems, carpentry, windows, sheetrock, painting, flooring, and security system. The facility is being furnished and the museum updated on a regular basis.
At Cannon Field we combine social, flying and work activities in one place. We do this so well that the work component is often the least noticed. Our facilities are always improving and our volunteers take great pride in the work they do.
The biggest challenge with large projects, such as this one at Cannon Field, is funding. We are staffed by volunteers with great capacity for resourcefulness and a willingness to devote time to projects. The Museum/Hangar building has been a multi-year project, and in the interim we have shifted from one smaller project to another while waiting for this larger funded project to be realized. In essence, the work is never done but those projects needing the most attention always seem to get it.
The hangar door project has been studied, planned, designed, and estimated. We have often repeated this process and each time come to a halt at the funding prospect. It requires a substantial purchase. Our operating funds go towards aircraft and building maintenance leaving little for big purchases.
100% of charitable contributions in this campaign will go towards the purchase of goods and materials necessary for the hangar door's completion. Meanwhile, our volunteers will continue to be great assets in contributing both labor and expertise.
The collection
Many of the aircraft at Cannon Field saw service in World War II. Liaison and combat squadrons once trained and operated in our L-birds throughout Europe and other military operations areas. Likewise, many of our members through the years have worked to keep these aircraft in flying condition. It shows great resolve that these aviators wish to use these remnants of history for educating visitors about the early days of flight.
The realization
The headquarters building has been a big undertaking. We are proud of where we have come with it today. Many of our former members, including the airfield's namesake, Hardy Cannon, have since passed on and they would be equally proud to have this facility at their disposal. More so, the building is open to the public and we encourage anyone interested in learning about our activities at Cannon Field to visit.
With this campaign we are asking you to be part of our effort to keep the L-birds of Alamo Liaison Squadron flying. Your participation in this project will be rewarded many times over by the smiles of each new person who passes through the gates and hangar doors at Cannon Field.
Final review
Alamo Liaison Squadron
is an independently managed nonprofit 501c3 organization operating without support from large benefactors, corporations or other affiliations. Your support is immensely appreciated.
THANK YOU!
+ Read More
Be the first to leave a comment on this campaign.