Lakȟól'iyapi Wahóȟpi Immersion Nest
$25,081
of $221,174 goal
Raised by
493
people in 39 months
BACKGROUND

The Lakȟól'iyapi Wahóȟpi  is a Lakota Language Immersion school housed on the Sitting Bull College campus, located on the Standing Rock Sioux Tribe Reservation in North Dakota.

The Lakȟól'iyapi Wahóȟpi preschool opened its doors in September 2012 to the first cohort of eleven 3 year olds. Since that time, seven more students have entered and the students from the initial cohort are now in their fourth year of the immersion program. To address our students' needs and support their growth, the school has expanded to include a K-2 classroom. As our students progress, we hope to add grade levels until we have a full K-12 program.

The children in this immersion school are 100% immersed in the Lakota language for 8 hours a day, 4 days a week! All instruction is conducted in Lakota with lessons mixing traditional Lakota seasonal and cultural knowledge with best practices in early childhood education. 



FUNDING NEEDS

The school is primarily sustained by federal grant funding sources, including the Administration for Native Americans and the American Indian College Fund. With the new administration in place, it is unknown whether the school will still be supported - we may not be able to open our doors next year!

We need your help to support the Lakȟól'iyapi Wahóȟpi program and to keep its doors open!

Parents, teachers, and community members are looking at continuing and expanding the immersion school into 3rd grade for the 2017-2018 school year.  The students are not only learning the Lakota Language and helping to save the language and culture, they are also learning early childhood concepts and studying the same subjects (math, history/reading, science) as students in other schools, just in a different language.  Our curriculum follows North Dakota State Standards, so we can make sure our students are staying on track.
                                    ----
Research from other immersion schools across the world, show that students who attend immersion schools often test better than their peers on standardized assessments that are given in English.

Please donate to support these beautiful children and teachers fighting to save the Lakota language!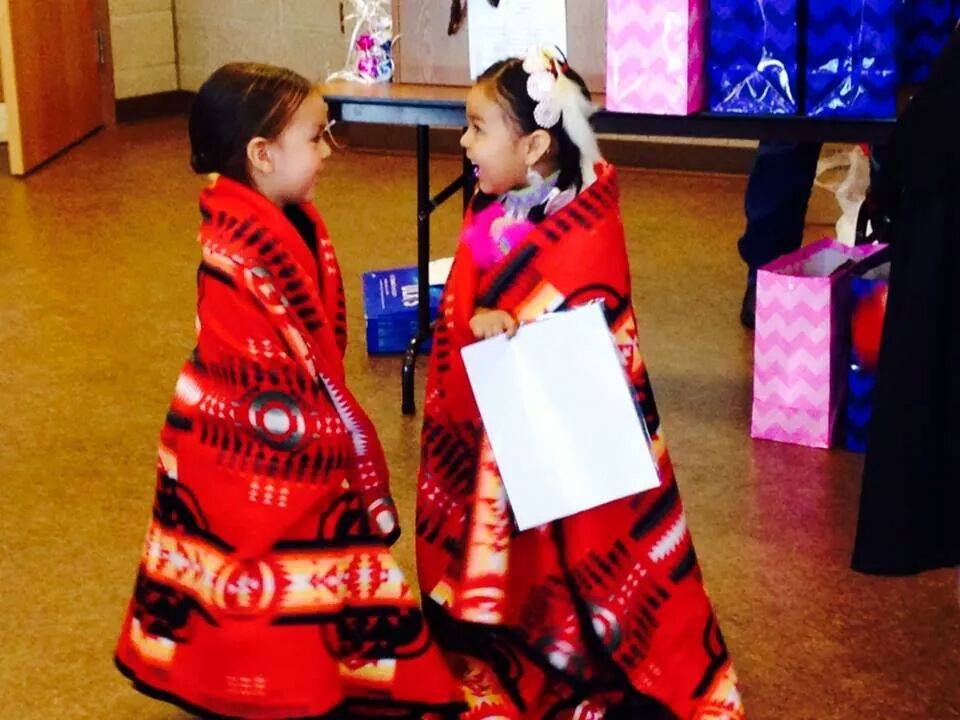 LAKOTA LANGUAGE LOSS 

"In the United States, only 165 out of more than 300 Native American languages are still spoken. The majority of these are on the brink of extinction. Seventy-four are almost extinct, with only a handful of elderly speakers. [...] Lakota can and must be preserved." - Understanding the Issue, Why Save Lakota? (Lakhota.org)

"In 2006, there were an estimated 6,000 first-language Lakota speakers.  Beginning 2016, LLC counted approximately only 2,000 remaining speakers – a loss of 4,000 in just 10 years.  The 66% loss in speakers equates to approximately 400 speakers lost each year." - Lakota Language Now Critically Endangered (Lakhota.org)

In 2010, the Standing Rock Sioux Tribe went door-to-door and survey the community members living in all districts on the Standing Rock Reservation in order to asses the current state of the Lakota/Dakota languages on Standing Rock. 990 surveys were collected and results revealed that, at that time, the vast majority of known speakers on the reservation were at least 50 years old or older, with only 242 people identifying themselves as fluent speakers on the reservation in total! There were only two 1st language speakers of Lakota under the age of 30, and very few second language learners, with only three considering themselves fluent.

In 2010, on the Standing Rock Reservation, there were no fluent children speakers of the Lakota language.  Now, in 2016, due to the tremendous efforts of the Lakȟól'iyapi Wahóȟpi teachers, parents and supporters, there are 16 conversationally fluent 3, 4, 5, and 6 year olds! The Lakȟól'iyapi Wahóȟpi K-2 classroom is only our first step in our dream to one day have preschool through higher education immersion program!



"Let's put our minds together to improve our schools -- because our children deserve a world-class education, too, that prepares them for college and careers. And that means returning control of Indian education to tribal nations with additional resources and support so that you can direct your children's education and reform schools here in Indian Country. And even as they prepare for a global economy, we want children, like these wonderful young children here, learning about their language and learning about their culture, just like the boys and girls do at Lakota Language Nest here at Standing Rock. We want to make sure that continues and we build on that success." - President Obama, referencing the children of the Lakȟól'iyapi Wahóȟpi, who had the honor of singing the Lakota Flag Song to the President and First Lady during their visit to the Standing Rock Reservation in June, 2014 .

LAKȞÓL'IYAPI WAHÓȞPI IN THE NEWS


SDPB - Lakota Immersion Immersion Programs in the Spotlight on Rising Voices/Hótȟaŋiŋpi (2015)

National Humanities Alliance - Nourishing Our Spirits Through Our Language & Children (2015)

Tribal Colleges Strengthen Family Engagement Through Early Childhood Education - Lakȟól'iyapi Hoȟpí (2014)

ND Humanities Council Blog - Racing To Save A Language (2013)

Bismarck Tribune - Learning Lakota, One Word at a Time (2012)

Last Real Indians - Lakota Language Immersion Nest 


REWARDS

International Shipping: Please, if you can, provide extra for international shipping costs.


All rewards will be shipped within 4-12 weeks of campaign closing. Thank you for your patience!

If you are interested in donating an item to offer as a reward, contact Nacole Walker (nacolewalker@gmail.com) for more information.

Philáuŋyayapi (We thank you!)
+ Read More