Kyle Sackett Robinson 28 Day Camp
$3,310
of $3,200 goal
Raised by
47
people in 44 months
"Wrestling is a sport that has turned many boys into men and many men into leaders.  And it is a sport in which you can be a giant regardless of how big you" – Carl Albert
Kyle Sackett is about to embark on a journey this summer that will test and push him to his limits, both mentally and physically.  Starting June 27th Kyle will be enrolled into the toughest wrestling camp in the country that lasts "28 Days" at the campus of the University of Minnesota in Minneapolis.  This camp has no days off and starts  at 6am and ends at lights out, 11pm.  As Kyle transitions from being a middle school wrestler to high school wrestler this is a critical time in his development to set him up for success.
I encourage you to take the time to read this, the framework and context of how this young man is going to be pushed to the limits mentally and physically--something most folks will never experience in their lifetime, especially at this age.  According to Coach Tony Ponce, "The mental aspect is the most important and I know this camp will push him further than he has ever been pushed before."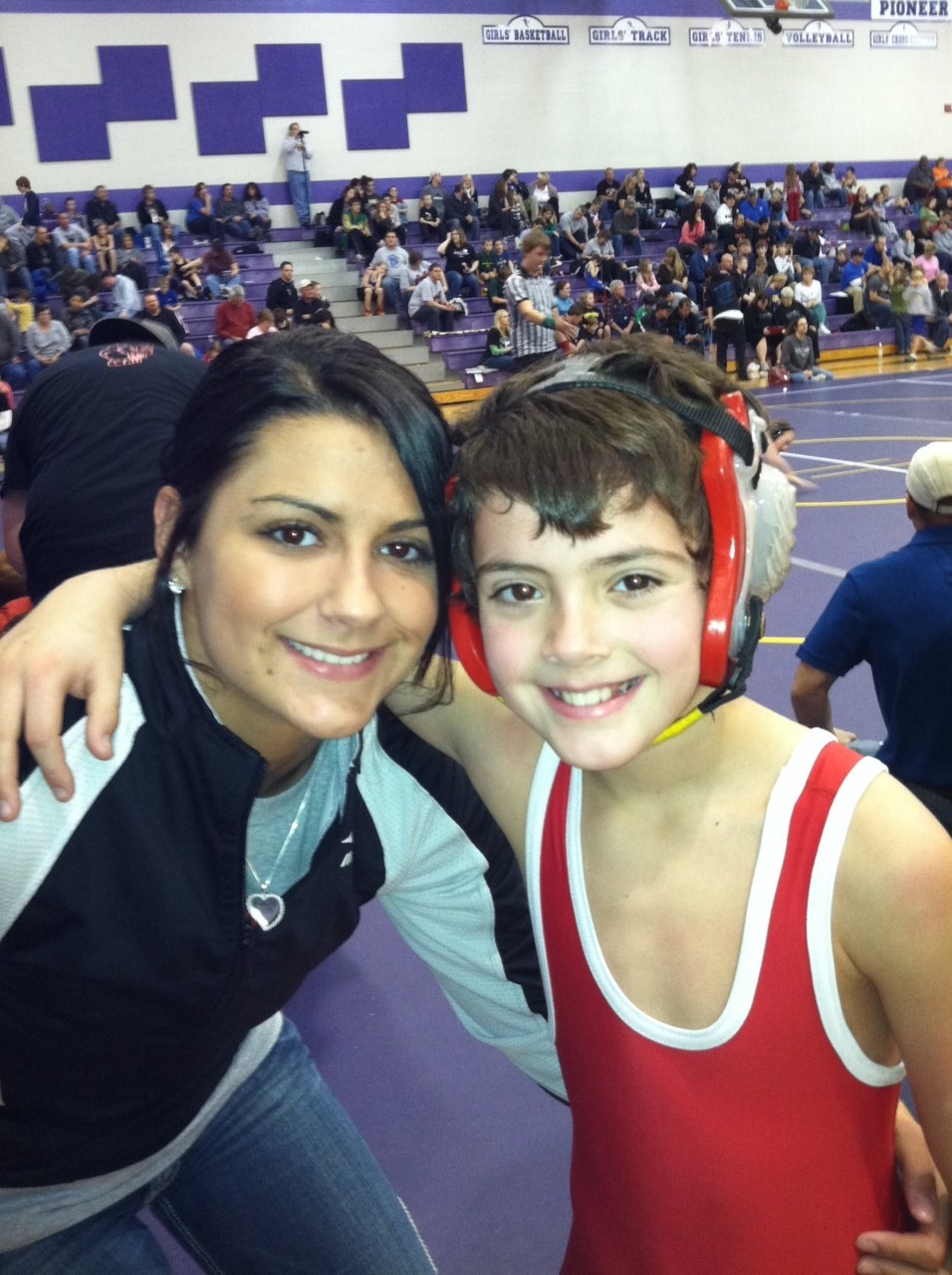 So who is J. Robinson?  Coach J. Robinson, the Head Wrestling Coach at the University of Minnesota is the founder of this camp.  Created while he was an assistant at the University of Iowa in the 1970's.  Coach Robinson has faced adversity first hand, hopefully I can illustrate how much.  Coach Robinson is a graduate of Oklahoma State University.  While never becoming an All-American while at OSU he was still an accomplished wrestler.  As a student at OSU he was also enrolled into the U.S. Army ROTC during the Vietnam era which at that time was not a popular option.  Upon graduation, Coach Robinson went through Army Ranger School where he was presented with the Honor Graduate award and then followed with a tour in Vietnam.  After his combat tour in Vietnam, Coach Robinson made the 1972 Olympic Team in Munich.  The challanges to make an Olympic Team are difficult, but to do it after a combat tour in Vietnam was even more of a remarkable journey.  During this time in his life is when Coach Robinson first came up with the concept of running an intensive camp sharing his life experience.
J Robinson Intensive Camps are known as the most challenging and life-changing wrestling camps in the country. The training and conduct expectations during these intensive camps are influenced by J Robinson's experiences as an Army Ranger and by the protocol of Army Ranger School, which focuses on both physical and mental development.  I can give first hand insight, as a 3x graduate of his camps to include the 28 Day camp.  To this day it is still one of the most difficult things I myself have ever encountered, to include working and deploying globally with our Special Forces & graduating from US Air Force Weapons School.  Yet the effect and lessons I learned being a graduate of this has had a vital and profound impact me.  It is essentially the fabric of who I am today and will be the fabric of who Kyle Sackett will be upon graduation.   It is a life changing event.
This experience is so much more than just wrestling.  This is an opportunity to further instill in Kyle, while he is still at an impressionable young man, what true work ethic is, being accountable for your actions, responsibility and being dedicated.  This camp will teach him to set goals, the importance of investing (ex. classes on mutual funds/investing), working out with US Navy SEALS and much much more!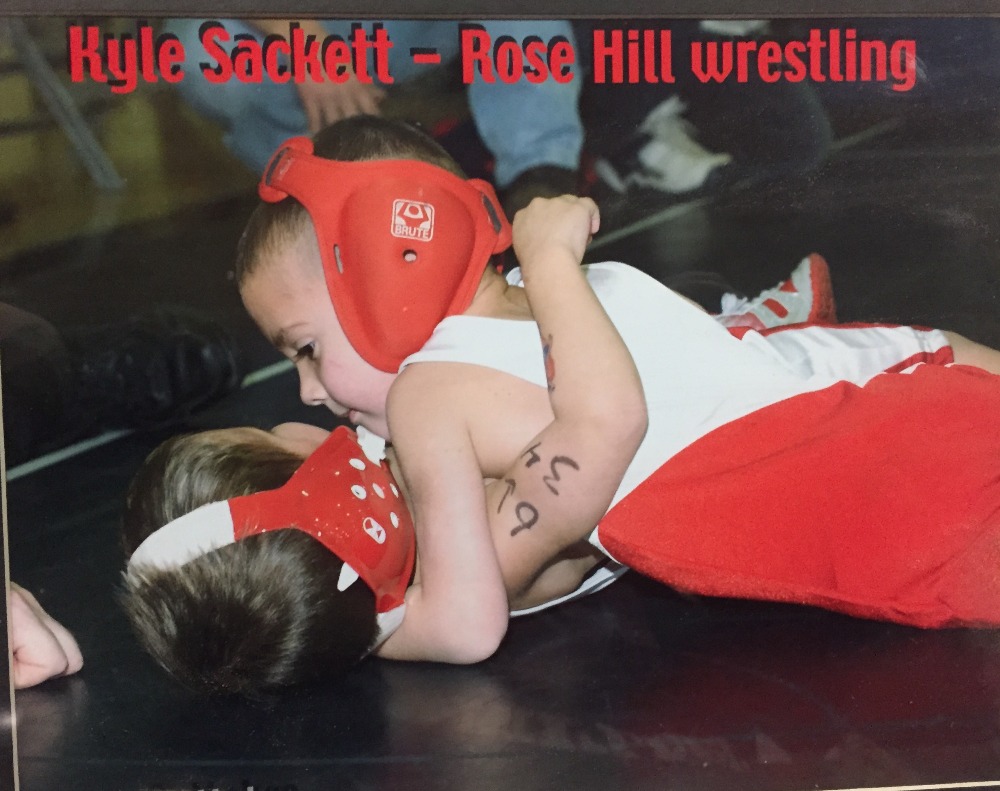 So who is Kyle Sackett?  Kyle is what you would think of any normal 14 year old kid to be.  He loves sports, being with his friends, and ultimately wants to be a great wrestler.  Kyle is an avid Iowa Hawkeye and Chicago Bears fan.  Kyle started wrestling at age 4 under the tutelage of his father Mike Sackett and in his own right an accomplished wrestler.  Kyle has placed multiple times at the state tournament the last few years in folkstyle with the Rose Hill Wrestling Club.
In the last two years Kyle has wrestled with the South Central Punishers during the Freestyle and Greco season.  This level of commitment has turned out to be an almost year round wrestling commitment.  But he has also started seeing the payoff because of his hard work by becoming a State Champion in both Freestyle and Greco-Roman.  Last season he was even selected as a team member to represent his age group for the state of Kansas at the national team duals in Indianapolis.  This only further pushed Kyle this past folkstyle season.  He did something few wrestlers will accomplish in the same season if ever and that was to win a national level tournament.  Kyle didn't win one national tournament this past year, he won two.  Kyle won Midwest Grand National Championships in Iowa and also Brute Nationals in Missouri.  According to Coach Tony Ponce, "Ever since Brute Nationals ended we have been working out five days a week at 5AM as this is proof he is ready to take on the task at hand!"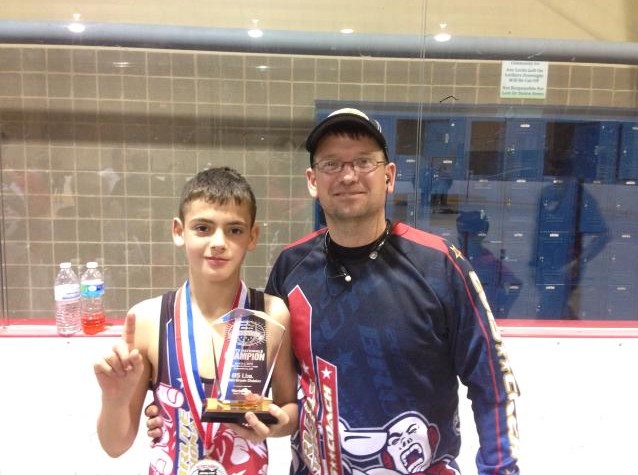 Kyle's immediate near term goal is to qualify for the state high school tournament this upcoming season and become a state placer.  Kyle has a goal to become the first two time state champion from Rose Hill High School.  He aspires to wrestle at the University of Iowa upon graduation from high school.  I firmly believe all of this is achievable and this intensive camp will instill in him to set realistic goals to make this his reality. 
Kyle Sackett is extremely deserving of this opportunity.  I am personally excited for this experience for him!  He is not taking this opportunity lightly as attending is only part of this camp.  Not everyone who attends graduates.  Only those who can accumulate enough points through the merit/point system  will receive the famous black t-shirt  that says, "I DID IT" with 28 days on the sleeve.  This is the "most feared" t-shirt for an opposing wrestler to see as they know they will be in for the fight of their lives.
I am proud of Kyle Sackett for making this decision to embrace such a challenging endeavor which ultimately he will succeed in.  I have faith not only in his abilities as a wrestler but as a young man.  This life changing event will make him a better man.  I look forward to dusting off one of my old 28 Day Camp T-Shirts (don't laugh I still have them…I earned it) this summer and see that glimmer in his eye and the drive that follows when we pick him up from Minneapolis.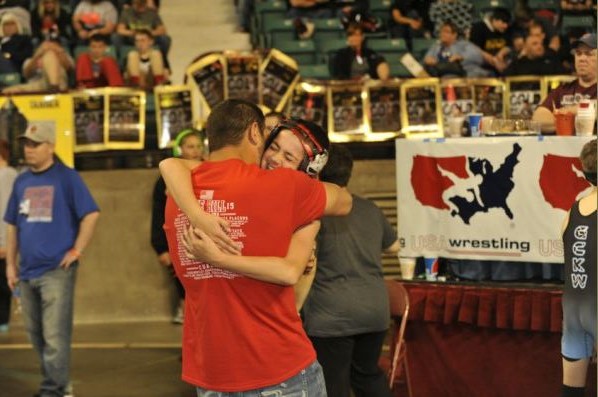 Thank you for your time!  Contributing any amount will go a long ways in helping Kyle reach his goals.  They are within his grasps, through this experience it will provide him life lessons and help Kyle achieve who he wants to become.  I applaud his parents Mike and Shelly Sackett for stepping forward and believing in their son.  I know as a parent this can be a scary experience, sending your son off for a month.  But I promise you will be even more impressed with the young man you will see return.  
 Respectfully,
James Bilby
Wrestling Coach
Multiple 28 Day Graduate (not dating myself ha!)
+ Read More
Be the first to leave a comment on this campaign.