Support Kyle's fight against Neuroblastoma
$5,143
of $100,000 goal
Raised by
68
people in 2 months
FOR GERMAN/SPANISH, please DO NOT use the built-in translator function. Please scroll down below for the original German and Spanish translations:

----------------------------------------------------------------------------------------------------
Deutsch siehe bitte unten!

Para Español: continúe leyendo!
----------------------------------------------------------------------------------------------------




Kyle wants to beat his cancer and needs YOUR support.
Kyle will seinen Krebs besiegen und braucht DEINE Unterstützung.

Kyle quiere vencer el cáncer y necesita tu apoyo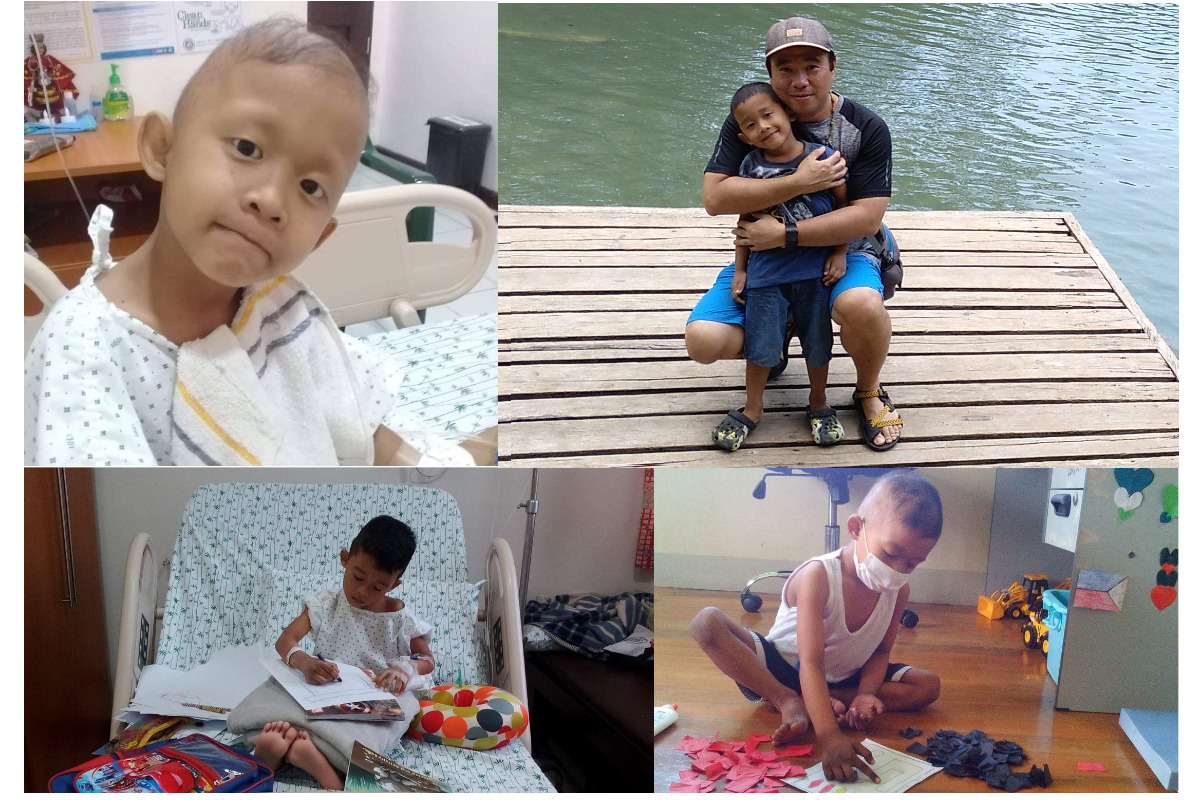 -------------------------------------------------------------------------------------------
ENGLISH:
-------------------------------------------------------------------------------------------
About Kyle and his fight against cancer:
Kyle Campo Rabaya is my five year old grand nephew. He lives in the Philippines with his single mother, 12 year old sister, and grandfather.
Ever since Kyle was born, Kyle's grandfather, who is also my own father, cared for him as he cared for me.  Papa is himself a colon cancer survivor who lost my mother years ago. However, Kyle's birth five years ago gave my father a new lease on life. Kyle is his pride and joy. Kyle gives him love, smiles, comfort, and cheer. He is a good boy by nature. He is also smart and has a caring character.  He has a big interest in cars and can't wait to drive a real car on his own. He loves to draw, read, write, and play the keyboard and drums. He loves going to school and started Kindergarten last June, 2018. In fact, he was supposed to be his class representative to compete in a reading competition until he was confined to hospital and home.
He was admitted on August 2, 2018 for abdominal distention at Chong Hua Hospital in Cebu, Philippines. Ultrasound of the abdomen showed a complex mass enveloping the left kidney. A CT scan of the whole abdomen confirmed a huge mass on the left side suggestive of neublastoma. Multiple metatastic nodules were discovered in both lungs and on the liver.  Biopsy result showed highly diferentiated small round blue cells.
Final Diagnosis: Neuroblastoma, Left  Adrenal, Stage 4 with Lung Metastases, High Risk  Classification; Prognosis: very poor, survival rate 20 percent.
Neo-adjuvant chemotherapy was started September 2018 using ENSG-5 protocol for a total of eight cycles. Surgical excision of the residual mass was done on November 29, 2018. Radiation therapy was also utilized on January 15 - February 18, 2019.  A PET-CT Scan to check for residual tumor, is currently scheduled on April 12, 2019 in Chong Hua Hospital, Cebu, Philippines. 
Medical science has made amazing progress with childhood cancers such as leukemia and a tumor similar to Kyle's, Wilm's tumor. Some have become highly curable.  But high risk neuroblastoma was in a different category, according to Kyle's doctors. Kyle could be treated with chemotherapy and surgery, but the cancer almost always returns much more aggressively, requiring treatment that would ravage his immune system while failing to cure his cancer. For the first time I heard a new term: "palliative treatment." I asked several times, "What does this mean?" Gradually, it sank in. The doctors would make Kyle as comfortable as they could until the end. That would most likely come in about two years pursuant to treatment available in the Philippines.
I learned that even children in the most rich and developed countries had at best a 50/50 chance of survival with treatment not available or affordable to Kyle. I endlessly searched the internet for something, ANYTHING, that could help Kyle.
Finally, I came across an article about a physician, Dr. Giselle Sholler, in Grand Rapids, Michigan, in the United States.  She was pioneering a totally new treatment. Dr. Sholler was pictured with a little boy who was actually smiling. She had become interested in a drug that had been used for years to fight microbial parasitic infections like African Sleeping Sickness and South American Chagas Disease. Somehow, she had learned a weird fact that no one else knew.  This difluoromethylornithine (D.F.M.O.) stuff she was using not only didn't like nasty little bugs; for some reason it had a particular grudge against cancer.  And not just any cancer. It was neuroblastoma cancer in children that it didn't like one little bit. Dr. Sholler had discovered what D.F.M.O. could do to neuroblastoma! (Link: https://healthbeat.spectrumhealth.org/this-is-going-to-keep-my-cancer-away/ )
Her study results thus far were amazing!  For some categories of high risk neuroblastoma, she was having a 90% plus remission rate which seemed to be holding for two, four and even more years out.
The great news – it looked a lot like a cure might exist after all! The bad news -- Dr. Sholler was engaged only in clinical trials and the treatment was only available in the United States and Canada after you have been accepted.
With the help of my brother-in-law in the U.S., we contacted Dr. Sholler. It turned out she was not just an amazing scientist, she was also a woman of action. Within days of forwarding medical records, Dr. Sholler made the determination that Kyle was eligible for her trial studies.
It all seemed like a dream. Somehow, little Kyle got admitted to the most advanced treatment regimen in the world for neuroblastoma.  It was a two year treatment with two D.F.M.O. pills a day.  The pills even had a reputation for being fairly gentle -- nothing like the rigors of chemo and radiation therapy.
To this day, my family and friends have made every effort to pay for all the costs of the treatment for Kyle in the Philippines and spent already approximately 45,000 USD. With the below mentioned costs that will be incurred for his treatment with DFMO, we can no longer do it alone. So now, we are seeking financial help from relatives and the public through GoFundMe.  We hope and pray that Kyle will find himself in the United States this April or May at the latest. Once in the United States, a two year program will begin where Kyle's treatment will be part of a study that may someday save thousands of children.
Here are the details of the plan treatment for Kyle with D.F.M.O. in the United States:
-------------------------------------------------------------------------------------------
Procedures                                                                   |   Cost
-------------------------------------------------------------------------------------------
1) The DFMO is provided without charge as 
it's the study drug. It will be taken two times                   0 USD
per day for two years                                      
-------------------------------------------------------------------------------------------
2) Requirements and Travel Cost:                                  100,000 USD
  **Bone marrows and EKG are required prior to
     enrollment.
  **MIBG/CT scan (or PET) will be required every
     three months for the first six months, and then
     every six months for 18 months.
  **Audiogram will be done prior to enrollment, at six
     months, then one year and two year mark
 **Physical Exam / Lab Work will be done every
     month for six months,  then every three months
     for 18 months.
  **Travel Costs
-------------------------------------------------------------------------------------------
3) Costs for board and lodging will be shouldered by       0 USD
    the family and friends
-------------------------------------------------------------------------------------------
TOTAL COST                                 = approx. 100,000 USD
I read a book years ago as a student in school. It was called Catcher in the Rye, by J.D. Salinger.  I can't remember all of it, but I remember the main character was this person who was feeling down about all the phony false things in life. So he made up a personal daydream he would use to cheer himself up.  He'd imagine himself out near the edge of a big cliff. There was a rye field near the cliff too and a bunch of little kids would be playing In the field. As the little girls and boys played, occasionally one would pop out, running toward the cliff without watching out for the drop-off. And this guy in the book would imagine it was his  job to run and intercept these kids before they could fall off the edge.
Sometimes when I was feeling down, it seemed like Kyle was out there in a field like that, with other little guys and gals, playing too close to a terrible drop off.  
But lately, I'm feeling better. Because now I feel like Dr. Sholler might be out there too.  I'm even thinking that when it's Kyle's turn to come running out, Dr. Sholler might be there to catch him.  She might pick him up and hold him just like she did with that kid in the picture. Then Kyle will have a big happy smile on his face too.
In case you may need additional information or some information regarding this case, feel free to contact me at: 
support-kyle@fight-against-neuroblastoma.com
----------------------------------------------------------------------------------------
DEUTSCH:
----------------------------------------------------------------------------------------
 
Über Kyle und seinen Kampf gegen den Krebs:
Kyle Campo Rabaya ist mein fünf Jahre alter Großneffe. Er lebt mit seiner alleinerziehenden Mutter, seiner 12-jährigen Schwester und seinem Großvater auf den Philippinen.
Seit Kyles Geburt, kümmert sich Kyles Großvater, der auch mein eigener Vater ist, so wie er sich früher um mich kümmerte. Mein Vater, der selbst erst den Darmkrebs besiegt hat, verlor meine Mutter bereits vor vielen Jahren. Kyles Geburt vor fünf Jahren hat meinem Vater einen neuen Lebensinhalt gegeben. Kyle ist sein ganzer Stolz und macht ihm jeden Tag Freude. Kyle gibt ihm nicht nur Liebe, sondern bringt ihn täglich zum Lachen, spendet auch mal Trost und hält ihn in Bewegung. Er ist ein guter Junge, ein echter Sonnenschein, klug, sehr aktiv und hat außerdem einen fürsorglichen Charakter. Kyle hat ein sehr großes Interesse an Autos und kann es kaum erwarten, ein echtes Auto alleine zu fahren. Er liebt auch das Malen sowie Lesen und Schreiben zu üben. Neuerdings kam noch das Keyboard und Trommel spielen dazu. Im Juni 2018 hat er mit dem Kindergarten begonnen und sofort erste Freundschaften geschlossen. Eigentlich sollte er seine Klasse in einem Lesewettbewerb vertreten, aber dann musste er ins Krankenhaus und sein bisheriges Leben und das der ganzen Familie wurde auf den Kopf gestellt.
Er wurde am 2. August 2018 mit stark geschwollenem Bauch im Chong Hua Hospital in Cebu, Philippinen, aufgenommen. Der Ultraschall des Bauchraumes zeigte eine komplexe Masse, die die linke Niere umhüllte. Eine CT-Untersuchung des gesamten Abdomens bestätigte eine riesige Masse auf der linken Seite, was auf ein Neublastom hinwies. Sowohl in der Lunge als auch in der Leber wurden mehrere metatastische Knoten entdeckt. Die Biopsie zeigte stark differenzierte kleine runde blaue Zellen.
Endgültige Diagnose: Hochrisiko-Neuroblastom im Stadium 4 mit Metastasen in der Lunge und Leber. Prognose: sehr schlecht, Überlebenschance bei 20 Prozent.
Die Medizin hat erstaunliche Fortschritte bei der Behandlung von Krebserkrankungen im Kindesalter gemacht. Leukämie und der Wilms-Tumor, der dem von Kyle ähnelt, sind heute deutlich besser behandelbar. Ein Hochrisiko-Neuroblastom Stadium 4 ist laut Kyles Ärzten jedoch eine ganz andere Kategorie. Die Ärzte erklärten Kyle könnte mit Chemotherapie und chirurgischen Eingriffen behandelt werden, aber der Krebs kehrt fast immer aggressiver zurück. Jede weitere Behandlung würde dann sein Immunsystem weiter zerstören und könnte seinen Krebs doch nicht heilen. Zum ersten Mal hörte ich den Begriff: "Palliativbehandlung". Ich fragte mehrmals: "Was bedeutet das?" Allmählich verstand ich es - die Ärzte erklärten es laufe alles auf eine palliative Behandlung hinaus. Eine Chemotherapie, Operation und Strahlentherapie würde Kyles Leben vielleicht um zwei Jahre verlängern, dann käme der Krebs mit Sicherheit zurück und sie könnten ihn dann nur noch palliativ behandeln, also die Schmerzen stillen bis der Tod eintritt. In anderen Ländern gibt es nach Chemo, Operation und Bestrahlung eine Stammzellentherapie und/oder Immuntherapie welche die Überlebenschance auf 50 zu 50 erhöht. Auf den Philippinen stehen diese Therapien nicht zur Verfügung.
Trotz der niederschmetternden Prognose entschied sich die Familie für den Beginn einer neoadjuvanten Chemotherapie. Diese begann im September 2018 nach dem ENSG-5-Protokoll für insgesamt acht Zyklen. Die chirurgische Entfernung der Restmasse erfolgte am 29. November 2018. Vom 15. Januar bis 18. Februar 2019 erfolgte eine Strahlentherapie. Ein PET-CT-Scan zur Überprüfung des Resttumors ist derzeit am 12. April 2019 im Chong Hua Hospital, Cebu, Philippinen, geplant.
Während all dieser Zeit suchte ich jede freie Minute im Internet nach etwas das Kyle helfen könnte. Schließlich stieß ich auf einen Artikel über eine Ärztin, Dr. Giselle Sholler, in Grand Rapids, Michigan, USA. Sie war die Pionierin einer völlig neuen Behandlung. Dr. Sholler wurde mit einem kleinen Jungen abgebildet, der lächelte. Sie hatte sich für ein Medikament interessiert, das seit Jahren gegen mikrobielle parasitäre Infektionen wie die afrikanische Schlafkrankheit und die südamerikanische Chagas-Krankheit eingesetzt wurde. Sie fand heraus, dass das Difluormethylornithin (D.F.M.O.), welches sie schon gegen die zuvor genannten Krankheiten eingesetzt hatte, eine Wirkung gegen Krebs zeigte. Und nicht irgendeinen Krebs. Es war das Neuroblastom bei Kindern. (Link: https://gehealthnews.com/index.php/2018/10/02/studie-findet-dass-dfmo-das-berleben-von-kindern-mit-hohem-risiko-neuroblastom-erhht/ )
Ihre bisherigen Studienergebnisse sind erstaunlich! Bei einigen Kategorien von Hochrisiko-Neuroblastom konnten nach der Behandlung in 90 Prozent der Fälle kein Tumor mehr nachgewiesen werden. Auch nach zwei, vier und mehr Jahren gab es keinen Rückfall.
Die gute Nachricht – endlich sah es aus als gäbe es eine große Chance auf Heilung! Die schlechte Nachricht - Dr. Sholler ist nur mit klinischen Studien beschäftigt und die Behandlung steht nur in den USA und Kanada zur Verfügung, sofern die Kinder bestimmte Voraussetzungen erfüllen.
Mit Hilfe meines Schwagers in den USA kontaktierten wir Dr. Sholler. Es stellte sich heraus, dass sie nicht nur eine erstaunliche Wissenschaftlerin ist, sondern auch eine Frau des Handelns. Innerhalb weniger Tage, nach Übermittlung der medizinischen Unterlagen, entschied Dr. Sholler, dass Kyle für ihre Studien in Frage käme.
Es schien alles ein Traum zu sein. Irgendwie wurde der kleine Kyle für das modernste Behandlungsschema der Welt gegen das Neuroblastom zugelassen. Es wäre eine zweijährige Behandlung mit zwei D.F.M.O. Tabletten pro Tag. Die Tabletten gelten sogar als ziemlich sanft - nicht wie die harte Chemo- und Strahlentherapie.
Bis zum heutigen Tag haben meine Familie und Freunde alle Anstrengungen unternommen, um die Kosten für die Behandlung von Kyle auf den Philippinen zu bezahlen, bisher ungefähr 45.000 US-Dollar. Bei den unten genannten Kosten, die für seine Behandlung mit DFMO anfallen, schaffen wir es nicht mehr alleine. Deshalb suchen wir jetzt auf diesem Wege weitere finanzielle Unterstützung. Wir hoffen und beten, dass sich Kyle spätestens im April oder Mai in den Vereinigten Staaten befindet, damit es mit der Behandlung losgehen kann. Einmal in den Vereinigten Staaten angekommen beginnt eine zweijährige Behandlung als Teil einer Studie, die eines Tages tausende von Kindern retten kann.
-------------------------------------------------------------------------------------------
Ablauf / Behandlung                                                   |   Kosten
-------------------------------------------------------------------------------------------
1) Das Medikament DFMO wird kostenlos                     0 USD
zur Verfügung gestellt, da es Gegenstand
der Studie ist. Es wird zwei Jahre lang
zweimal pro Tag genommen.                                      
-------------------------------------------------------------------------------------------
2) Behandlungs- und Reisekosten                                 100.000 USD
** Untersuchung des Knochenmarks und
      ein EKG sind zum Beginn der Studie
      erforderlich.
** MIBG/CT-Scan (oder PET-Scan) wird in den
     ersten sechs Monaten alle drei Monate und
     dann alle sechs Monate für insgesamt
    18 Monate benötigt.
** Ein Hörtest wird zum Beginn der Studie, nach
      sechs Monaten, nach einem Jahr und zwei
     Jahren erstellt.
** Monatliche Ärztliche- und Laboruntersuchungen
     für die ersten sechs Monate und dann alle drei
     Monate für insgesamt 18 Monate sind notwendig.
** Reisekosten
-------------------------------------------------------------------------------------------
3) Die gesamten Kosten für Unterkunft und                    0 USD
     Verpflegung werden von der Familie und
     Freunden übernommen.
-------------------------------------------------------------------------------------------
Gesamtkosten                         = 100.000 USD das entspricht
                                                           ca. 88.478 EUR  (Stand: 24.03.19)
Vor Jahren habe ich als Schüler ein Buch gelesen. Es hieß "Der Fänger im Roggen" von J.D. Salinger. Ich kann mich nicht an alles erinnern, aber ich erinnere mich, dass die Hauptfigur unglücklich war über all die verlogenen und affektierten Leute mit denen er zu tun hatte, über die, die ihm sagten was er zu tun und zu lassen hätte. Er war sich unsicher über seine Bestimmung und seinen Platz im Leben. So erdachte er sich einen persönlichen Tagtraum, der ihn aufheitern würde. Er stellte sich vor, am Rand einer hohen Klippe zu stehen. Es gab auch ein Roggenfeld in der Nähe der Klippe und ein paar kleine Kinder spielten auf dem Feld. Während die kleinen Mädchen und Jungen spielten, kamen sie gelegentlich dem Rand der Klippe gefährlich nahe, ohne auf den Abgrund zu achten. Die Hauptfigur aus dem Buch stellte sich vor, es sei seine Aufgabe, diese Kinder rechtzeitig abzufangen und vor dem Sturz in die Tiefe zu retten.
Manchmal, wenn ich mich niedergeschlagen fühle, scheint es, als wäre Kyle da draußen in einem solchen Feld, mit anderen kleinen Jungs und Mädels, spielt er viel zu nahe an einem schrecklichen Abgrund.
Aber in letzter Zeit geht es mir besser. Weil ich jetzt das Gefühl habe, Dr. Sholler ist auch da draußen auf der Klippe. Ich denke sogar, dass wenn Kyle an der Reihe ist, Dr. Sholler da sein wird, um ihn zu fangen. Sie könnte ihn aufheben und ihn halten, genau wie sie es mit dem Jungen auf dem Bild gemacht hat, welches ich beim ersten Mal von ihr im Internet sah. Dann wird auch Kyle ein glückliches Lächeln auf seinem Gesicht haben.
Falls Sie zusätzliche Informationen benötigen oder Fragen haben, senden Sie mir bitte eine Nachricht an:
support-kyle@fight-against-neuroblastoma.com
 
-----------------------------------------------------------------------------------------
ESPAÑOL:
-----------------------------------------------------------------------------------------

Acerca de Kyle y su lucha contra el cáncer:

Kyle Campo Rabaya es mi sobrino-nieto de cinco años de edad. Él vive en Filipinas con su madre, su hermana de 12 años y su abuelo.
Desde su nacimiento, el cuidado de Kyle ha estado a cargo de mi padre el mismo que se ha hecho responsable de nosotros durante toda su vida. Papa es también un sobreviviente de cáncer de colon y vive solo ya que mi madre falleció hace algunos años. El nacimiento de Kyle hace cinco años renovó las ganas de vivir de mi padre y le ayudó mucho en su lucha contra el cáncer. Kyle es un niño muy alegre, cariñoso, lleno de amor para compartir y siempre tiene una sonrisa en su rostro. Él ha sido siempre un buen niño, es muy inteligente y tiene un carácter agradable, le gustan mucho los autos y espera con muchas ansias el día en que pueda manejar su propio auto. Le gusta también dibujar, leer, escribir y toca el teclado y los tambores. Kyle comenzó el Jardín de infantes en Junio del 2018, le encantaba ir a la escuela e iba a ser seleccionado para representar a su clase en un concurso de lectura. Lamentablemente el destino quiso que le diagnosticaran cáncer y eso le confinó a vivir solo en el hospital o en su casa.

Kyle fue internado en el hospital Chong Hua en Cebu, Filipinas el 2 de Agosto del 2018 con distención abdominal. Un ultrasonido encontró una masa compleja que cubría casi en su totalidad el riñón izquierdo. Un CT-Scan completo del abdomen confirmó la existencia de una masa muy grande en su lado izquierdo con la sospecha de neuroblastoma. También se descubrieron múltiples metástasis en sus dos pulmones y en su hígado. Los resultados posteriores de la biopsia encontraron pequeñas células azules muy diferenciadas y redondas.

El diagnóstico final de Kyle fue: Neuroblastoma, adrenal izquierdo, estadio 4 con metástasis en los pulmones, clasificación de alto riesgo; Pronóstico: muy malo.

En Septiembre del 2018 se inició un tratamiento de quimioterapia neoadyuvante utilizando el protocolo ENSG-5 con un total de ocho ciclos. El 29 de Noviembre del 2018 se le intervino quirúrgicamente para extirparle los residuos de tejido maligno, entre el 15 de Enero y el 18 de Febrero de este año, también se le sometió a una terapia de radiación. El próximo 12 de abril está programado realizarle un PET-CT Scan en el hospital Chong Hua en Cebu, Filipinas para comprobar el estado actual del tumor residual.
Los avances de la Medicina han hecho grandes progresos tratando el cáncer infantil de diferentes tipos tales como la leucemia o el tumor de Wilms, similar al de Kyle. Estos avances han aumentado significativamente la posibilidad de curación en algunos de estos casos. Lamentablemente, según los doctores de Kyle, el Neuroblastoma pertenece a una categoría diferente. Kyle podría ser tratado con quimioterapia y cirugía pero hay una gran posibilidad de que el cáncer retorne nuevamente de manera incluso más agresiva. Adicionalmente, este tratamiento podría afectar negativamente su ya deteriorado sistema inmunológico. En este momento escuché por primera vez la frase "tratamiento paliativo", luego de preguntar varias veces ¿qué es lo que los doctores nos querían decir con esta frase?, entendí que lo que ellos plateaban es tratar de reducir el sufrimiento de Kyle en la medida de lo posible mientras todos esperamos el final, el mismo que podría venir en máximo dos años de acuerdo al estatus de la tecnología médica en Filipinas.
Luego de investigar durante mucho tiempo en internet y en otras fuentes, he aprendido que incluso en los países más ricos y desarrollados, los niños con este diagnóstico tienen una posibilidad de vida del 50% realizando un tratamiento no existente o impagable en Filipinas. He buscado intensamente alguna solución, CUALQUIR COSA que puede ayudar Kyle.

Finalmente encontré un artículo sobre la Dra. En física Giselle Sholler, en Grand Rapids, Michigan, Estados Unidos. Ella es la pionera de un nuevo tratamiento basado en una droga que ha sido utilizada por muchos años para combatir infecciones causadas por parásitos microscópicos como las enfermedades del sueño africana y Chagas en Sudamérica. De alguna manera, ella descubrió una extraña propiedad de estas drogas que nadie había descubierto antes. El difluoromethylornithine (D.F.M.O.) que ella estaba utilizando, no solo afectaba eficientemente a estos micro parásitos sino que por alguna razón, también actuaba contra el cáncer! Y no solo contra el cáncer, sino contra el nueroblastoma en niños. La Dra. Sholler descubrió lo que D.F.M.O puede hacer contra el nueroblastoma! (Link: https://healthbeat.spectrumhealth.org/this-is-going-to-keep-my-cancer-away/ )

Los resultados de sus estudios son fantásticos, en algunas categorías de neuroblastoma de alto riesgo, ella obtuvo más del 90% de remisión de la enfermedad y tal parece que dicha remisión se mantiene por dos, cuatro e incluso por más tiempo.

La buena noticia es que después de todo existe una posible cura para esta enfermedad, la mala noticia es que la Dra. Sholler está involucrada solo en experimentos clínicos y este tratamiento solo está disponible en los Estados Unidos y Canadá luego de un proceso complicado de selección de pacientes.

Con la ayuda de mi cuñado en los Estados Unidos, pudimos contactar con la Dra. Sholler y descubrimos no solo que era una científica excelente sino también una mujer de acciones. Luego de varios días enviando la documentación médica necesaria, la Dra. Sholler determinó que Kyle era elegible para su investigación.

¡Nos parecía un sueño! de alguna manera, el pequeño Kyle fue admitido en el programa de tratamiento más avanzado del mundo contra el neuroblastoma. Es un tratamiento de dos años utilizando pastillas de D.F.M.O. diariamente. Este medicamente incluso tiene buena reputación debido a sus reducidos efectos secundarios, nada en comparación con la quimio y radio terapia.

Hasta el día de hoy, mi familia, mis amigos y yo, hemos hecho todo lo necesario para pagar los costos del tratamiento de Kyle en Filipinas. Hasta el momento hemos gastado aproximadamente $45.000. Lamentablemente, ya no podemos cubrir los costos adicionales del tratamiento con DFMO y ahora estamos buscando ayuda financiera de allegados y de personas de buen corazón a través de GoFoundMe. Nosotros rogamos que Kyle pueda viajar cuanto antes a los Estados Unidos, a más tardar este Abril o Mayo. Una vez allí, Kyle comenzará un tratamiento de dos años como parte de un estudio el cual podría salvar en el futuro a miles de niños

Este es el detalle de los costos del tratamiento planeado para Kyle con DFMO en los Estados Unidos:

-------------------------------------------------------------------------------------------
Procedimiento                                                                   |   Costo
-------------------------------------------------------------------------------------------
1) El DFMO se lo proveerá sin costo debido         0 USD
a que es la droga en estudio. Kyle tomará
este medicamento dos veces al día por d
os años.                                     
-------------------------------------------------------------------------------------------
2) ** Análisis de médula ósea y EKG son                 100,000 USD
necesarios antes de tomar parte en
el programa.

** MIBG/CT scan (o PET) tendrán que
realizarse cada tres meses los primeros
seis meses y luego cada seis meses durante l
os 18 meses siguientes.

** Audiogramas también serán necesarios
antes de comenzar el programa, luego de
seis meses, un año y al final.

** Costos de viaje
-------------------------------------------------------------------------------------------
3) Los costos de alimentación y alojamiento         0 USD
serán asumidos por la familia y los amigos.
-------------------------------------------------------------------------------------------
COSTOS TOTALES                                  =  approx.  100,000  USD

Hace años cuando estaba en la escuela leí un libro que se llamaba "Catcher in the Rye", por J.D. Salinger. No puedo recordar todo, pero recuerdo que el personaje principal era una persona que se sentía mal por todas las cosas malas que pasaban en el mundo. Así que imaginó un sueño personal que usaría siempre para animarse. Se imaginaba a sí mismo cerca del borde de un gran acantilado, también había un campo de centeno cerca del mismo y un grupo de niños pequeños estaba jugando en el campo. Mientras las niñas y los niños jugaban, de vez en cuando uno salía corriendo, corriendo hacia el acantilado sin mirar hacia fuera para la caída. El personaje principal imaginaba que era su trabajo correr e interceptar a los niños antes de que pudieran caer al acantilado.
A veces, cuando me sentía deprimido, parecía que Kyle estaba allí afuera en un campo como ese, con otros niños, jugando demasiado cerca de acantilado.
Pero últimamente me siento mejor porque ahora creo que la Dra. Sholler podría estar ahí también. Incluso pienso que cuando es el turno de Kyle de salir corriendo, ella podría estar allí para atraparlo, podría levantarlo y abrazarlo como hizo con ese niño en la foto. Tal vez Kyle también tenga una gran sonrisa en su rostro.

Si ustedes necesitan mayor información o la documentación médica de este caso para comprobar su validez, no duden en contactarnos a:
support-kyle@fight-against-neuroblastoma.com
                                                                    
+ Read More