High Voltage Music Program
$2,320
of $15,000 goal
Raised by
28
people in 28 months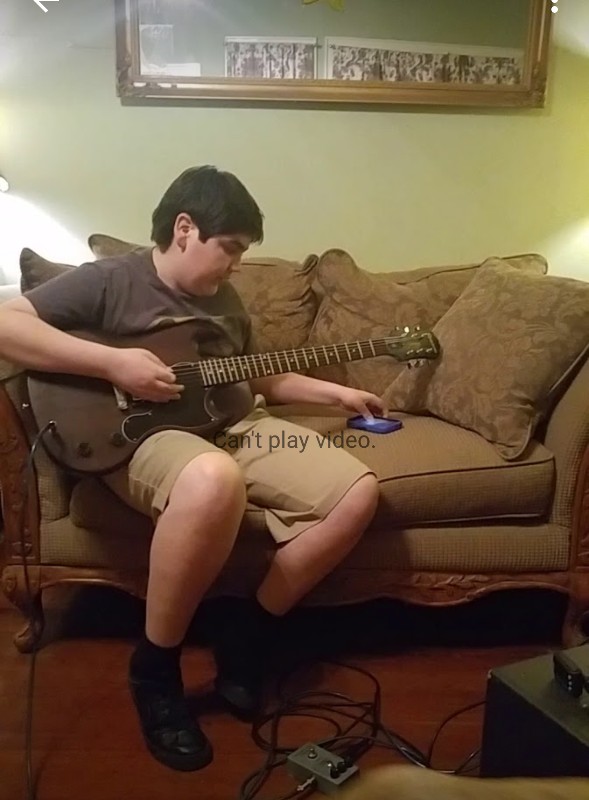 Hi Everyone,
My Story and mission.
I'm Bell Solloa, the Owner and Program Director of a NEW business called, High Voltage Music Program. I am currently working towards applying for a 501c3 non-profit status. The mission of the Music Program will be to teach FREE Music lessons to kids in our community! We will be teaching the fundamentals of Electric Guitar to Teens ages 12-17 in the Southside of San Antonio, Texas as an after school class. I have done research and needs analysis and have found that we don't have a program geared to teach music to kids on our side of town, that is not during school such as band or Mariachi class, yet we do know there are kids that want to learn!
Me & Jeremy....
My story begins with my own 14 yr old Son, Jeremy and how I've watched him struggle to learn drums and guitar on his own because of not having anyone around to teach him. Although he's made some strides with some great instruments that were generously given to him by his Uncle Ruben (his biggest musical mentor) and some VERY special friends of mine, he still needs to learn how to play them. His frustrations were understandable, since i knew it was because i couldn't afford to regularly pay for an instructor. Watching him has allowed me to see what kind of instruction, gear and time frame would be best for kids his age. Also, it allowed me to see him through the stages and what age really peeked his interest in playing drums and guitar.
The Mission...
The Southside of town has a mix of middle to very low income families. Having to go to the nearest lesson, which would be downtown, would be a hardship to some of our hardworking families. I myself am an economically challenged single parent who works part-time while caring for my disabled 86 yr old Mother and most importantly while trying to be a good Mom.
I have tried taking my son for lessons, but the drive, time and money made it hard to continue, which I'm sure you can understand made me feel bad.
We need more FREE programs on our side of town, a side the City, entities and non profits sometimes forget about. There used to be music and dance classes at a variety of places when I was growing up and now there seems to be few to none.
The Reason...
I know for a fact learning how to play a musical instrument can be impactful and life changing. I also know it can help when wanting to learn new languages, as well as  helps with math, instill self confidence, keeps kids busy and creates bonds between peers. The educational benefits are the icing on the cake! But, schools are not appropriately funded to have quality educational after school classes in our area, so I've decided to create one and find the resources myself.
The plan...
This is not a new thing for me. I have hosted several Kids Concerts Series and Back to School Bashes in the past where we found talented kids in our area and gave them a stage to play on, but was stopped in my tracks because of medical problems. Those issues, although not completely resolved, won't stop me from finishing what I started. I myself have been an all around music supporter since i was a kid. I have already had "Jam Sessions" at my house with other musically interested kids from Jeremys school who come use our guitars, amps, drums and piano.
In my business plan and program, the kids will grow as they start withvery basic beginner classes and move on to intermediate all while learning to network with other kids, as they move on from high school. My wish is for my program to serve the 4 main zip codes in the Southside community which would roughly be kids in 8-10 middle and high schools. The Southside has a large population of people who love Rock and Roll or Classic Rock. I was born and raised here and now i see my kid not only listening to the same music, but trying to play it! He is not alone, but i see the challenges even greater for others without instruments, an instructor or the space, place and support.
If you know me, you know i support Music & Art compassionately. I also support those in need when i can. This is the perfect blend of the things i love and love to do and it would be a privilege to give back to the community that my sisters and i grew up in and that i still live in.
The need.....
I am so excited to say that i JUST got a HUGE opportunity to see this come to fruition.
My Sons school was awarded a Grant to find some after school programs and after presenting my Electric Guitar Music Program they have offered me a Grant to help with some instruments and an instructor! This has happened so quickly and although I am already registered with the state and have my EIN number there are still lots of paperwork and expenses when registering as an on-site after school program. There is also equipment, instruments and other items needed immediately to accommodate a class. If i meet their deadline my program can be activated as soon as mid September. This would be an enormous chance to learn and tweak the program before doing a full launch and presenting my idea to other schools and more importantly to potential funders, applying for grants or asking for in kind donations for schools who cannot afford the program. I also don't have a non profit number (yet), so getting my own grant would be a time consuming task at a point where time is key. I do have some musical resources (and will find more) and know people who i know will help with the bigger picture. But there is a time limit to this particular project.
Help...
I respectfully ask for help from you, my Family and Friends and the super large music community that i know to help see this venture happen. There is still much to do with my non profit filing, not just to launch this one project. I am ready and willing to put in the hard work and time to help kids learn and grow into some potentially rocking musicians. I know this may not seem like a life saving cause, but to those with less, to those with hope, to those with dreams...maybe it is.
This especially goes out to ALL MY FELLOW SOUTHSIDERS....you know what I'm taking about....now, let's help play some Rock and Roll!
Thank You!
Sincerely,
Bell Solloa
High Voltage Music Program
***Note: I am taking donations for working electric guitars, amps, cords, guitar stands etc., that will be necessary as this program grows. **
+ Read More