Dontae: A Different Son
$2,760
of $25,000 goal
Raised by
56
people in 43 months
My name is Ty Thompson, and this request is being made on befalf of a young man that I've known for more than  seven years,  and one of the most amazing and resilient people that I've ever met, Dontae Lartigue.  I met Dontae more than seven years ago at a center that serves current and former foster youth.  I was a counselor and Dontae was a young man doing what he could to prepare to age out of the foster care system.

Although Dontae spent the majority of his childhood in the foster care system, he, like most children, longed for a functional relationship with his biological mother, Annette.  During his later years in foster care his dream began to actualize as his mother started taking the steps necessary to get her life back on track; for both Dontae and his younger siblings, Leilani and Alphonso - who fortunately never entered into foster care.   For Dontae's other siblings on his maternal side, that wouldn't be the case; Dontae's twin sister, Shantae, his middle brother, Quevele, and sister, Quenewqa, would all spend time in foster care.  Dontae, however, would be the only one to 'age out' of the system.

Although he and his mother always had a relationship, it was only over the past few years as she started to get her own life back on track, that they began to develop the kind of relationship that Dontae always longed for. Unfortunately circumstances would change how long that would last.  Just over two months ago, Dontae's mother was struck by an automobile while crossing the street in her wheelchair and had been in the hospital in critical condition ever since.  Dontae, being one of the oldest siblings had to then face the realities of making some critical decisions of his own - including potentially taking custody of his younger brother and sister so that they didn't end up in foster care as he had.  

Dontae's mother passed away on Friday, November 20th.   The thoughts of his little brother and sister living with him are now the reality.   

As tough a time as it's been on Dontae and his siblings,  they want nothing more at this point than to provide their mother with a proper burial and funeral service; and to grant her wish of being buried near her own mother.  Since she wasn't forunate enough to have insurance or savings, Dontae realizes that in order for his wish to come true, he will need to continue to have faith in his family, friends and community.   

With this request we are hoping to raise enough money to provide Dontae's mother a proper burial, as well as provide some initial assistance for his new task of caring for his younger siblings.   

'Dontae is a humble young man, and to say he would be appreciative would be an understatment.  He's currently in his early 20's and works with disadvantaged youth populations while simultaneously attending college.   Dontae prides himself on turning his life around, and more importantly,  giving back to the community.  For his two younger siblings that's a true blessing, for him that's who he is.
+ Read More
Update 2
42 months ago
Share
Update 1
43 months ago
Share
Firstly, I want to thank everyone who's contributed. Words can never repay your acts of kindness!
After looking over the initial letter that I'd submitted a few more times, I realized that I left out a huge piece of the story, and more importantly Dontae's life - Dontae's own family.
Dontae and his fiancé, Katherine, met in college, have been together for just over five years, and have two children together - a 2 year old son, Keelan, and a 9 month old daughter, Kaleena. Fortunately for them since Dontae aged out of foster care, they've been able to benefit temporarily from living in subsidized housing. However, their housing is now in jeopardy. With the addition of his younger brother and sister, Dontae exceeds the maximum number of persons that can live in the unit. Although the thought of finding housing again in the San Jose area is understandably dreadful to Dontae, the thought of separating his family even further is even more dreadful - and is also something that Dontae vowed to his mother he would never do. In his fragile and honorable world love conquers all - always.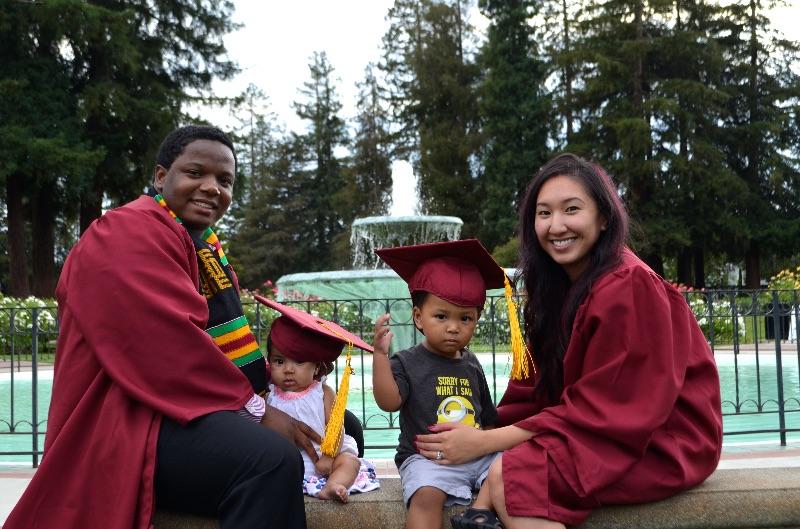 + Read More
Read a Previous Update
Be the first to leave a comment on this campaign.