Kidnapping Support Fund
$9,726
of $50,000 goal
Raised by
35
people in 62 months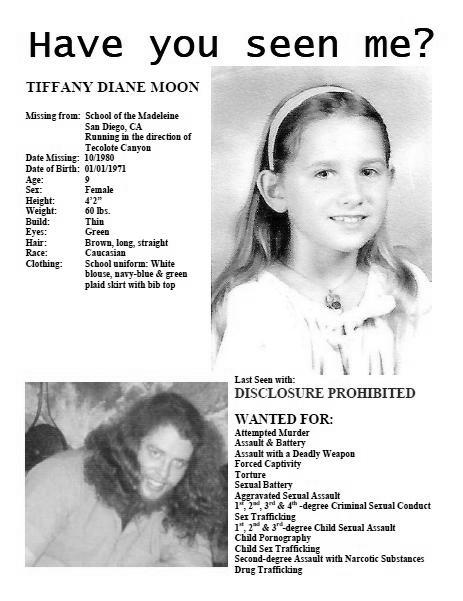 I am a disabled kidnapping survivor, and a current victim of violent crime and police misconduct. I need your help to save my life. I pay your help forward with support services for all survivors of kidnapping and abduction.

I spent my childhood in abusive homes. In 1980, after being placed into kinship care at age nine, I was kidnapped by my abuser, who escaped conviction due to negligence by the San Diego, CA elementary school he stole me from.  As an adult, I have needed a quiet, stable home and lifestyle to care for the disabilities caused by child abuse. But in 2009, my life was destroyed by domestic violence: I was abused and injured by a man who invited me into his home during a financial crisis. The result was financial destruction and home loss, and despite evidence, San Diego Police supported my perpetrator. I never recovered, financially, physically, or emotionally, and all of the home security I needed to cope with my past was stripped away. By 2011, I began to face my past, and to seek justice, compensation, and the disability aid I now needed to survive.

Since I began seeking justice and treatment, however, I have been stalked and threatened by my perpetrator, maltreated by law enforcement, and denied state Victim Compensation, Social Security disability, and other social services, causing additional strain and trauma, making me increasingly unable to function well enough to earn income, and leaving me impoverished and struggling to survive. I worked my way out of a domestic-violence shelter and homelessness, and back into housing, but I still continue to face regular crime, civil-rights violations, and hardship:

In 2013, I received an Emergency HUD Grant for housing from the County of San Diego to help me recover and rebuild, but the landlord who took the government funds given to him to provide me with stable housing, instead terminated my tenancy only two months after move-in, while I was still injured and without resources. The resulting actions caused more harm, the move nearly killed me, I was forced to take a quick rental that is harmful to my health, and I have faced additional stalking and threats of violence by a man with intimate knowledge of the tenancy case and my domestic-violence case.


I am now crippled, critically ill, and unable to pay for urgent, basic expenses, such as rent, car payments, utilities, and grocery items.

These years of additional, prolonged trauma have resulted in increased disabilities, permanent injury, and autoimmune disease, including severe Chronic Post Traumatic Stress Disorder (PTSD), advanced Systemic Lupus Erythematosus (SLE), Fibromyalgia, adrenal hyperfunction, adrenal exhaustion, chronic pain, complications to childhood rickets deformities and Maledung's deformities, chronic trapezius strain, spinal nerve damage, and dental nerve damage. I cannot afford treatment. It is crucial to my disability needs that I remain in a stable home and retain the use of my car, but today, without immediate help, I will lose my home, my car, and my life. Please help me to stay alive until I can receive the compensation and aid I need to survive.

While I seek help for myself, I am serving other crime victims who have experienced the same hardship I have. When attempting to find help, I found that my kidnapping was a complex, unsupported problem, and that I was not alone. While there are many services for victims of domestic violence, rape, stalking, and child abuse, there are almost none for victims of kidnapping.  Survivors of kidnapping experience a unique trauma and particular hardships when attempting to find treatment and navigate the justice and social-service systems. We are an underserved population, and we all need help. So, when you help me now, I pay your help forward with peer support services for other kidnapping survivors: I and other volunteers are building what is so far the only US organization to provide international support services for all survivors of kidnapping and abduction. We have the potential to make a difference in the lives of thousands of kidnapping survivors in the future, but I need your help to save my life first.

Will you please help to save my life, so that I can finally gain stability, medical treatment, and continue to support other kidnapping survivors? Will you please donate right now?

Please learn more about what is happening to me, how you can help, and the support services my organization provides. I promise to pay your help forward:
www.tiffanymoonfoundation.org

Thank you,

Tiffany Diane Moon
+ Read More