Amazing Physiology of hummingbirds
$420
of $5,000 goal
Raised by
10
people in 25 months
Welcome!!!  Thank you for visiting my page!!
Seeking funding from the general public is a new experience for me.  After all, I am a scientist....and scientists are supposed to write grants to the federal government, foundations, or other private organizations to fund critical research.  However, funding for important science is drying up and the competition fierce.  So, I thought I would give this a go!
Please give the project a read.  If it is something you can support you have me eternal gratitude.  Thought about offering rewards as many others have done with this sort of funding approach, but in all honesty I would rather spend donations on the students and the work.  If you would like to ask me questions about our research please, feel free to ask.  I love talking about what we do.
Last of all, whether you can donate or not, please, if you agree that what we are doing is important.  Please share this page broadly across whatever social media you frequent.  I would be greatful.
As we progress towards our field season I will be posting updates here so stay tuned!!  Also, you can always keep up with what is going on in the Powers Lab by following us on
Facebook
!
Project Background
Is climate change real?
 The Intergovernmental Panel on Climate Change (IPCC) recently released a report in which they predict global temperatures to rise by as much as 6 °C or about 12 °F by the end of the century!  This represents an unprecedented rate of temperature increase that truly has the potential to change the way we live.  Evidence that we are well on our way to this predicted temperature increase comes from the Japan Meteorological Agency (JMA), one of four major climate-reporting agencies in the world, who claims that 2014 was the warmest year on record.  If you have been watching temperatures in 2015 they are on track to be even higher! 
Why hummingbirds? 
 Hummingbirds are among the smallest warm-blooded animals (some weigh as little as 2 grams or 0.07 ounces which is less than a penny).  Their small size makes them particularly sensitive to changes in temperature.  Further, most of a hummingbird's energy comes from sugar found in the nectar produced by flowers (this is why sugar water is put in hummingbird feeders).  Plants that produce this critical hummingbird resource are also sensitive to temperature change.  Because hummingbirds and their food plants will both be impacted by increased temperature, changes in hummingbird physiology and behavior will likely provide an early indication of climate-change effects on important habitats.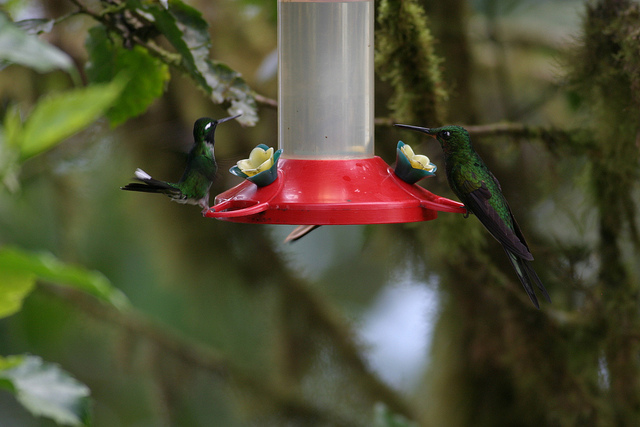 Why is increasing global temperature a concern? 
 Throughout the Earth's history there have been periodic and cyclic changes in global temperature.  However, this time around it appears to be different.  It is not so much that temperature is increasing, but rather the rate at which temperature is increasing.  Given time, living things are marvelously resilient.  However, the rate at which temperature is predicted to rise could out pace the ability of living things to adapt or move to alternative habitats.  Sadly, the end result could be mass extinction that dramatically reduces our planet's biodiversity.  The predicted impact of rising temperatures on biodiversity should be a concern for everyone.  Beyond the simple enjoyment of our natural environment, a huge proportion of the products we use, the medical science that keeps us healthy, and technologies that make our lives easier are the byproducts of materials produced or structures created by plants and animals.  To lose so much biodiversity would seriously our ability to develop innovative solutions to our world's problems. 
Project Details
 We know little about how the majority of species will respond to continued environmental changes (i.e. climate change), which limits our ability to create effective management plans for biodiversity conservation.  Sadly, we know little about what mechanisms species use to select suitable habitats.  Two key things that impact the success of species' in a habitat are:  1) the efficiency with which they use energy (energy demand), and 2) their ability to complete important behavioral tasks (efficacy) associated with foraging and reproduction (e.g. territory defense, mate attraction).  Hummingbirds are ideal for this type of study because their cost of locomotion (i.e hovering, forward, and maneuvering flight) can provide important information on the physiological limits and energetic constraints within a habitat, particularly when energy is limited. We will integrate methods from ecology, physiology, and biomechanics to better understand and measure the energetic cost of important behaviors that dictate whether or not hummingbirds are successful in a habitat. Further, we will construct models based on the efficiency and efficacy associated with these behaviors that will help us predict hummingbird survival as their distribution changes in response to climate change.
 Here are some project specifics: 
Study site.
  One option for hummingbirds (and other species as well) to escape temperature increase resulting from climate change is to move up in elevation (where it is cooler).  A potential problem for hummingbirds moving to higher elevation is that decreased air density can make it more difficult to fly making flight more difficult and energetically costly.  One of our study sites is in the Andes Mountains in Ecuador where we have access to a large elevational gradient (500-2500 m) and more than 15 regularly occurring hummingbird species that vary in size (3-12 g) and behavior.  Key physical measurements we will make along this gradient will by barometric pressure (air density) and ambient temperature (24-hour temperature cycles).
We also work in southeastern Arizona where summer temperatures can be extremely hot giving us the opportunity to study how hummingbirds in the wild respond to high heat.  As an added bonus the greatest diversity of hummingbird species in the United States can be found in southeastern Arizona allowing us to address questions such as "How does body size impact the response to high heat?" 
Some of our project goals and experiments
 1.     What aspects of flight performance determine the winner of an aggressive interaction around a food source (everyone has seen hummingbirds fight at a feeder!)?  We will use high-speed video shot from multiple angles (biomechanics) to understand the role complex maneuvering plays in winning aggressive interactions.  We will also be interested in how maneuvers associated with aggression vary with hummingbird body size and elevation.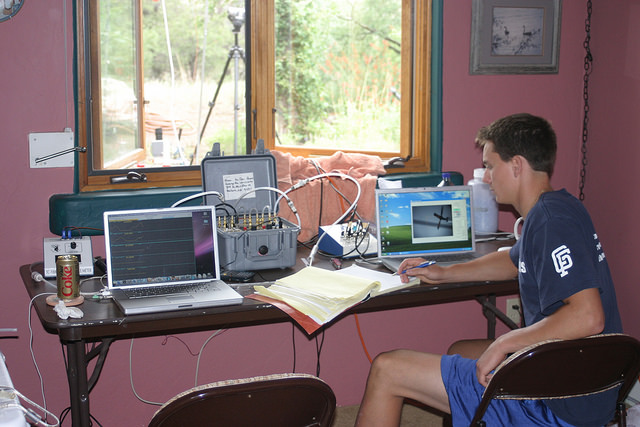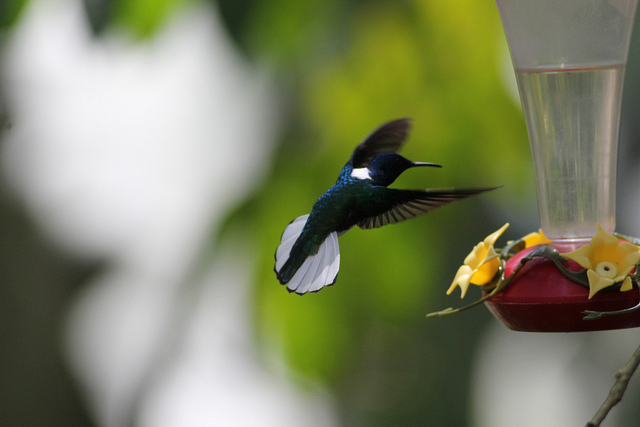 2.      What are the energy costs of hovering and maneuvering flight associated with aggressive interactions?  We can use proven respirometry methods (measurements of oxygen consumption) to measure these costs (physiology).  Specifically we are interested in determining if energy costs change with body size, wing/tail shape, and elevation.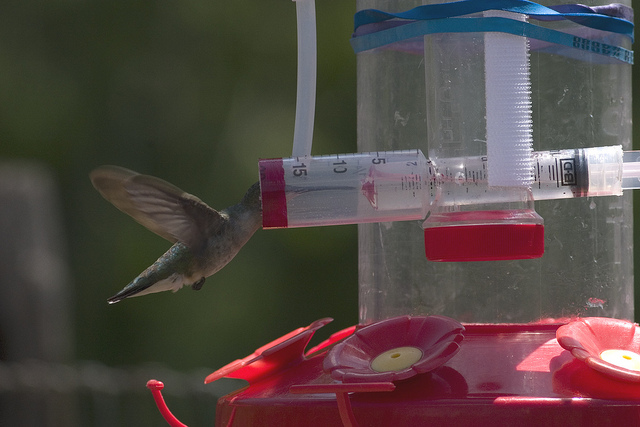 3.     How does flower distribution and air density along an elevational gradient impact competitive dominance in our hummingbird species (ecology)?  As elevation changes not only are there shifts in air density and temperature, but also in flower distribution (nectar source).  Changes in flower distribution can involve not only the number of flowers and the amount of nectar they produce, but changes in flower species and morphology.  All these things can impact the ability of hummingbirds to forage.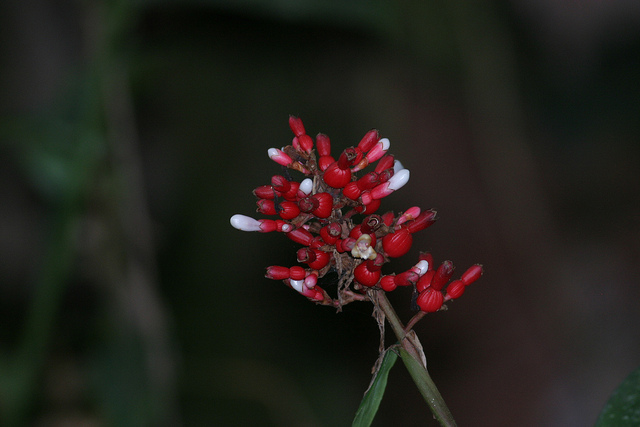 4.     Combine information from biomechanical, physiological, and ecological data in goals 1-3 to construct a model that will allow us to predict how successful hummingbirds will be if they are forced to move up an elevational gradient by climate change. 
Budget. 
All funds from this campaign will be used to pay travel and lodging costs, plus a stipend for undergraduate student researchers.  This is a great opportunity you to help shape our future scientiests!  
About Me
 My name is Don Powers, and I lead the Powers Lab where we have used studies of whole-animal physiology to tackle many ecological/environmental issues.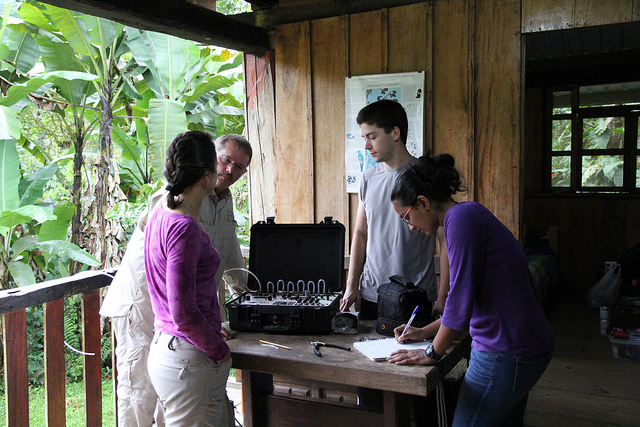 Education: 
I have a B.S. from Biola University, an M.S. from San Diego State University, and a Ph.D. from the University of California, Davis.  Also, I and have worked with several outstanding biologists across the country on a variety of related projects so am well trained for the work we do in my lab.  Currently I am a Professor of Biology in the Department of Biology and Chemistry at George Fox University in Newberg, OR. 
Personal Information: 
My family is important to me.  I am married to Theo Powers, my wonderful wife of nearly 37 years.  We have two grown sons Sean and Ryan, and an active 7-year old Labrador retriever named Zoie (who is pretty much a 3rd child).  We are long-time residents in Oregon!
+ Read More
Help spread the word!
 110 total shares
Be the first to leave a comment on this campaign.