Keep Tony Warm & Safe!
$19,625
of $20,000 goal
Raised by
657
people in 41 months
Last night around 10:30 I was driving west on M59 towards Airport when I saw person on a bicycle riding with the flow of traffic. Now as you all know the roads were horrible yesterday, and there were a ton of accidents. I remember seeing a story about a man who was recently hit and killed riding his bike on Telegraph. So as I pass this man, not only do the current weather conditions come to mind, but also his safety. I quickly turn around. I throw my hazards on and ask the man if he needs a ride. Without hesitation he said "I would love a ride" frozen beard and all. We somehow fit his bike into this Wrangler courtesy of Szott Chrysler Jeep, and he gets in. I ask where he's heading, and he said Meijer in White Lake. Now mind you this is a 7 mile ride. He proceeds to tell
me this is his 5th winter riding his bike to work. He does so because he can not afford a car due to the majority of his income going towards his ill wife. This gentlemans name is Tony. He is just a hard working man, trying to make a living to take care of his wife. Upon my Facebook post, a lot of people wanted to create a go fund me page for Tony to get a vehicle to keep safe and warm this winter! So here it is. All proceeds will go to purchasing the vehicle for Tony as well as insurance costs. Thank you! 

Update:  My name Jason Kapoor.  Tony Berard is the name of the gentleman we are all helping.  I do have his contact information. I am not related to Tony in any way.  He is a friend of mine now though! We have raised the goal
considering  the amount Go Fund me will take for their services.  Tony is overwhelmed by the amount of support all of you have given. It's nice to see good in the world still! You all are awesome!  Tony will be in a vehicle soon with enough money to cover insurance, gas, and some extra to help care for his wife! Thanks again everybody! Happy Holidays!
+ Read More
Update 2
41 months ago
Share
We did it! Tony is now the new owner of a Chrysler Town & Country! Thank you so much everybody! None of this would have been possible without all of you! Sunday we will no longer be accepting donations. Tony is extremely grateful for all of this. He also wants to simply say thank you. You've changed his life. You all are great!
+ Read More
Update 1
41 months ago
Share
Hello everybody! This is Jason. I just wanted to say thank you to everybody who donated and shared! It truly is amazing how powerful we all can be when we come together! Tony is overwhelmed with joy! He is at a loss for words when I speak with him and update him. He is extremely grateful for all of this and all of you! As well as I! Tony will be purchasing a car on Friday! Have a wonderful Thanksgiving everyone!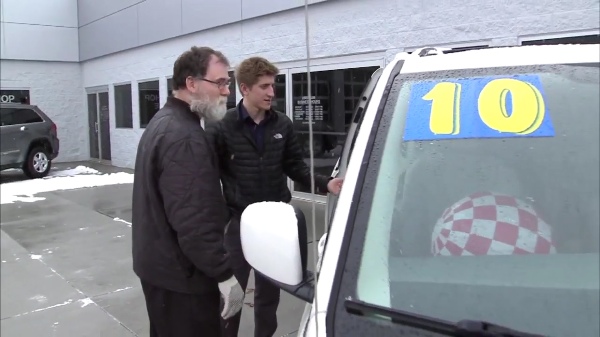 + Read More
Read a Previous Update