Climb for Katumba! (van fundraiser)
£865
of £1,000 goal
Raised by
17
people in 2 months
Katumba is a
not for profit drumming group
, which regularly performs and leads workshops and community projects in Merseyside and across the UK. Through energetic, vibrant and inclusive drumming activities, Katumba works with hundreds of people from all ages and backgrounds to champion diversity, build self-esteem and promote positive health and wellbeing.
Sadly, our transport van has broken down and cannot be fixed. This van delivers us and our huge swathe of drums to performances, workshops, rehearsals and charity projects  in Liverpool and across the UK.
As a collective of passionate drummers and members of Katumba, we really want to
show our support  for the project which has given so much to us and hundreds of others!
So we have decided to climb a mountain for Katumba!
Led by Rebecca Glover in partnership with Fillyaboots, we'll be walking to the summit of Snowdon and back on Sunday 19th August. It should take us approximately 7 hours, and many of us have never done it before.
Read more about the climb here!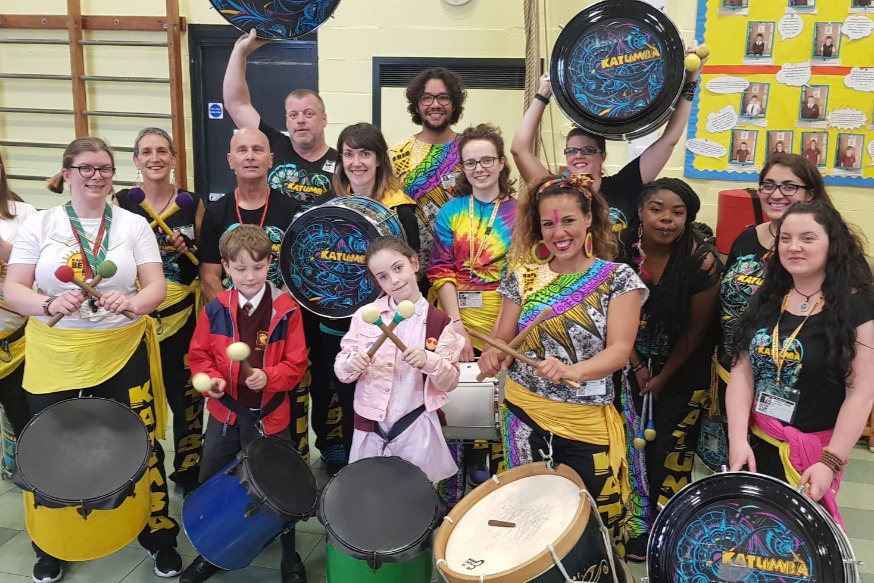 Any donations will be very much appreciated
and will go a long way to helping us secure a new van! We do so much for the community with our
drumming to support
things like Slavery Remembrance Day, Black Lives Matter and Saving Liverpool Women's Hospital. We also deliver
musical therapy workshops
with organisations such as the Stroke Association and Everton in the Community to build self esteem, nurture health and wellbeing and aid recovery in those with physical and/or mental distress.
Here are just some of the things people have to say about the positive impact Katumba has had on their lives:
"I suffered a traumatic loss in my family a few years back which left me with panic attacks and on several types of medication. Katumba has given me a family, friends and something to look forward to each week" Anonymous
"When I was invited to the open evening last year – despite all the dread – I attended the workshop. And then, every week I attended the rehearsals. For a couple of hours every week I felt like the pre-PTSD me. For a couple of hours every week I could come up for air and breathe. For a couple of hours, as I beat my drum, my hands wouldn't shake." Jane
"I went through some really bad trauma. It was samba drumming that brought me out of myself"
Anonymous
"It has been incredible! The sessions have helped them (Stroke survivors) so much: their memory retention, their cognitive capacity and it's just been so much fun for them!"
Kate Charles, Stroke Association North West
"One of the things I love about Katumba is the good natured, friendly attitude everyone has towards each other and the charitable nature of the group as a whole. Whenever anyone is down, there's always ten shoulders of support to help raise you back up again. If someone is struggling with the rhythm or dance moves, people are happy to stop their own training and help show you how its done and make it easier for you. It's an amazing attitude that makes everybody feel at home[...] This mentality is what I think makes Katumba the strong group it is today, but we can't always do it on our own."
Rebecca
Please help us so we can continue to bring our rhythms and positivity to people's lives up and down the country!
Read more about what we do at
www.katumba.co.uk
+ Read More
Update 1
1 month ago
Share
Two days after our VERY long climb(8hs total) we are touched by all your support with your encouraging words and/or donations. We can't believe how much we've raised in such a short amount of time this campaign was up! So grateful to have an incredible community near and far of like minded people who do amazing things themselves and want to help us continue to do our bit to leave a more positive mark in this world we live in. Much love to you all and a huge thank you to Rebecca who has done and overcome some incredible things in her life and we are so very lucky to have in our família as a drummer and a fab climb organiser!
+ Read More