Karel: Life In Segments Season 4
$21,313
of $75,000 goal
Raised by
144
people in 47 months
We've done it! THREE ENTIRE SEASONS of the show .
Go watch them now!
  We have brought a new form of TV, Reality Talk, to life for 26 episodes. From #CannabisCorner and its frank discussion on pot, to #CookingForThe99 and how to get by on $15 a day for food; #K-Walking in the world talking to people in the streets or sharing the tragic loss of cast member Pippa and the healng process from losing a pet. 
And now we are seen on REVRY, the GLBT Netflix-style app, with all THREE season and a fourth to come! 
Free Speech TV
 has aired all seasons, and wants a Season Four and FIVE! And we can do it, for $75k. Brandon Riley Miller believes in this, and is working like the rest of us, out of love! 
This show hs innovated! We even attended the first GLBT Outing in Ireland after the Marriage Referendum and spoke to all the incredible activists AND did a tour! 
Hottest issues, guests and topics all presented in a new, real way.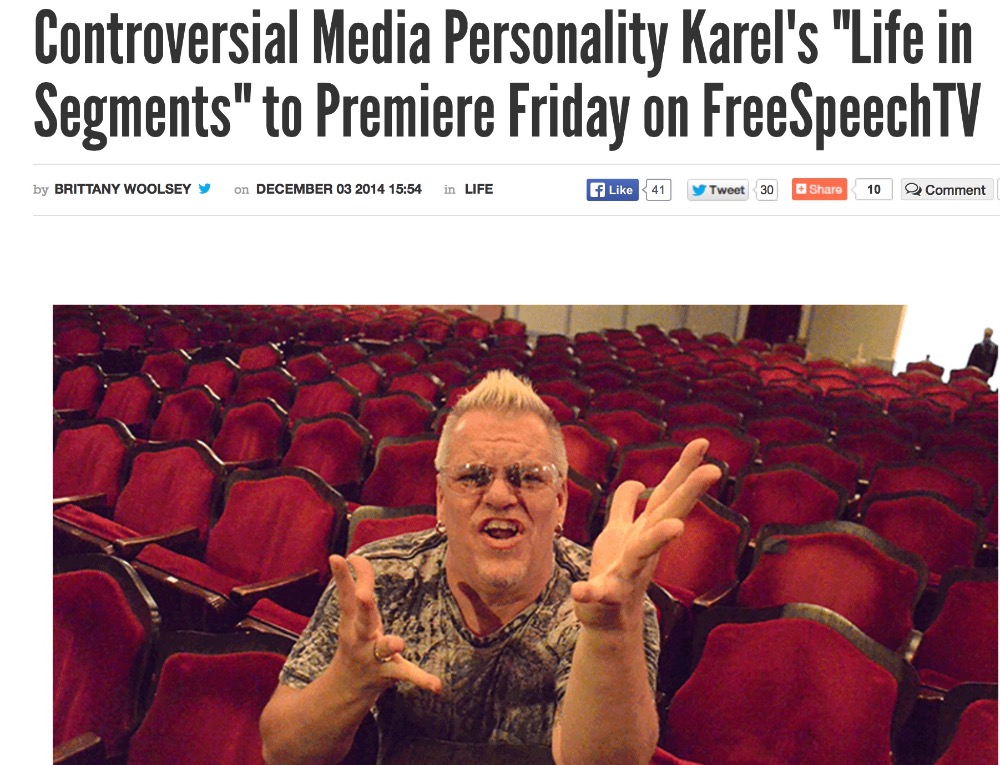 Entertainment is not easy these days. Everybody wants everything free, including major stations. But that doesn't mean that we should stop producing progressive, entertaining, relevant, LGBT friendly programming.  So few voices are on air these days, but we can change that right now! Karel: Life In Segments will make you laugh out loud, think, cry...you know, everything life does to you, because your life is many things. 
We have also done a GLBT Pride Special, and I even wrote a special song for it featuring me and some of my dear friends. Here's the press release with a private video link!
PDF of STRONGER TOGETHER PRESS RELEASE
I'm at a personal phase of reinvention. I lost my partner 14 years ago to a medical mistake and then had to spend five years fighting the state to prove we mattered. I won, and changed law, but it took time and lots all of my money. After that, my mother died, KFI fired me, KGO hired me, fired me, hired me again and now has fired me again because they want to sell their weekends to the highest bidder and not do live programming with local hosts.  TV networks want reality programming with zero brains and news networks like CNN and MSNBC don't know what they want. Enter Karel : Life In Segments
The show is a reflection of your life, and mine, the real deal. Segments  include music, lifestyle, dining, current events, issues, celebrity interviews, man on the street...we have over 30 segments from which to choose each week all waiting to make you laugh out loud, think a little or drop your jaw and say "no he didn't." 
Be a part of this show, of my reinvention and the future of progressive, positive, funny REAL talk from somoene that's been entertaining for over 25 years on radio and TV.
Be a part of my life by making my dream of Karel : Life In Segments come true and I'll be a part of yours by always entertaining you.
+ Read More
Be the first to leave a comment on this campaign.