Kamala
$41,475
of $45,000 goal
Raised by
1,365
people in 55 months
FORMER WWE WRESTLER NEEDS OUR HELP

For 30 years, Kamala The Ugandan Giant gave his all.Now it's time to give back.

Every wrestling fan has a memory of Kamala.
Maybe you hid in fear as he sauntered toward the ring with his white face paint, loincloth and spear. Or perhaps some of you cheered for him in his legendary matches with Hulk Hogan and the Ultimate Warrior. You probably even chuckled a bit when Jake "The Snake Roberts" chased him from the ring with his python.
Whatever the case, the image of Kamala slapping his belly will be forever etched into the memories of anyone that watched wrestling in the 1980s and 90s. For nearly 30 years, "The Ugandan Giant" entertained us by giving everything he had in the ring.
Now it's time to give back.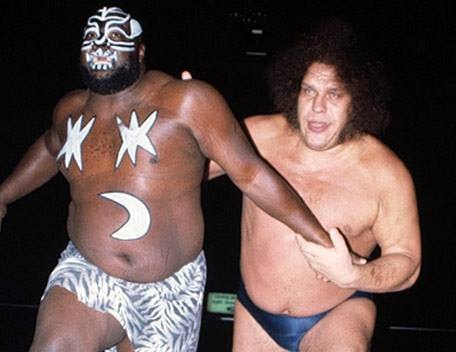 A recent article by Bleacher Report's Jason King
 revealed that Kamala - once an imposing 6-foot-7 and 380 pounds - is now wheelchair-bound as a double-amputee. Diabetes forced doctors to remove both of his legs, and he's now on dialysis. Unable to work and with medical bills continuing to mount, Kamala and his wife, Emmer Jean, are struggling financially. According to the article, the transmission on their vehicle is out, the heating and cooling system in their home is broken and money to buy groceries is scarce.
After reading the Bleacher Report article - and watching the heart-wrenching video that accompanied it - I felt compelled to help. Even though it's billed as sports "entertainment," I've always appreciated physical sacrifices wrestlers make in the ring simply for the sheer enjoyment of their fans. Seizing an opportunity to repay the favor by lending a helping hand all these years later seems like the right thing to do - especially for a guy like Kamala, who wrestled during an era where performers weren't paid nearly as handsomely as they are today.
After reading the Bleacher Report story - and watching Kamala both laugh and cry during the video - I'm confident you'll feel the same way.
As as the season of giving approaches, please find it in your heart to show Kamala and his wife that you're thinking of them by taking part in one of two fundraising projects.
One way to help Kamala would be to donate here, via PayPal, on this website. Whether it's $5, $10, $20 or even a $100 ... no gift is too small or big. Every little bit will help. Cliche as the saying may be, it's truly the thought that counts. Heck, even if you can't donate, feel free to leave Kamala a message in the comments section below. Apparently one of his greatest joys is hearing from his fans.
Another way to support Kamala is to purchase "Kamala Speaks." James Harris' autobiography - ghostwritten by longtime friend/manager Kenny Casanova - will be released within the next two or three weeks. You can order the book by
clicking here
. Kamala will receive 100 percent of the proceeds. What a great Christmas gift!
Please know this: Kamala hasn't asked for any sort of financial support and has no idea I've started this page (well, at least not yet). As a diehard wrestling fan during his heyday with the WWE, this was solely my idea.
A mutual friend told me that Jason King, the author of the Bleacher Report story, was working on this piece. I contacted Jason (who speaks with Kamala weekly) about doing this fundraiser. He loved the idea and said he will personally deliver the money raised on GoFundMe.com to Kamala in Mississippi once the fundraiser has ended. He also vowed to take a picture and shoot an accompanying interview with Kamala to post here as proof that your gift indeed reached The Ugandan Giant.
Although the goal of this project is to raise a minimum of $20,000 by Christmas, I'm hoping the total far surpasses that.
Thanks so much for reading this lengthy post and for contributing to this project. This is what the holidays are truly about. Merry Christmas and God Bless.
+ Read More