Just Say Goodbye
$9,790
of $9,000 goal
Raised by
106
people in 12 months
Please watch our campaign video with Katerina Eichenberger and Max MacKenzie first, and then come back here for more details! :D

(*** Please note...yes, we've met our miminum goal of $9K, but donations are still welcome, and film credits still open until September 30th! Thank you for your support!)

Perhaps you've been personally touched by teen suicide, or have known someone close to you who has been. When we launched our first campaign to raise funds to produce our feature film, Just Say Goodbye , we never guessed the emotional responses we'd receive from audience members – some eagerly sharing their own stories after the film ended. But we're thrilled it did.
 
We wanted to bring this touching story of friendship between Sarah Morin and Jesse Peterson as they endured the stresses brought on by depression. To start a dialog about a sensitive topic, which bordered on taboo in the past, was certainly a primary goal.
 
Director Matt Walting was only 16 when he directed this film. And not only did it get selected by several film festivals, he ended up being the recipient of the Indie Spirit Best Director Award at the Boston International Film Festival. An amazing feat for any filmmaker, never mind a teenager.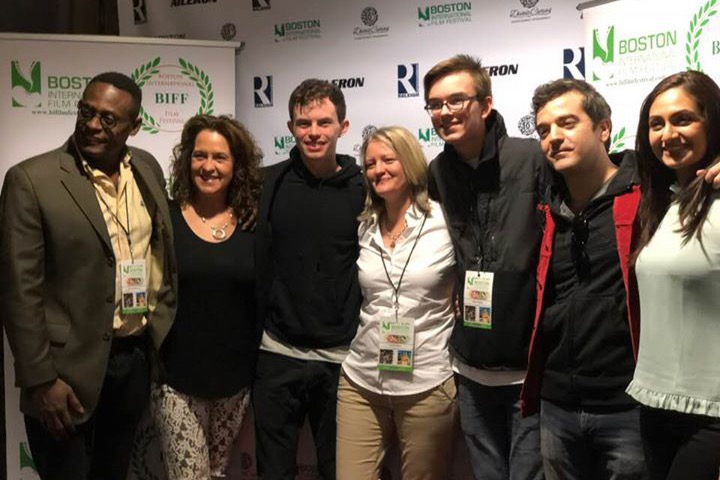 Though Just Say Goodbye started as a no-budget endeavor, we now believe we have something rather special, having both a 9.5 rating to date on IMDb, as well as receiving reviews encompassing phrases like:
 
"A film with a sensitive subject, leaving a crushing impression." ~ Peter Pluymers, Movie-Freak.be
 
"At the end of the day this is just a remarkable film." ~ Mark Ziobro, The Movie Buff
 
"The performances, too, are impeccable." ~ Chris Watt, FlickFeast
 
"A beautifully constructed emotional rollercoaster -" ~ Chantelle Partridge, The Cinematic Explorer
 
"A no-budget masterpiece." ~ Eamon Yates, The Reel Film Guy
 
"An often lyrical piece of great sensitivity and profound physiological insight." ~ Jonathan Fryer
 
But here's the thing, while our reviews may be great - we're just a small fish trying to make a noticeable splash in a vast pond of big budget films.
 
We've learned along the way that not only do you have to raise money to MAKE a movie, there are also significant expenditures after the fact in order to then BRING IT TO MARKET. Like what, you ask? Well, here's just a few reasons (with their estimated costs) why we're here asking for your help today:
 
Errors & Omissions Insurance - $2,000 - $5,000 (Why? In case someone wants to sue us for some crazy reason! Yeah, it happens.)
 
QC Lab - $500 - $1,000 (Why? It's a required deliverable by some VOD platforms, such as iTunes, because they want viewers like you to be happy with the quality they put out. We get that. But yeah, that costs coin as well.)
 
Publicist & Graphic Designer - $500 - $2,000 (Why? So we can grab the attention of our target audience with materials that convey our film is worth their time and money.)
 
Entertainment Attorney - $500 - $1,500 (Why? So we make sure the contract we sign is in our team's best interest, and can have important legal questions addressed if needed.)
 
Week-Long L.A. Screening - $2,000 - $3,000 (Why? So we can get an L.A. Times review in order to put us on the film map that IS Rotten Tomatoes.)
 
So the upper end of this is about $15,000, but as many of you have seen, we know how to stretch a buck, so we're asking folks to help us raise $9,000. If you've read this far, and you're thinking, "oh, lord, my ten bucks isn't going to matter", stop right there! We more than doubled our initial campaign ask of $6k, which helped us put out a far better quality film than we first envisioned was possible. The big donations AND the small ones ALL helped get us to where we needed to be! This time will be no different.
 
So here's what we can offer in return for the following donation levels (for film credits, donations must be received by 9/30/18 before the picture is locked from further editing):

$10 - Shoutout to you on our Facebook page here to our over 700 fans

$25 - Above perk, plus your name in the donor listing in the film credits (if you donated to our first campaign, you'll be added to a special section of the film credits, so everyone know just how awesome you are!

$50 - Above perks, plus a password protected link to the FILM ITSELF within 24 hours of donation!

$250 - Above perks, plus an ASSOCIATE PRODUCER credit in the film!

$500 - Above perks, except this time you get an upgrade to EXECUTIVE PRODUCER in the film credits!

So if you've given to our previous campaign, and you've been following our success and thought, "gee, I wish I gave enough to be an associate producer or executive producer", here's your chance! We'll combine both donations to achieve the perk level noted above (If you don't remember the amount you donated the first time, just reach out to us and we'll let you know). Let your name roll on screens around the country, and maybe even worldwide in the future. :D 
(Oh, did we mention we JUST signed a distribution contract with Leomark Studios in California?  Yeah, we're not kidding. Your name WILL roll on screens.)

Can't Donate right now?
If you aren't able to donate at this time, but still wish to be involved, here's what you can do:

Spread the word! Share this link. But when you do, PLEASE don't forget to write WHY YOU ARE SHARING IT. Whether you've seen the film itself, know someone involved with the film, or believe in suicide awareness itself - including your WHY is the key to showing people why they should check it out. They're 10 times more likely to click on the link if you include your WHY. We just made that number up, but it seems about right given our experience. :D  

If you haven't already seen Just Say Goodbye, we think you'll agree that this small budget film makes a lasting impression many major motion pictures don't achieve. Won't you help it reach a larger audience? Thank you!

Warm regards,

The JSG Team

P.S. Already seen Just Say Goodbye? Please rate and/or review us on IMDb here . :D
+ Read More
Update 2
11 months ago
Share
Gooooaaaaal! We did it! Or rather YOU did it! We just reached our $9k minimum goal to help us spread the word about our moving, award-winning film. Can't thank you enough!
If you know of others who might be interested in supporting our film, still feel free to share our campaign as we're still open to adding folks to the credits and sending them a link to the movie up through September 30th.
When you finish viewing Just Say Goodbye, we REALLY hope you'll rate it on IMDb, and maybe even say a few words about it. The more ratings it has when we launch the film on VOD platforms, the more likely people will be convinced it is worth checking out.
Thanks for all you have done to make Just Say Goodbye a reality. Let's get this little independent film on the map!
Warmest regards,
Matt Walting - Director/Producer
Layla O'Shea - Writer/Producer
IMDb page (rate/review):
https://www.imdb.com/title/tt5641246/
Facebook page (follow us!):
www.JustSayGoodbyeFilm.com
Official Website:
www.facebook.com/JustSayGoodbyeFilm
Instagram (follow us here, too!):
https://instagram.com/jsgfilm
+ Read More
Update 1
11 months ago
Share
Just Say Goodbye has reached 51% of its goal - so now we ride down the hill instead of climbing up! You guys are amazing! If you watched the film since receiving your link (of your donation level qualified) and you really liked it, please let others know about our campaign or share your thoughts on our Facebook page for others to see. Thanks again for your support!

Matt, Layla and the entire JSG team
+ Read More
Read a Previous Update