32
8
Magic Machine EP Recording!
$2,075
of $4,000 goal
Raised by
33
people in 5 months
JUMPIN' JOEL FLASH AND THE MAGIC MACHINE IS A TOTAL MAGIC DREAM

Following the release of our very first single, The Rain, we can't help but notice that the people of Ottawa are clamouring for more!

The Magic Machine is aiming to raise $4,000 to lay down our very first EP!  We'll be doing so in the comfort of a brand new Ottawa recording studio, using all local talent and all local expertise!

I've got a plan Stan, and I very much think you're gonna dig it.   


RIDING THE O-TOWN TRAIN TO SECURITYVILLE

My story is a very typical one for Ottawa. I went to school, scored a sweet office job, and stayed there for a decade. It paid the bills, but it was the pits. I mean sure, I was rockin' on the weekends, singing the Allman Brothers and Steely Dan hits that the kids were just begging for… but was it enough?

That was a rhetorical.  No, it was not enough.


DON'T KEEP A CREATIVE IN A CUBE

I spent waaaaayyyy too much of my professional life (sorry colleague friends) building songs in my head. On the bus. In meetings. At my desk. At risk management conferences. Especially at risk management conferences.

Over time, these head licks and memory riffs formed into likeable, toe-tappin' structures. From there… words appeared! And they rhymed and everything! Indeed, it seemed that behind Corporate Joel's professional(?), focused(?) exterior, there was a Magic Machine working its way to the surface. It just took me a little while to figure it out.  

And so, in March of 2017, I left my 12 year career, opened up the box, and set the Magic Machine free. I've been smiling bigger ever since.  


THE MAGIC MACHINE IS EXACTLY WHAT YOU'RE LOOKING FOR.

- left to right: Kim Valentine, Ashley Newall, Zoe Towne, Brad Cutler, Robin Hodge, Jasen Colson, Carolina Arnoni - Front: Joel Elliott
- photo by Ryan Lindsey Photography

It's been a year, and I've been hard at work! Using a non-existent budget and a wonderful, creative arts community:

The Magic Machine was fully formed!

Jumpin' Joel Flash & The Magic Machine is a REAL THING! Drawing on talent from Ottawa's amazing music, theatre, and art communities, this silly potpourri of creative minds has a full set of original tunes and ridiculous antics that, from what I've seen, fills audiences with inescapable joy. For the serious.

Learn all about the eight Magic Machine members and see our super-serious portrait faces on our band bios page .  

We released our first single...

The Rain was released on January 8th, 2018! Our very first track is free to download and enjoy for everyone. You can listen or download on the music section of our website .

Our sound is a sweet mix of folk and southern twang featuring opera-rock vocals, bouncy rhythms, musical theatre harmonies, and the occasional rain stick interlude. Thanks to the wonderful Tev Sound (more on him below), we now have recorded proof!

Our first single also has every musicians dream: municipal government approval! Starting in May 2018, when you call into the City of Ottawa and are put on hold, you may just hear The Rain! Thanks to the #Ottmusik program for sharing this song and 24 others from Ottawa area artists!

The Rain is great fun whether you're on hold or not.

and released our first music video!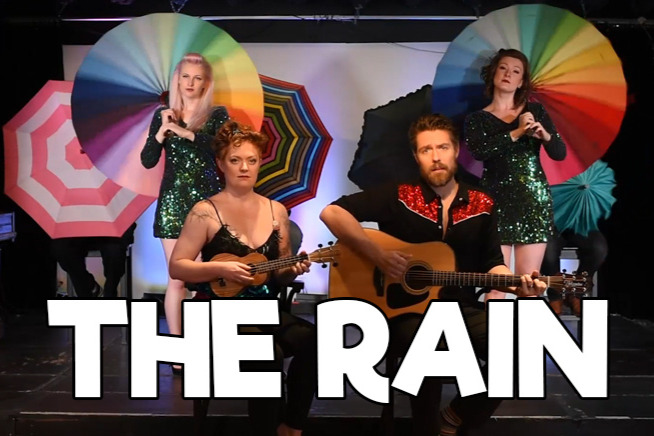 - shot by GrimRabbit Productions

As the old saying goes: "You can't sing a sad song without also having a colourfully silly music video to play along with it." Truer words were never spoken.

Thanks to the talented GrimRabbit Productions, our beautiful(?) choreography(?) was given visual life! Shot at local arts hub Live! On Elgin, our first video can be best described as "organized chaos". If you haven't seen it, you really should! It perfectly shows off the Magic Machine performance motto: "The most important thing is having fun".  

Check out the video on the Magic Machine website! You'll probably also want to check out my youtube channel, but BE CAREFUL! There's so much fun stuff that you won't want to leave!

We got a lot of press...

Our creative endeavours certainly got people talking! After our release, the Magic Machine saw media across Ottawa yik yakkin' about us like crazy! I was all over town doing all kinds of interviews! We had full features in Apt613 and Ottawa Life Magazine! Truly, we were becoming regional sorta-stars. And I'm not too shy when it comes to boasting about it.  ;)

"He's going to punch your ticket and see you on through the rhinestone gates where his Magic Machine awaits with a cotton candy cornucopia of delights. You're going to feel a little bit country. You're going to feel a little bit rock and roll. Comedy? Why sure! Bouncy bodacious beats? Of course!"
— Ottawa Life Magazine

You can check out all the recent and past press by clickity clickin' right here.

And played a SOLD OUT single release show!

On February 15th, 2018, we played our hearts out to a capacity crowd! We wore out best sequins! We dazzled with our best tunes! We went OUT OF OUR WAY to bring as much joy to the crowd as possible. And it WORKED! :)  

You weren't there, huh? Well don't make the same mistake again! Come and see us on Wednesday, May 9th at House of Targ!


- photo by Ryan Lindsey Photography

ENOUGH ABOUT THE BAND! WHERE'S THE MONEY GOING? HUH?

This $4,000 will be used exclusively for recording, mixing, and mastering. I'm a big believer in calling in the experts when I don't know what I'm doing. And I don't know how to record.  Particularly not for an eight-piece Magic Machine!

All local talent and production...

The Rain was recorded thanks to the great generosity and talent of Tev Bourque from Tev Sound. Tev combines digital and analogue approaches to deliver auditory experiences that compel the imagination. He made us sound like pure delight, and I know he'll do it again!

We'll be working with Tev in a brand-new Ottawa recording studio! Real Studio is Ottawa's newest, fully featured, recording studio, and I'm excited to be able to get in on the ground level!  Located in the heart of downtown, Real Studio reflects the urban art and culture that surrounds it. Ottawa art for the win!

for five tracks about love!

Crazy love! Heartbreak! Sexy dancing! We've got five songs that are rehearsed, powerful, and ear-buggy to the max. If you loved The Rain, I'm gonna go ahead and hanker a guess that you'll also love:

Eleanor - Her laugh. Her smile. Eleanor is a partner without peer. A love without equal. And while we might say that we're moving on, our actions say otherwise.

You Still Got Me - When love is strong, it's tough to let go. Especially when it's clear that only one party is still feeling the pain.

Round my Heart Again - To protect our blood pumper, we often try to forget about heartache and the people at the centre of it. But what if we can't get away?

My Love - Pure love gives us the power to conquer nature and tame mythical beasts. It's so strong sometimes that we forget to play our instruments!

Naughty Bits - We've been together a long time, and the fire still burns. The more we know you, the more we love you, the sexier you become.   


- photo by Ryan Lindsey Photography


WHAT IF YOU GO OVER YOUR GOAL?

Well hot dang that would be just fantastic! And I certainly wouldn't be surprised by the generosity of the Ottawa arts community. We wouldn't need the extra money for recording, but don't worry, we'd put it to good use!

We're planning on filming five music videos to go along with our 5 song EP!  The extra money would be put completely towards costumes, equipment/space rentals and most importantly, paying local experts and artists for their work!

I promise to hire only Ottawa actors, filmographers, photographers, editors, costume designers and others for this project. This city has a whole lot of creative talent, and they deserve to be paid as well as have their work showcased for all to see!

If you'd like to work with us in this regard, please do send me an email to jumpinjoelflash@gmail.com! I want the whole country to see that Ottawa is full of creative, colourful fun!


WHAT DO I GET IF I DONATE?

Aside from the satisfaction of knowing that you helped to make arts dreams come true?  Lots of stuff!

All Donations: Personal thanks in an upcoming #flashcamfriday video and socials, as well as on our website for ALL TIME!

$10 Donation: You get a free digital copy of our EP upon release! Holy Guacamole!

$25 Donation: Everything above, plus free Magic Machine swag! Probably a shirt? Haven't figured that out yet. One thing at a time, people!

$50 Donation: Everything above, PLUS you can be an extra in one of our upcoming music videos (Luckyyyy)! We have SO MUCH FUN when we film and create art!  Come have fun and be our friend!

$100 Donation: Everything above, PLUS I'll play a #flashcamfriday cover song of YOUR CHOICE! Want me to rock one of your favourite tracks? Or do you want me to play a ridiculous cover to make the people laugh? IT'S YOUR CHOICE!

$250 Donation: Everything above, plus I will roll to your house with as many Magic Machine members as possible for a personal house concert! Geography depending, of course.

$500 Donation: Everything above, plus you get a STARRING ROLE in one of our upcoming music videos! Your Face + Our Song = Magic! And holy, if you thought having fun while filming as an extra was a good time, imagine a STARRING ROLE! We're gonna be BFFF'S (Best Film Friends 4ever)!

$1,000 Donation: Everything above, PLUS I will write a song about YOU. With your first name and everything! And you'll star in the eventual video! And I'll credit you as my muse! My monetary muse.  ;)

$1000+ Donation: Everything above plus… uh… hugs?  


- photo by heLENSphotography.ca

OK, I'M INTO IT… BUT FIVE SONGS? IS THAT ALL YOU GOT?

Not by a long shot! Remember up at the top when I said I spent more than a decade writing and building songs when I was supposed to be working (again, sorry colleague friends)?  

We've got a full set of original material!

The Magic Machine has more original songs when you can shake a (drum)stick at! Love songs! Dance songs! Songs that you can sing along to (actually that's all of them)! But it don't stop there, because we also have…

Songs from 'The Phantom of the Opry'!

In March of 2017, Phantom of the Opry ran for five mostly sold-out shows at Ottawa's Gladstone Theatre. This musical romp, which is exactly what it sounds like, featured a script by local cult film director Brett Kelly, and musical score composed by yours truly! I also served as musical director and band leader. Pretty cool, right?

These 10 tracks about murder and kidnapping and murder are all kinds of fun, and need all kinds of recording!  But that'll have to wait even further down the road because…

We have a bunch of songs we haven't even played yet!

That's right, there are even MORE songs that I haven't even brought to the Magic Machinin' table yet! More riffs! More ear bugs! More potential weird videos that will make people go all kindsa "huh"?  

These are coming, but we need to lay down these ones, first!  Jeez.


LIFE IS MORE FUN WITH ART

A government town doesn't need to be boring. Our official slogan may be "technically beautiful" (yes, seriously), but we don't need to adhere to that mindset.

There are people all over this city being creative and fun and working to make our community as enjoyable to be in as possible. The amount of talent I've met here, especially within the past year, continues to amaze me. And I think it will amaze the rest of the country as well.  We just gotta get their attention! Poke the bear, as it were.

So why not donate to local art, yeah?
+ Read More
Update 1
4 months ago
Share
Things are moving and shaking! WE're nearing 50% of our goal! So much excitement in the air! CAN WE MAKE IT?


+ Read More