439
4
The Preece Medical Fund
$51,866
of $100,000 goal
Raised by
430
people in 6 days
On June 11th Josh Preece was seriously injured while mountain biking in the Mt Washington Valley. Unfortunately, Josh sustained life-threatening neck and spinal injuries and was air lifted to Dartmouth Hitchcock Hospital after the incident, where he will be further evaluated over the next few days. Josh and his family, including his wife and two children, will have a long road to recovery ahead of them and will need as much help as possible. 

Josh grew up in the Mt Washington Valley (North Conway, NH) and is a very talented home builder.  His passions are his family, skateboarding, snowboarding, and mountain biking. He is a dedicated family man and spends as much quality time with his wife and two children as the days allow, on the slopes during the winter, or hiking, biking and exploring the East Coast for family trips during the Spring and Summer.

Josh is the type of person that would give the shirt off his back for anyone in need, and has always been there to help others without hesitation. We are asking you to help Josh and his family during this difficult time. No donation is to small and will be greatly appreciated by the family, as their medical bills are growing exponentially.  

Thank you,

The Preece Family.
+ Read More
Update 2
22 hours ago
Share
Today the kids had a nice Father's Day visit in the ICU. Greta loved playing nurse with Daddy and Evan got to help with some Physical therapy. It has officially been a week since the accident and Josh has made many gains that the doctors didn't expect. He has an incomplete spinal injury which can take 6-8 weeks for swelling to go away and for nerves to start working again. Yesterday he started trials of breathing on his own without the ventilator and he is now up to 10 minute intervals. The hope is that once his lungs are strong enough he will be able to bypass the tracheotomy and come off the ventilator completely. He is on antibiotics right now for an infection and pneumonia in his lungs, which is common with patients on ventilators. Communicating is tiresome and frustrating since all the tubes in his mouth, prevent him from speaking, but we are getting better at predicting his needs and using the letter boards and picture charts. Time and positivity, love and therapy is going to get us there!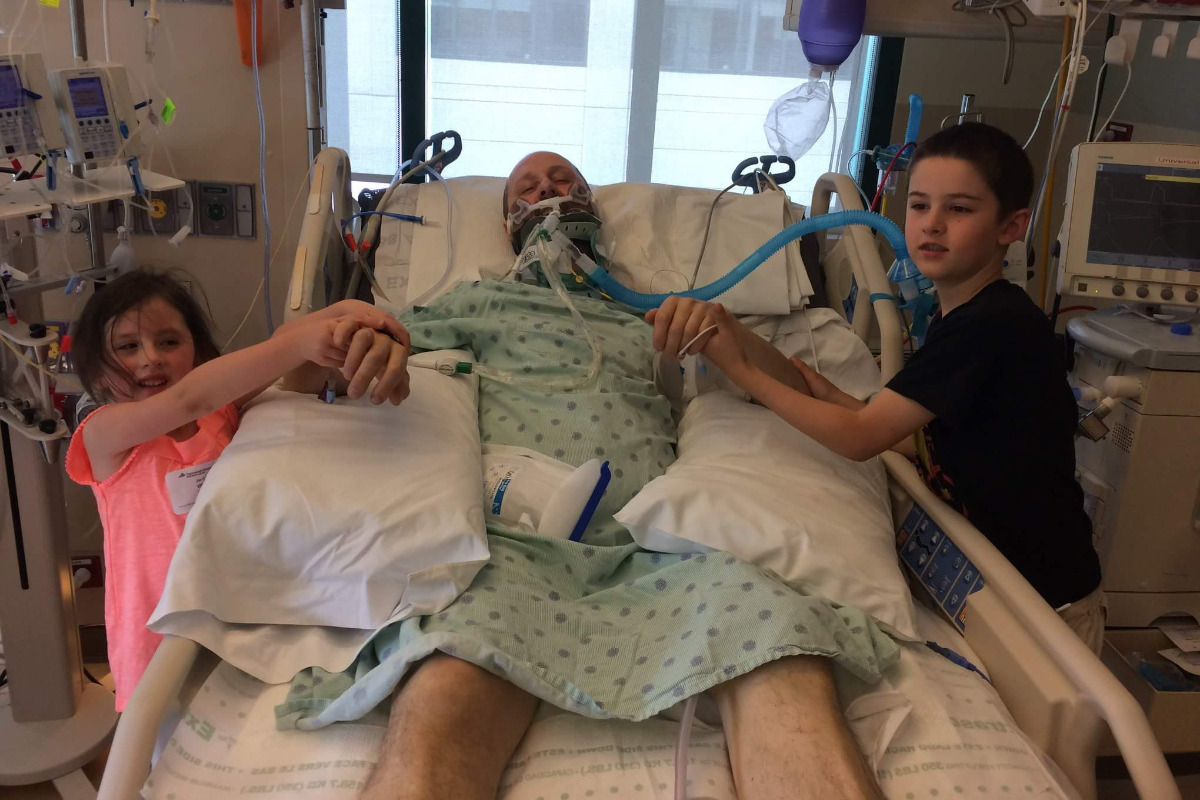 + Read More
Update 1
2 days ago
Share
Thank you all for your support, kind words, prayers, and positive vibes. Josh is doing good. He is improving every day and has a positive attitude. His skill as a snowboarder, skateboarder, mountain biker and builder is a testament to his commitment to research, training and becoming the master of his craft. There is no challenge too great for Josh and we know he can take on this one! This will no doubt be his biggest challenge ever, but he will conquer the obstacles ahead of him and continue to be the inspiration he has always been.

The donations to Josh are UNBELIEVABLE!!! Thank you Bryan for setting this up. To all of you, family, friends, the amazing community of the Mount Washington Valley, and total strangers who have donated and shared this, THANK YOU!!! It is overwhelming to know that so many of Josh's needs will be met without struggle. It is even more overwhelming to experience the love and caring of our community!

From Josh and his entire family, THANK YOU ALL!!!
+ Read More
Read a Previous Update