Johanna's Victim Fund
$3,110
of $25,000 goal
Raised by
44
people in 28 months
**PLEASE READ THIS IMPORTANT NOTE FIRST**

NOTE: (written by legal team and GoFundMe creators)
Yes, we understand this is an extremely complicated situation that is rare for GoFundMe.
Yes, Johanna is in serious debt with outstanding legal bills, all money she never should have had to spend.
BUT, we care about Johanna, so we  NEED to ALL care about the RIGHT NOW and this is what Johanna NEEDS NOW!

IMMEDIATE NEEDS: 
RIGHT NOW, Johanna NEEDS, and more so DESERVES, a BREAK from FIGHTING  to focus fully on HEALING.  JOHANNA NEEDS DONATIONS FOR: shelter, medicine, her mental health team, doctors and costs of living. She needs just a few months of financial security, and there is no doubt she definitely deserves it! 

The group of community members and local organizations that created this GoFundMe are saddened to see it not really working but we understand the complexities and why. The GoFundMe platform really should NOT work for a stalking victim as Johanna lost all her credibility, her reputation is destroyed, she lost her friends and family so the sharing platform here is NOT ideal. In light of the campaign not being as successful as we had hoped we are setting a new goal!

** WE HAVE A NEW IMMEDIATE GOAL OF $25,000**

(original goal was $150,000) 

We feel, that $25,000, would be enough to give Johanna a beyond DESERVING BREAK, for at least a few months, so she can focus fully on HEALING and not fighting for once! 

Johanna has literally ALL alone, fought for over 6 years, without a break, for all of us.  The least we can do is give her some time to rest and heal, the only THANK YOU Johanna would ever want. 

ALONE FIGHTING:
Literally, Johanna was in court from June 2015 -2017 ALL by HERSELF without any support, but from us (her legal team). Alone she tackled, gracefully mind you - both a CIVIL LAWSUIT and CRIMINAL TRIAL. The years leading up to court she worked day in and day out sacraficing herself for the safety of others. Johanna has been fighting NON STOP for the greater good for over 6 years! MORE SO, now that her name has been in the paper, as she fights for herself, somehow is also finding a way to help the endless victims across the nation now reaching out to her on a daily basis. Most victims are not brave enough to have their name in the paper, let alone her face too. With some security Johanna will do great things!!!

So again, YES, Johanna is in debt well over $60,000 (all money she never should have had to spend)...BUT, FOR RIGHT NOW, we only want to see Johanna have the chance to heal.

We feel raising $25,000 immediately will get her back on her feet, as she is healing far faster than any psychiatrist predicted and all her mental health providers are reporting immense improvement over the last 2 months, let's keep that rolling!

CONCLUSION:
On behalf of all her Team Members and the Summit County Advocates for Victim of Assault, we HOPE the immediate donations total at least $25,000. That would give Johanna a few months off from fighting and we all owe that to her!  THANK YOU!!!!! 
___________________________________________________

Introduction: 
My name is Kevin O'Reilly and I am launching this GoFundMe for Johanna Alperin on behalf the many community members and organizations that put this initiative together.

READ the latest article on CASE HERE>>>

         
The expenses Johanna incurred are not expenses victims typically incur, as it is law enforcements duty to solve and identify that which Johanna was forced to accomplish all without the help of law enforcement. Alone, Johanna managed somehow to make it through both a civil and criminal trial. Johanna's work was not only courageous but it truly has ensured us all that our community is now a safer place to live as now law enforcement is properly trained to handle cyber cases in general. Below is a letter, a GoFundMe Campaign, written by members from our community & organizations on behalf of Johanna. Please consider donating anything you can and/or sharing this GoFundMe with any outlets such as on your personal Facebook pages etc..

Lastly, please know that Johanna will provide updates via the GoFundMe platform from time to time; however, if you contact Johanna directly please remember that as a victim it is very difficult to respond promptly to everyone. Also, sometimes answering questions regarding the case can be traumatic, so again please be extra patient with her as she is working very hard on healing and we can't wait to see her back on her feet contributing again!

All the best, Kevin O'Reilly
_________________________________________

GoFundMe Campaign on Behalf of Johanna Alperin: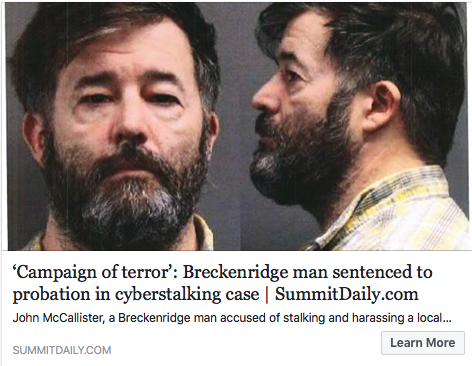 The Story...
          Johanna Alperin was victimized for many years by a dangerous and sick man who was intent on harassing, stalking and terrorizing her, and those near her, in an attempt to push her to the edge and convince her to kill herself. Johanna fought hard and risked everything to identify the perpetrator of the 'campaign of terror' and bring him to justice.



          Although the 'campaign of terror' to destroy Johanna started years prior, it was once the electronic portion of the Campaign began in 2012, that Johanna tried to get law enforcement to investigate the case but even law enforcement was unable to identify the criminal(s) responsible. At great personal cost, Johanna was able to pursue her own investigation and after years of fighting for the police to help her, Johanna, through a long and tedious civil lawsuit was able to identify the defendant to the crimes in December 2015, John Dailey McCallister. However it took law enforcement and the DA 8 long months to arrest via an extradition from Texas where McCallister fled to. McCallister took the plea offered by the DA, and hence, pled guilty in January 2017 to Felony Stalking and Harassment in Summit County, Colorado. The original charges only represented a small portion of McCallister's campaign but included: 10 Felonies and 11 Misdemeanors, including: Extortion, Stalking, Criminal Impersonation, Hate Crimes, Obscenity, Harassment and Violation of a Protective Order. In order to make the case a reality, Johanna had to hire private investigators, a computer forensic specialist, and an attorney, among others, to help her navigate the daunting task of tracking down a dangerous criminal cowardly hiding behind the anonymity the internet affords.

          It is hard to imagine what it is like to live in this type of fear and hopelessness for years at a time, while also desperately trying to convince the people around you it is actually happening. Imagine your friends, family, and the authorities all thinking you were just paranoid, a drug addict or delusional for years on end. The impact that years of being victimized and constantly fighting for justice has had on Johanna, and the toll it has taken on all aspects of her life is extreme, but is consistent with the trauma experienced by many other stalking victims.

According to the National Center for Victims of Crime:*
· 46% of stalking victims fear not knowing what will happen next;
· 29% of stalking victims fear the stalking will never stop;
· 1 in 8 employed stalking victims lose time from work as a result of their victimization and more than half lose 5 days of work or more;
· 1 in 7 stalking victims move as a result of their victimization; and
· The prevalence of anxiety, insomnia, social dysfunction, and severe depression is much higher among stalking victims than the general population, especially if the stalking involves being followed...

         Johanna has experienced all of these symptoms, but even far worse, and continues to on a daily basis.


          Although the criminal case has been prosecuted and John Dailey McCallister has been sentenced, Johanna continues to deal with the very challenging task of trying to recover and heal, while also picking up the pieces of what is left of her life. Those that have read the newspaper articles from the Summit Daily (summitdaily.com) and elsewhere explaining that McCallister was caught, prosecuted and sentenced to jail time, might believe this story has a happy, rosy ending. One might have also read that Johanna Obtained a $2 million dollar civil judgement (September 2016) against McCallister and might assume she has been made whole from this horrifying experince. That assumption would be completely wrong. 

          Johanna spent virtually all of her savings solving this case, well over $150,000. Please note: Johanna has not yet collected one cent from the judgment she obtained against McCallister. As a result, Johanna is confronted with the unenviable reality that the system is not able to provide much support for her, yet she is left with WAY over $36,000 in unpaid legal bills (and counting!!!), overwhelming medical bills and costs of day-to-day living that she cannot pay.          

          Johanna's life has been destroyed, and to make matters worse, rather than being able to focus fully on her recovery and healing, she now finds herself in debt and worried about how she will pay rent, doctors and afford groceries. Johanna is unable to work for multiple reasons at this time; especially due to the immense work that still remains from the case, including, but not limited to: district attorney/legal matters, victim processes, as well as, she is seeking intense medical treatments numerous days per week and will need this for quite sometime. 

          Prior to McCallister's campaign, Johanna was gainfully employed, had friends, and was able to maintain a high quality of life. She skied and biked, volunteered and worked for non-profits; she was generally a happy person. Today, she is only just beginning to venture out in public after years in isolation. Also, for good reason, she is still afraid to walk the streets not knowing if someone around her will again be impacted by McCallister's efforts to destroy her and those around her. It is imperative that she finds the resources she needs to improve her mental, physical and emotional well-being so that she can focus fully on trying to heal and move on from this traumatic period of her life because Johanna wants nothing more but to be able to contribute as she always had prior to her victimization.

 Johanna Skiing filmed by Vail Resorts ‌
  https://youtu.be/wIpkBPBpnbA ‌

          This GoFundMe Campaign has been created by people that care about Johanna and her future. Johanna's primary goal has always been keeping people and businesses safe and her intention was to make her community safer, which she has accomplished. Day in and day out, for years, she fought to protect those around her from a dangerous man. Remarkably, Johanna persevered and as a result, our local law enforcement and community organizations are now better equipped to investigate, solve and manage these types of cases now and in the future. Still, in the end, she lost her family, friends, career, housing, reputation, and her security. Johanna has much more to offer our community and this is an attempt to get her back on her feet!

          If you contribute to this campaign, the funds will be used to pay Johanna's medical providers, mental health providers, her legal team, and will allow her to climb out of the debt she incurred in order to make her community a better, safer place. Johanna is working incredibly hard to recover emotionally, mentally and physically, but she needs help recovering financially so she can continue on in her journey without having to worry about debt collectors or whether she can pay her next month's rent.

Please be a part of Johanna's Journey and consider contributing to her recovery to give back to a young woman who has given so much of herself.

Respectfully, 

Community Members  & Organizations
(Summit County, Colorado; Breckenridge and surrounding areas) 
_________________________________________

LOCAL MEDIA/NEWSPAPER
summitdaily.com
'Stalking Victims says Court Case'
April 23, 2017
http://www.summitdaily.com/news/crime/stalking-victim-says-court-case-barely-scratched-the-surface-of-6-year-battle-with-abuse/

'Campaign of Terror'
January 24, 2017
http://www.summitdaily.com/news/crime/campaign-of-terror-breckenridge-man-sentenced-to-probation-in-cyberstalking-case/

'Criminal Faces Additional Charges' 
October 27, 2016
http://www.summitdaily.com/news/crime/former-breckenridge-man-to-face-additional-charges-in-sprawling-cyberstalking-case/

'Criminal Extradited from Texas'
August 16, 2016
http://www.summitdaily.com/news/local/man-extradited-from-texas-to-face-stalking-and-extortion-charges/

Stalking Stats:*
https://victimsofcrime.org/docs/src/stalking-fact-sheet_english.pdf

 Part of Johanna's Journey ‌


+ Read More