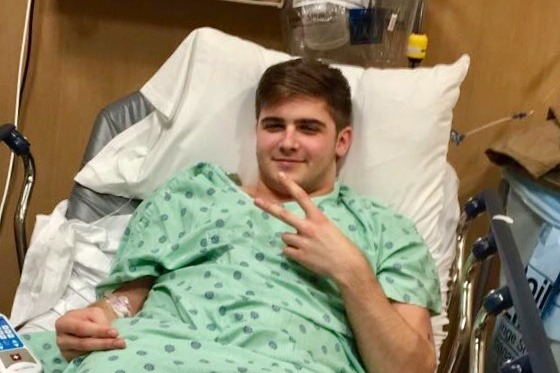 210
4
Help Jack Battle Lyme Disease
$18,360
of $30,000 goal
Raised by
211
people in 13 months
The Montgomery's have made the difficult decision to allow me to start a GoFundMe page to help Jackson fight his battle with chronic Lyme disease. The family is seeking funds to pursue a new, revolutionary treatment for Jackson in hopes of him leading a symptom-free, normal life.
Jackson's Story
Jackson's story starts at the age of 12 when he became mysteriously ill and was not diagnosed with Lyme disease until he was 15. It was three arduous years of apathetic specialists, painful tests, non-stop trips to Boston hospitals, the Mayo Clinic in Minnesota and relentless research before he was ultimately diagnosed. The road to a diagnosis was excruciatingly hard. 
In addition to Lyme, Jackson has two other tick co-infections, babesia and bartonella. Lyme and these co-infections have caused him to experience brutal symptoms over the years: brain fog, memory loss, excruciating head and neck pain, night/day drenching sweats, vision loss, hearing loss, severe gastrointestinal problems, joint pain, bone pain, light and noise sensitivity, temperature dysregulation, word retrieval problems, and migraines are just some of his ailments. 
Due to the late diagnosis, the Lyme infiltrated Jackson's nervous system. This infiltration led to a condition called Postural Orthostatic Tachycardia Syndrome (POTS), whereby Jackson's heart rate is sporadically thrown into low to high rhythmic beats when standing. This makes him feel as if he's having a heart attack to a complete fainting episode.
At the time Jackson was finally diagnosed, he had started using a wheelchair more frequently and the family was considering home schooling. Antibiotic therapy and supplements helped reduce the symptoms enough to where, because of his incredible will, he was able to continue school. What Jackson accomplished in high school on its own is outstanding. The fact that he did so, when feeling extremely sick and undergoing multiple treatments that often times made him sicker, is unfathomable. To meet Jackson you would not know that he feels sick...every minute...of every day...battling this invisible, yet deadly illness.
Treatment
To date, Jackson has endured long term antibiotic therapy, herbal therapy, bio-magnetic therapy, pulsed electromagnetic therapy, rife therapy, ozone therapy, and IV laser therapy on top of taking over 35 pills daily. While these treatments have helped somewhat physically, they have not put his Lyme in remission and currently his health is deteriorating. 
Recently Jackson and his family learned stem cell transplantation for Lyme has become available in the U.S. This treatment had huge success in Germany in terms of remission and healing the long time damaged immune system. However, it is extremely expensive (est. $30,000 for multiple long term treatments) and Jackson's family has exhausted all of their resources. They estimate having spent over $100,000 out of pocket thus far given that health insurance does not recognize chronic Lyme, and they continue to spend $1,000 a month on treatments. If stem cell treatments in the U.S. do not succeed, they plan to go to Germany for further help.
How You Can Help
As most of you know, the Montgomery's have always persevered when faced with a challenge. They have been fiercely independent and private about the costs of Jackson's medical bills but at the same time will stop at nothing to help him recover. Asking for monetary aid from family and friends is their last resort. Now is the time to put pride aside and seek the help of the community to help Jackson lead a normal life.
Jackson is an amazing young man, with an incredibly bright future ahead. This experience has inspired him to enter the medical profession and to serve those who need it most. Please consider donating to help him in this battle that I know wholeheartedly he will overcome.
Thank you immensely for your support and please share this page with others. We look forward to updating you on Jackson's journey in the months to come.
+ Read More