Jellouli Family Recovery Fund
$33,800
of $50k goal
Raised by
523
people in 2 months
I have created the Jellouli Recovery Fund on behalf of the Jellouli Family as a result of a devastating fire that consumed their home on 2/20/17. My name is Olivia Mayszak and I have been the special education multi-needs teacher of the Jellouli's middle child, Jed, for the past year and a half and first worked with him when he was in elementary school. Jed is an amazing 12 year old boy who has faced an uphill battle since he was very young when he was first diagnosed with Infantile Epileptic Encephalopathy. His condition resulted in developmental and physical disabilities, and he frequently has seizures. He has also been diagnosed with Lennox-Gastaut Syndrome, Paroxysmal Dystonia, Dysphasia, uses a G-tube for feeding, is wheelchair bound, nonverbal, is working on communicating with eye gaze, and has frequent upper respiratory infections. Jed has limited to no control over his body and is completely reliant on the adults around him to function. Despite these challenges, Jed comes to school with a positive attitude daily and has an incredible family that loves and cares for him with no home medical support.
http://www.dailyherald.com/article/20170220/news/170229925/
On Monday, February 20th around 11 am, a fire started at the Jellouli house, forcing them to evacuate immediately. The cause of the fire is currently unknown. Mr. and Mrs. Jellouli and their three children were able to get out of the house unharmed but lost all of their belongings, including all of Jed's specialized medical equipment that he needs to function. His custom wheelchair, feeding machines, and all related medical supplies were all consumed by the fire. They also lost one of their two vehicles that allowed Mr. Jellouli to get to and from work. All they have is each other and the clothes on their backs. They are currently staying with friends as they process this tragedy and sort through insurance.  Although their insurance will assist in covering their losses, this will take time and we are looking to provide immediate relief so that the Jellouli family can get the necessities for Jed's medical needs as well as what they need to begin rebuilding their lives. The Jellouli family is the most positive, generous, selfless family and have never asked for anything despite the challenges they face on a daily basis. They deserve all the support we can provide them during this devastating time.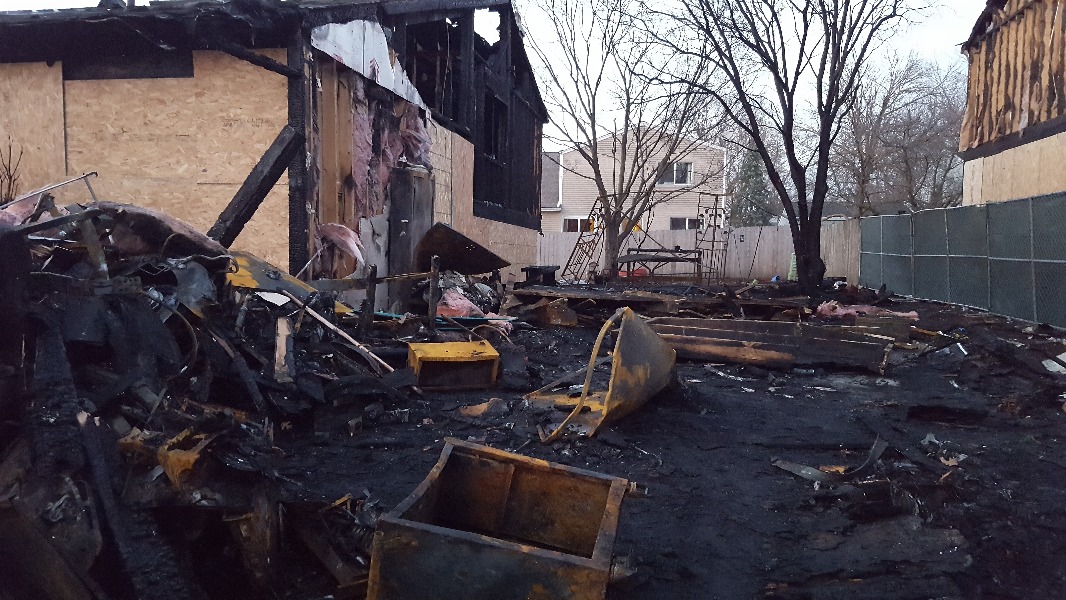 The fire that began at the Jellouli's house also spread to the side and deck of two neighboring houses and have a separate GoFundMe page to support them. This page was created by myself on behalf of the Jellouli Family as I am in direct contact with them regarding this recovery fund/donations and they will be given direct access to the money raised for them through this page.
Donations of Amazon, Visa, or Mastercard e-gift cards, any fundraising inquiries, coordinations of physical donations, or other questions can be emailed to:
JellouliRecoveryFund@gmail.com
Thank you so much for your support!
Olivia Mayszak
+ Read More
Update 1
Posted by Olivia Mayszak
2 months ago
Share
I cannot find the words to express how grateful the Jellouli family, myself, and our school family are for all of the support for the Jelloulis. Thank you all from the bottom of our hearts for taking the time to share, donating, and for caring so deeply for the Jelloulis whether you know them or not. I've spent time with them after school for the past few days and have begun to develop a list of medical equipment and supplies that are needed immediately for Jed as that is the family's main priority.

Also, if you have any connections to companies that can assist with the following donations or you would like to help provide any of the following physical donations, please email JellouliRecoveryFund@gmail.com so I can coordinate getting them directly to the Jelloulis. I am trying to reach out to companies first for donations, but if you are able to assist in coordinating or would like to purchase a donation to be directly provided to the Jelloulis, let me know. Unfortunately my time is limited to before/after school hours as our school days are extremely busy! :)

-Medical equipment/supplies for Jed
-Adaptive furniture for Jed (bed, supportive sitting/standing equipment)
-Getting Mr. Jellouli a new car (his sedan was destroyed in the fire and he needs one ASAP to get to work)
-Getting a wheelchair accessible van (the Jelloulis have never had one and were often unable to travel together as a family or take Jed out without assistance)
-Adaptive toys
-iphones/ipads/laptops (all were lost in the fire)

*Please email JellouliRecoveryFund@gmail.com regarding these items so we don't end up with multiples, thank you so much!

Olivia Mayszak
+ Read More