508
11
Jeffrey Allan Fortune Remembrance
$10,186
of $1,000 goal
Raised by
492
people in 7 months
We at Ghost American Ministries wanted to come together to help out the family of Jeffery Allan Fortune during their unfortunate time of loss. On May 31st, during the Ghost concert, Jeff collapsed and later passed on. He was our brother in Ghost. He was a great guy and a huge musician fan. He also ran a page on Facebook called Apocalyptic Midnight Death Cult which he wanted to grow organically. He did not pay for it, he wanted people to come to his page and follow for what they seen. Give it a follow at
https://www.facebook.com/Apocalyptic-Midnight-Death-Cult-138435219603085/
. He will be missed greatly by his family, friends, and fellow fans. So lets come together, together as one, and show our love and support for the Fortune family in their time of grief.
He was an amazing person, artist, poet, musician as well as a tortured soul- yet he kind with a bright shining soul. He saw beauty in the darkest of places and often visited/dwelt in those places at times. He alternately referred to himself as "Hell on two legs, walking" and also "a child of God". Please let everyone know how touched and grateful our family is to each and every one of you for helping us through this time. We feel the waves of your prayers and thoughts and Jeffrey would have been touched and amazed beyond belief at the warmth and kindness and prayers.
Special thanks to all the other Ghost groups on facebook; Ghost Iowa, Sisters of Sin, Ghost NOLA, Nameless Congregation, Legion of Ghost, Ghost Macabre, Hail Ghost, Children of Ghost, and all others who help get the word out.
+ Read More
Update 2
Posted by Aaron Horton
4 months ago
Share
Thank you everyone for your continuous support. You all are amazing!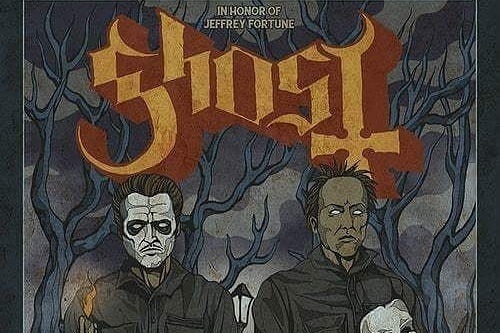 + Read More
Thank you to everyone who showed their love and support to the Fortune family. We raised over $10k for them.

A statement from the fortune family. "On behalf of our family, we have not enough words to describe the gratitude we feel towards each and every one of you who contributed to Jeffrey's Memorial Fund as well as those who have offered their support, compassion and kind words in what is a difficult time for our family. Jeffrey and I were, admittedly, something of nihilists before this, having seen a lot of horrible things all around us. Jeffrey, especially, never would have foreseen such kindness among strangers, but I will say this for everyone here to see- you are all so much more than just random people on social media who share a common love of a band; you are all people with good hearts and souls and the warmth you have shown us has helped us bear the sadness we feel. I feel that we are truly amongst friends here, and Jeffrey's death was not in vain in it gives us each hope for the human race and has encouraged some of you to learn CPR so that others may live, or if it has inspired you to create art or seek meaning within songs. These are the gifts Jeffrey would have wished to bestow on people if he knew that he could and I'm strengthened by the common bond we've all shared. Never take anything for granted and always let others know you love them, every day. Our love and light goes out to you all."
+ Read More
Read a Previous Update