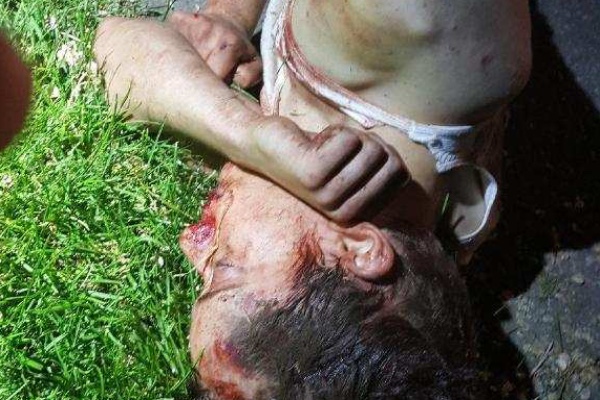 349
3
Help for an amazing family
$10,933
of $7,000 goal
Raised by
301
people in 11 months
In a New York minute, it could happen to you, but this time violence passed you by and instead touched the life of 15 year old boy, Jason jr and his parents Lisa and Jason sr. Though Jason is still foggy about what happened to him due to the severity of the brutal attack by Two young men upon his person while he was waiting to meet his Mother in Nampa, Idaho, the police said the youths jumped him unprovoked and beat Jason unconscious, leaving him in a twitching pile on the ground to live or die. A passer by took his phone and called his Mom and you can only imagine her horror to find her baby unconscious and bleeding on the ground. A hardened detective said it was the worst beating he has seen in his career. There has been an increase in violent unprovoked hate crimes in the past year and this could have easily been you or someone you love randomly beaten or worse by thugs. Fortunately, you are not the family suffering and now under huge debt increasing every day Jason is in the hospital compounded by his mothers need to skip work to be by his side offering physical and mental support. It's times like these which can easily financially overwhelm a family. But not a community (and we are now a worldwide community) recognizing a member of that community needs help and will be there to help if or when another member of that community needs assistance. A fund has been set up for Jason and his family to help with the piling medical bills as well as others while Lisa is out of work. Please share what you can spare and help this family recover from this senseless tragedy.
Gofundme wanted more information, my friends set this up for me due to the fact that my son was stomped into a coma on May 27th of 2017 we are from Nampa, Idaho and the reason they set this up is because I've had to take at least a month off of work and the money that's raised is going to go towards our bills so that I'm able to spend all of that time with my son. I've spent every day and night with him at the hospital he's healing physically, really well, the swelling has gone down on his head and face and  he no longer has a brain bleed but he's not able to stand up or walk without assistance he can't remember things 2 seconds after you tell him he doesn't always recognize me or know who I am which is very difficult as a mother to have your child not know who you are. We expect him to be in the hospital the doctor say at least another three weeks and depending on how he's doing at that point, we'll know if he's going to be able to go home or not and continue to get better, they say that he has a good year of healing and different therapies ahead of him such occupational, physical and speech.  Thank everyone who has contributed it has meant the world to my self and my family.
+ Read More
Update 2
11 months ago
Share
I just wanted to thank everyone once again and just let you all know my son is home, he has been home a week now and is beginning all his therapies, he still doesnt have any real short term memory but we are working on that! Physically he is doing very well and we're very pleased with his physical progress. Again a huge thank you to everyone for their donations, so I was able to stay by my son's side thru all of this, and also for the support and prayers, I'll never really be able to thank everyone enough for what you all did for my family. Thank you so much!
+ Read More
Update 1
11 months ago
Share
Read a Previous Update