JACOB'S SURVIVAL CHALLENGE
$3,425
of $132,000 goal
Raised by
50
people in 4 months
Jacob is a bright, kind, funny, energetic boy, who loves his family.  He enjoys his friends, computer games, animals, hiking, museums, theme parks, and school. 
But he hasn't always had it easy.
BACKSTORY
Before Jacob was born, he was subjected to an environment of violence and chaos.  During that time he miraculously survived exposure to dangerous drug-use by his biological parents, as well as several direct attempts against his life.  
He arrived in the outside world by way of a vanity C-Section delivery.  A short time later, maternity staff called the police because of the disruptive and hostile behavior of the biological parents, then reported them to the authorities for abuse and neglect of Jacob. 
Jacob was taken away from his biological parents at the hospital, but was transferred to an incompetent foster care placement, where he was ignored, starved, made severely dehydrated, and contracted an eye infection that went untreated.
Jacob's grandparents learned they had a grandson only after he had been placed in foster care.  They hurriedly worked to rescue him from the foster situation, asking the Court for Jacob to be placed with them instead.  Their request was granted, and Jacob came to live with them when he was ten-days-old.  
Jacob's grandfather quickly converted a spare room into a welcoming nursery, while Jacob's grandmother worked tirelessly around the clock to get Jacob's health back on track.
More than two years passed as Jacob's grandparents continued to support and assist Social Services with the legal mandate regarding "family reunification" of Jacob with his biological parents.  Those were difficult times, as little Jacob would cry in distress, and later as a toddler, clutch tightly to his grandparents and scream as he was being wrenched away from them by social workers, who were required to carry him to supervised "visits" with his biological parents.  Many times the parents wouldn't bother showing up to see their child at the scheduled appointments.
After those unhappy bi-weekly visit times, it would take several hours of calm interaction with his grandparents, and a set of distractions that became a sort of routine, in order for Jacob to relax, engage, and return to his normally happy self.   



ADOPTING JACOB

In order to keep Jacob safe, the Court eventually ruled to terminate all parental rights of the irresponsible biological parents, who had refused every opportunity for rehabilitation, and consistently rebelled against developing an appropriate relationship with Jacob, despite an array of various classes and interventions.  
Jacob's grandparents, who decided to bravely embrace the unexpected role of serving as Jacob's true parents since he was a newborn, joyfully adopted him close to his third birthday.
THROUGH THE YEARS
Jacob's grandparents have kept their parenting commitment over the years—doing all they can to provide him with a stable and loving home, to help him overcome anxiety and speech challenges, to show him that he can always count on fun activities, nice holiday celebrations, and that he deserves to live in a safe, clean neighborhood with excellent schooling.
HOLIDAY MEMORIES

Thanksgiving
Hanukkah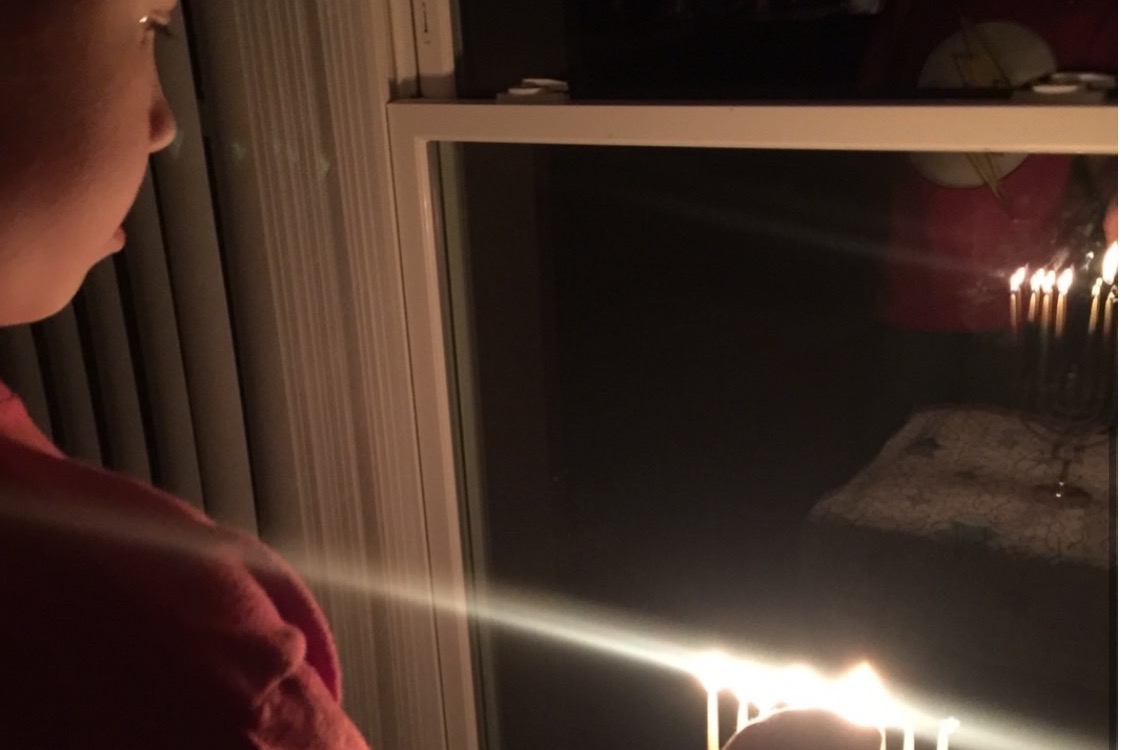 Christmas
Purim
Valentines Day
Passover


CRISIS
Until just recently, the family always has been able to rely solely on Jacob's grandfather's income to pay for the costs of living.  
What brought about the present devastating crisis is that Jacob's grandfather developed a serious health condition through a rare, adverse, and complicated reaction to a commonly prescribed and supposedly safe allergy medication—which produced negative, cumulative effects over the course of nearly four years. 
Year by year he thought his growing health troubles were simply because his allergies were getting worse, so he increased the dosage of the harmful prescription with his allergist's approval, as there originally were no warnings associated with the medicine or with increased dosages, and because "Black Box" cautions weren't published about the medicine until the original manufacturer's patent ran out. 
As the heavy dose of medicine was slowly damaging his brain and body (see current information at "Montelukast/Singulair Side Effects Support and Discussion Group" on Facebook, and "Montelukast Side Effects" on Drugs. com), the matter was made worse when he began applying what seemed would be a simple remedy he had read about online to control the anaphylaxis he was experiencing (involuntary closing off of airways).  It worked for a while to stop the chronic sensation of choking, as well as the vomiting, extreme agitation, and pain (which turned out to be side effects of his own sub-acute allergy to the prescription medication itself, mistaken for severe seasonal allergy symptoms), but in the end, he wound up with a dangerous metabolic imbalance, compounded by toxic organ damage and life-threatening septicemia.  
Because everything came on gradually, his family didn't realize he was in serious trouble until things started advancing very quickly, evidenced by significant changes in his behavior and health, and finally culminating in a complete collapse.  
Thanks to friends who helped get him to the ER in time, he was able to receive the medical attention he needed, and he pulled through after a week in the ICU. 
CHANGES
Once a very outgoing, warm, talented, intelligent, and accomplished individual, who always put others first, his family reports he became a ghost of his former self.   His thinking was jumbled and fragmented, he was anxious and struggled with bouts of illogical paranoia and negativity.  He had inability to approach and complete tasks. While formerly he was able to understand graduate-level statistics, for example,  he could not make sense of elementary school math homework.  It was sad and distressing for him to experience this, and for his family as well, who was scared and missed him beyond words.  It continued on for weeks after being discharged from the hospital.  
Currently, he's just now beginning to show some good improvements.  Although he's aware that he's compromised, he's working hard to hold on and to keep pressing forward to regain himself and his the life he built. 
NOW WHAT
?
Restoration of the family is the goal of this GoFundMe® CAMPAIGN.
For Jacob's grandfather, restoration means aggressively pursuing the medical route, including researching and discovering the reasons for his particular reaction to the medication, and what will best help with the physiological and psychological aftermath of the entire medical event. 
To start that process, he needs a full set of neurological tests to try to determine exactly what has gone wrong in his brain, and to provide information regarding the best path for further treatment.  The family also hopes, at some point, to be able to take him to a specialist out of state  who's been working with patients who've suffered similar bad reactions to the same medication.  There may be a genetic component in his physiology that doesn't allow the prescription medication to be metabolized properly, as has been the case with others.  Neurotransmitters are affected if so, but they can be repaired and regenerated with proper interventions.
For Jacob's grandmother, restoration means standing by her family and helping them through this crisis toward a positive outcome.  
 Jacob just wants his family "to be okay, like before." 
LAST CHANCE
Timing is critical in order for the family to be able to face down and overcome these challenges with help from people who donate to the GoFundMe® CAMPAIGN—which, literally, is their best and last chance to turn an extremely unusual and desperate situation back around. 
Unless they can forge a sustainable new path through this critical situation by obtaining the right medical help for Jacob's grandfather, and by getting back on their feet financially, they soon will be homeless.   Being forced to forfeit the safety of their current residence is hardly survivable, but under such circumstance they also will be more vulnerable to threats from criminally dysfunctional relatives, including Jacob's biological father, all of whom have never stopped hunting the family with expressed malicious intent, since Jacob's adoption.
To make matters even more intense, Jacob's Mom-Grandma forfeited her mid-life career plans, changing course to stay at home to take care of infant Jacob.  At this point, clear career options and opportunities are not as plentiful as they were earlier, and her health is not robust.
While Jacob's grandparents have always tried to do the right thing, they've now reached the end of their ability to "go it alone."  This unique family will be destroyed without successfully surviving the present urgent emergency through the kindness of others.  
HOPE FOR THE FUTURE
Thankfully, with help from the larger world of good people, "Jacob's Survival Challenge" can still end happily.  
While the ultimate resolution of Jacob's grandfather's brain impairment is still an unknown, and despite his lingering confusion, he still expresses that his desire to make a full recovery so he can keep providing a positive, fulfilling life for Jacob.  He's very determined, which has helped him improve.
Jacob's grandmother is optimistic about pulling the home front back together following the upheaval, and plans on continuing to pursue income-generating ideas and avenues that can contribute to the family's long-term financial needs.  
Jacob needs to be able to keep moving forward in life from a secure base.
Please consider extending help to a really decent family, so they can defeat this disaster.  They have no one else in the world to rely on, but on those who are willing to assist them to construct a more hopeful future.
COST
Funding for "Jacob's Survival Challenge" GoFundMe® CAMPAIGN is geared toward the goal of getting the family back to functioning independently.  By providing security to cover the family's immediate and projected expenses through the recovery process and until things are truly stabilized, they can achieve that goal.  
Included in the budgeted costs are the most critical and pressing needs of further medical care, travel to specialists, rent, utilities, groceries, training and/or tuition needed to prepare for returning to work for both grandparents, plus reliable transportation (their current automobile is not repairable).  Also addressed in costs are basic household and school supplies, overdue bills, seasonal clothing, medical bills, and legal help.
At this juncture, the family has reached financial rock-bottom, so please keep that in mind.  
Hopefully, Jacob's grandfather's condition will improve over time so that he can resume his work—but right now he cannot effectively engage his former career.  He's trying to look for work he can do now in order to provide for his family.   Savings are gone, and it will take Jacob's grandmother time and training to re-enter the workforce with a lack of current professional career experience and the realities of age discrimination.
Neighborhood friends, the family's elderly landlords, and parents and staff at Jacob's school, have stepped up to help by generously providing what they can.  
All avenues of public assistance are being pursued—but those forms of supplemental help are actually quite meager, and in no way provide an adequate solution for this type of catastrophic event. 
HELP GET THE WORD OUT
Please consider giving directly to this cause, and also sharing "Jacob's Survival Challenge" with your family, friends, neighbors, colleagues, co-workers, those at your place of worship, club, team, group, or organization—by word of mouth, text, email, or regular mail, and on social media platforms like Facebook, Twitter, Instagram, etc.  
Every contribution, regardless of amount, matters tremendously.  
Thank you for making a difference by being a part of this worthwhile endeavor. 
At the family's request, oversight of this campaign is being conducted by a small committee of neighborhood volunteers, who are licensed professionals in various fields, to assure donors that all contributions will be applied appropriately to achieve the campaign's goal.  
Donations can be made anonymously, if preferred.
EXTRA NOTE:  CALLING ALL GAMERS
!
For several years, computer games have assisted Jacob greatly in overcoming educational obstacles and personal challenges—specifically in the arenas of predictability, competency, mastery, language development, socialization, problem solving, creativity, and individuality.  Jacob and his family have often played together, as one of his favorite things to do.  
Without the stability of his home life, Jacob will lose access to his educational programs, his gaming world, and his online community of age-mates.  Jacob is quite worried about this.  Other gamers or families with kids who are gamers, will understand what a terrible shock that would be for a boy.  
Currently, some of Jacob's favorite games are ROBLOX, Minecraft, Subnautica, and Slime Rancher on computer, plus MARIO, Donkey Kong, Zelda,and Fortnite on the Nintendo Switch, various games on the iPad mini, and Sports Resort and Lego Adventures on the Wii.  
Among his favorite YouTube personalities are DanTDM, ThinkNoodles, StampyCat, StacyPlays, iBallistic Squid, AshDubh, DenisDaily, Pink Sheep, Exploding TNT, EthanGamerTV, CaptainSparklez, AtlanticCraft, AntVenom, Sky Did Minecraft, Slamacow, Pedro, ShadyVox and Productive Mr. Duck.  
If you happen to know any of these professional gamers, game developers, computer animators, musicians, or platform owners personally, or if you are a fan, could you put in a good word for Jacob?  Thanks.



FROM JACOB
Jacob wanted to personally give a shout-out of appreciation to those who've made the following Minecraft music videos (below), which have been especially encouraging to him as he confronts this unanticipated "Survival Challenge."  
He also wants to send a big "thank you" to EVERY GoFundMe® friend who is coming to the aid of him and his family:
"But if you find some friends--with them by your side it's easier to defend.  And if you call your friends--there's no server mod that can break you in the end..." 


"
Modageddon
"
https://www.youtube.com/watch?v=DFeCyEKF408&feature=youtu.be
(0:00 - 3:45) 
"
New World
"
https://www.youtube.com/watch?v=3V7wWemZ_cs&feature=youtu.be
"
Atlanteans
"
https://www.youtube.com/watch?v=HWG3s0bvDYg&feature=youtu.be
"
Save our Crown
"
https://www.youtube.com/watch?v=uq7OAmzmGxo&feature=youtu.be
"
Level Up
"
https://www.youtube.com/watch?v=ouoFkoLyFIY&feature=youtu.be
"
Starless Night
"
https://www.youtube.com/watch?v=I47cB9WHqsI&feature=youtu.be
"
Dragons
"
https://www.youtube.com/watch?v=MfERdhRCUps&fe
+ Read More