Hope for Children
$5,125
of $10,000 goal
Raised by
66
people in 57 months
If you live in Leander, Cedar Park, or other surrounding areas, you've no doubt heard the protests of the #FightForGK supporters regarding a very publicized trial. This trial involves two young boys (only 4 years-old at the time of the abuse) who clearly shared detailed information about sexual abuse by Greg Kelley, a high school student living at the in-home daycare where the boys were being cared for. 

The facts in the case (which can be found on numerous sites if you do a search) clearly indicate Greg Kelley's guilt, and he was ultimately convicted of super aggravated sexual assault in a unanimous decision made by a jury of 12 of Greg's peers. A good place to find information is through Amy Smith, child advocate, who has a very informative blog called WatchKeep. Read Chief Mannix's letter regarding this case and the public fight against the families on Amy's blog here: WatchKeep . You can also read more information on the Greg Kelley movement leadership that is trying to free this child rapist here . There are three informative blogs on that site, full of documented email communications from these leaders that will shed new light on this movement.

Greg accepted a deal, sentencing him to 25 years in prison with no right to appeal, and he's required to register as a sex offender for life. Yet despite Greg's acceptance of guilt through this deal, a group of supporters rallied around him insisting on his innocence and vowing to clear his name. They've made numerous claims of having proof of Greg's innocence, yet even with an attorney they hired, they have been unable to produce any such proof.

As the group grew in numbers, like a dark fog creeping over our community attempting to hide the light of truth, the families of two precious little boys tried to pick up the pieces of their lives and move on. But the fog turned into thundering storms as the media attention on the #FightForGK side made moving on very difficult.

Imagine, if you can, the devastation this type of abuse must have on the children and their families. Then imagine their community, who is supposed to look out for each other, especially for children who can't look after themselves, turning against them. Imagine them turning on their TV to watch the local news and seeing these people, who live all around them, fighting to free their child's abuser. This is what has happened to these innocent children and their families. The children have been accused of "making up" these stories. The parents have been accused of coaching their children to falsely accuse an innocent man...for what reason I can't even fathom. They've been dragged through the mud and back again, and for what?

This group of approximately 100 active members continue to blindly march onward behind a leader who has vowed to "never stop fighting" to free the man who sexually assaulted of these young boys, without so much as a second thought for the children's lives they continue to trample on. And all the while they point their fingers at the families and mock those who dare go against them and support the children, saying things such as, "God will rub your face in your lies." This is how they treat people who cry out against sexual abuse. They weave a thick fabric of misinformation and lies and toss it over every last ounce of truth, smothering hope and healing. 

But we have a chance to change that. We can make a difference starting now. I've been where these families are and I'm telling you, they need us. They need our love and our support, and they need to know we believe them. Let's stop allowing this to be about Greg Kelley. I'd love to never have his name reach my ears again. Let's reach out to these sweet families and show them that their community DOES care about them. Let's show them that no matter who stands against them, truth is on their side and so are we, and we won't allow one of our own to be abused. Let's show them the face of God through our love and support. Let's break the chain of silence, rip away that blanket of lies and allow hope and healing to pour down on them.

I've started this GoFundMe campaign for the two families affected by the story I've just shared. Please know that after the GoFundMe fees, every penny will be split equally among these two families. I will deliver two money orders to Gayla Schwab of Williamson County, Victim Services, and she will get the checks to the families.

I don't know what, if any, financial needs they may have, but I just ask that you give from your heart. They can use the money for counseling, mortgage payments, groceries, Christmas gifts, or even a vacation if that's what they decide. Goodness knows they deserve a nice vacation!

Thank you for caring and for showing these families that they are not alone.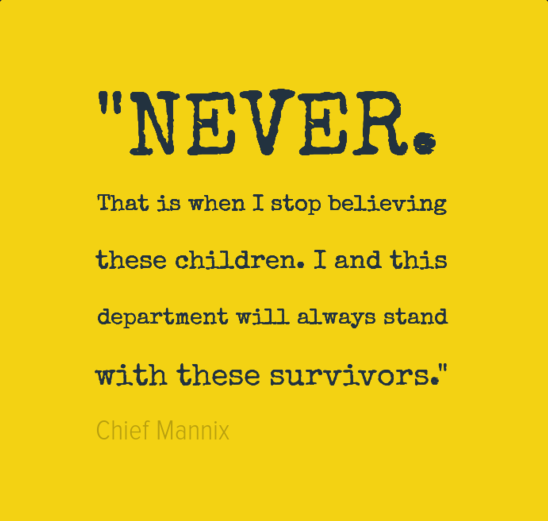 + Read More
Be the first to leave a comment on this campaign.