Treaded Robots for Everyone!
$1,072
of $5,000 goal
Raised by
20
people in 50 months
We are building a tank robot to climb a mountain. This robot is also a proof of concept for a set of modular treads that will let you turn anything into a tank. The money you donate will go directly toward the purchase of parts for our first prototype.

We want to enable everyone to make large, interesting robotic projects. We want to lower the barrier to entry to robotics for professionals, hobbyists--even kids! To do this, we propose a new type of project, something that no one's ever done before: a standardized, modular set of tank-like treads that you can simply bolt to a chassis and get going.
We want to start by going big
To prove that a modular track system works, we want to build an even bigger robot than our last one, a prototype large enough to test by having it climb a mountain (it's not going to be a couch :). Based on our current designs, this prototype will weigh between 600 and 900 pounds! (300-400kg). Using the lessons learned in building this prototype, we will go on to make a truly modular tread system that anyone can use. We already have the designs, tools, and experience; all we need are the materials: treads, motors, metal, and the parts to stick everything together. Your donation will go directly toward the purchase of these parts.

Who We Are and Our Track Record
We are Dan and Glen, two engineers that recently graduated from Northeastern University in Boston. For our senior engineering design project, we decided to build a rough-and-tumble tank, pictured below.






As you can see, this project turned out really well. Since we built it, our robot has been on SpikeTV, Engadget, Wired.com, Hackaday, and featured in several Maker Faires, including the New York World's Maker Faire. Overwhelmingly, the question everyone asks us is "How did you make the treads?" That's where this project comes in.




You can read more about our previous robot here.

But that's not all we've been up to. One member of our crew is also working on a team to design and build a 4000 pound, 6-legged rideable spider vehicle named Stompy, pictured below.




You can read more about that here.

Where we work
We work at a community workshop called Artisan's Asylum, the largest "maker space" in the world. Here we have access to an incredible array of tools and robotics experts, enabling us to solve tough engineering problems. Several huge projects are coming out of Artisan's Asylum, including
Stompy

, the 6-legged, 4000 pound spider vehicle

Hexy

, a cute hexapod kit aimed at children and teens

3Doodler

, the 3D pen that lets you write on air

All these people are our friends!

Thank you!
Although we may or may not meet all you folks, any participation on your part will help us a lot, not only financially, but by giving us the encouragement to go on. There are a few really easy things you can do to help!

Anything you can do is greatly appreciated. We believe in our vision, to do the hard work in simplifying mobile robotics for professionals and amateurs alike and we hope you do, too! Tank you so much! :P
+ Read More
Update 2
Posted by Daniel Walkswithstick
49 months ago
Share
Hi everyone, Great new! We were selected as one of the top 10 projects for this contest. There are a lot of cool things people are doing, but please, go to
www.gofundme.com/makeathon
and vote for Intreadible!
If we win, we will be able to do this project, and we will get published in MAKE Magazine!
It is going to be close, so please, vote yourself, and encourage others to vote for us!
If we win, I would be overwhelmingly greatful that the Maker Community and friends pulled through for us!
Best,
Daniel L.
Visit
www.gofundme.com/makeathon
and vote for Intreadible!
+ Read More
Update 1
Posted by Daniel Walkswithstick
50 months ago
Share
Hi Folks,
Dan L Here. I have some updates for you, which I am happy to share with you.
But First, thanks so much to the people who have put down their hard earned money toward this project. I realize that this time around we can't really offer as much as I would like in return (like robots), so your stepping up shows to me that you believe in education, lowering the barrier and cost of robotics, and belief that this is within Glen and my capabilities.
This goes just the same for those who have tweeted about us, or liked us on facebook, etc. It means a lot, and starting in about a week, your sharing activity could mean a publication in MAKE Magazine for this, as well as an amount of funding that we need as a prize. So please, do continue sharing! It means huge amount to see the number rise!
Also, Glen Ch. Spent the past weekend at an education hackathon, where he developed a software package to help kids (and grown ups) visualize mathematics things. Apparently it was received extremely well! Congrats to Glen.
Ok, so back to the robot.
http://c413246.r46.cf1.rackcdn.com/324397_1363013906.2998_upd.jpg
As you can see in the picture, the big treads for the two modules have arrived, as well as the 2 ETeck 11kW DC brushed motors. Pictured in the center, the big black box is one of (4) of the 5.5kWh A123 Prismatic Battery Banks that will power the whole thing.
The Node.JS robot is positioned behind it for scale, which is 28" wide, and weighs in between 150-200lb.
So, seeing this, I hope shows that we are beyond just animations and CAD renderings in the project!
Thanks!
Dan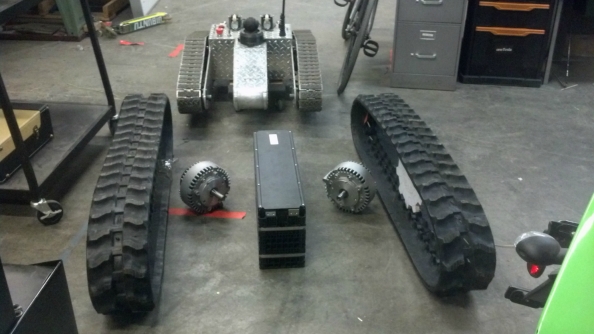 + Read More
Read a Previous Update
Be the first to leave a comment on this campaign.