Get HS a Visa
$5,445
of $7,300 goal
Raised by
98
people in 12 months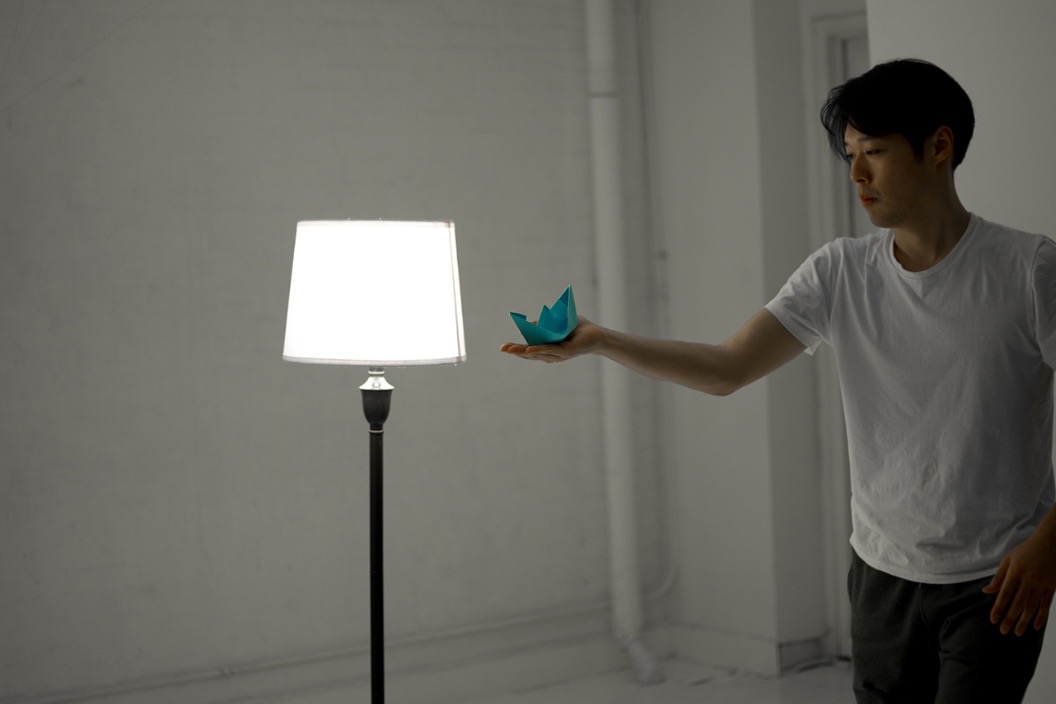 Hello, how are you breathing as you are reading this? 
My name is Hyung Seok (he-young-suk) Jeon. I am
a
multidisciplinary theatre artist
from South Korea. I used to work as a film editor. I began making theatre pieces in high school. I often use a video camera on stage while performing. I also work with found text, movement, and object puppetry.
I started making short videos when I was 14. From the beginning, I felt a very strong intimacy with this object that reproduces images, the camera. To me, what is seen in the viewfinder is often more interesting than the actual object. At the same time, sometimes the object being filmed has more weight. I kept coming back to this unsettling dynamic between the reproduced image and actual object without knowing how to frame my impulses.
In some ways, I associated "camera related activities" with control, efficiency and construct, somewhat a representation of patriarchy, 
sometimes it seems.
 This conflicted with my attraction to the camera.
(A Held Posture / a solo piece)
In high school, I began doing theater. The stage and its' relationship to the viewer felt open and embracing. I spent a long time trying to figure out a way to combine my attraction to the camera with the flow of live performance. Since coming to New York in 2010, I have met a lot of inspiring artists whose work was deeply entrenched within multiple mediums. Especially during my two years at the Sarah Lawrence Graduate program,
I met theater-makers whose disciplined work ethic, willingness to take risks, and courageous ways of questioning what theater could be
, really encouraged me to pursue my own camera-based investigation.
I brought a camera on stage with me and everything changed. By bringing the medium of film into a live space, I was finally finding something that matched how I felt on the inside - I began developing a completely new vocabulary of how I could create relationships.
Since graduating, I've had the opportunity to make work with Dan Hurlin, David Neumann, Tei Blow, Chris Green, Fiona Templeton as projection/video designer or a video engineer.
(A Circular Play / directing)
(A Guide to Time Management by Sarah Scholl / cinematography for stage)
(Hand Poems / a solo piece / developed through Jonah Bokaer Arts Foundation Founder's Artist in Residence)
(How a River Carries You / a solo piece / text by Sikhanyisiwe Fiso Mabena / at Puppet Blok 2017 curated by CB Goodman)
(Distances Smaller Than This Are Not Confirmed, in development with David Neumann and Marcella Murray / video design)
(The Triumph of Crowds / directed by Fiona Templeton / video  design & performance with Lucas W. Spiro)
The artistic community I have grown into here has shown me
unbelievable generosity and strength to experiment and bring the conversation around media and theater to another level.
I feel like I have met my artist family.
(Yes, I'm very fond of group photos.)
I am currently applying for a visa to stay in the USA for another three years. In order to do so, I need to raise $7,300. $4,500 will go towards my lawyer fee. The other $ will go towards my visa application fee and my airplane ticket back to NYC.
I am only at the very beginning of this journey. I feel very strongly that I must continue it. I need your help … HELP!!!
I also want to thank my dearest artist friends who are helping me to make this campaign get up and running.
Sincerely,
Hyung Seok Jeon
전 형 석 드림
How do I change? How do we change? Listening and looking into oneself feels a necessary step, to dig into all the dark spots and joyful spots in your soul.  
+ Read More