Puerto Rico Hurricane Recovery Fund
$2,208,590
of $5.0M goal
Raised by
148
people in 3 months
ConPRmetidos is committed to a stable, productive, and self-sufficient Puerto Rico, where resilient structures and equitable policies will protect against a repeat of the devastating effects of last year's historic hurricanes.


Photo Credit: Eduardo Mariota (Puerto Rico, Sept. 2017)
This initiative and fund, formally known as The María: Puerto Rico Real-Time Recovery Fund, has been organized in partnership with the Foundation for Puerto Rico, a 501(c)(3) corporation providing fiscal sponsorship of the fund.


This fund has been raising $5 million since September 2017, to finance immediate impact and long-term solutions for the most vulnerable communities in Puerto Rico.
Donations to this fund are 100% tax deductible.
Hurricane María is Puerto Rico's worst natural disaster in over a century, "the fifth strongest hurricane to hit the United States" (NASA).
Together with hurricane Irma, which struck three weeks earlier, Puerto Rico's infrastructure was thoroughly devastated: 100% of the power grid was taken offline, and 80% of the population was cut off from clean water service. Seven months later, some 15,000 homes remain without power, the island's fragile infrastructure periodically stumbles, and anxiety is high as the 2018 hurricane season fast approaches.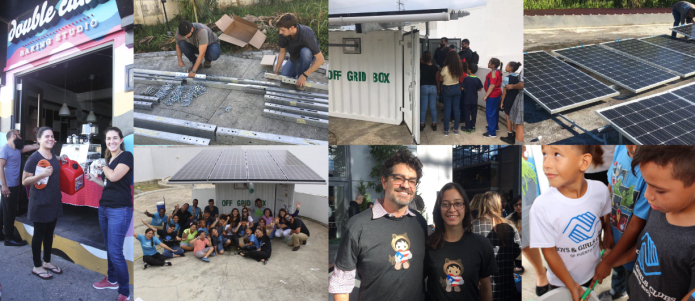 Photo Credit: Eduardo Mariota (Puerto Rico, Sept. 2017)
About ConPRmetidos:
We are an independent, non-partisan, non-profit organization founded in San Juan, Puerto Rico in 2012, that is committed to Puerto Rico's renewal.
We believe that Puerto Ricans can build a global model of community-driven success.  Please help us
 #PowerUpPR
.
About Foundation for Puerto Rico:
Foundation for Puerto Rico is a 501(c)(3) non-profit organization (Tax ID 66-0776227) whose mission is to transformPuerto Rico into a global destination by driving economic and social development through sustainable strategies.
What do we do with donations received?
Power As A Service: 
We are committed to powering up community-level infrastructures that foster economic development and empower social impact. 
#PowerUpPRCommunity Leadership:
 We are committed to supporting the leadership provided by local, social-impact organizations across Puerto Rico, who are best able to assess their community needs, marshall community support, and protect the interests of the vulnerable and marginalized. 
#PartnershipsLong-term Renewal:
 We are committed to improving the lives of our fellow citizens by helping to build stable, productive, self-sufficient communities. 
#BuildItRight
---
*ConPRmetidos is committed to the accountability of your donation and will publish Audited Impact Reports by a certified accountant as funds are converted into impact. 
#Transparency
You can keep track with our work via
regular updates
posted to our website and on 
Facebook
.
¡Gracias!

+ Read More